Pioneer Launched XDJ RX Rekordbox Home Dj System
The XDJ RX, is a DJ console that incorporates two separate digital players, a mixer, and a built-in monitor. The uniquely designed DJ system is intended for users of the popular Pioneer rekordbox™ music management software, which enables DJs to quickly play prepared music stored on a USB device, eliminating the need to connect or carry a separate computer for use as a music source. The XDJRX featured 7-inch LCD screen provides a window of information including simultaneous display of music waveforms from each integrated player. The unit also emulates Pioneer's well-known professional players with built-in key performance functions including HOT CUE, BEAT EFFECTS, SOUND COLOR FX and a new LOOP SLICE feature.
LARGE LCD COLOR DISPLAY
The XDJ-RX features a high-resolution 7-inch LCD color monitor located on the top center of the console to display an array of music information.
Browse Screen – Displays music information stored on a connected USB device by playlist, artist, album, track, history and folder.
Wave and Wave Zoom – During music playback, the entire waveform of the music from each deck can be viewed simultaneously on the screen. Users can also change the resolution of the waveforms with a turn of the rotary knob, providing five levels of Wave Zoom to show the details of the music transitions.
Beat Count – Accurately displays the number of beats until a set point.
PERFORMANCE FUNCTIONS
The XDJ-RX follows a similar layout as Pioneer's flagship models and offers similar functions and operability.
Beat Sync – The feature let users instantly match tempo and beat location of songs.
Quantize – Utilizing the Quantize feature, cue points and loops can be set perfectly on beat. The Quantize feature ensures cue points are set accurately and automatically, correcting and synching beats during manual looping or real-time cueing to reduce off-beat mistakes.
Slip Mode – When activated, Slip Mode silently continues song playback during a loop, reverse or scratch and continues audible playback at the exact time when the loop, reverse or scratch is ended, resulting in smoother transitions.
Beat Effects and Sound Color FX – The Beat Effects function offers eight different effects (Delay, Echo, Spiral, Reverb, Trans, Flanger, Pitch and Roll) for additional creative audio performances. The console also includes four Sound Color FX functions (Noise, Gate/Comp, Crush and Filter), which add numerous audio effect combinations and arrangements to currently playing music with the simple twist of a knob.
Loop Slice (new) – Separates the loop range into four parts and enables repeated playback of the separated sections.
Hot Cue – Enables instant playback of a set point in the music. Each player can set four Hot Cue points.
Auto Beat Loop – Performs a loop play by automatically setting loop-out points from the BPM of the music.
The XDJ-RX includes Pioneer's rekordbox music management software for advanced preparation of music. Available in versions for Mac® and PC, users can configure, edit, and save a history of music sets. For added convenience, Pioneer also offers the rekordbox App, which enables users to prepare and manage music stored on their portable devices as well as analyze music via Wave Zoom, key, wave, beat grid, BPM, and ID3 Tag, create playlists, active loops, cue/loop points and beat location settings, and save playback logs of music. The App is compatible with iOS and Android™ devices and is available at no charge in the App Store or Google Play.
VERSATILITY
The XDJ-RX features two built-in USB ports for connection of multiple music sources. In addition, the unit can record music sessions onto a connected USB device, saved in WAV format for future playback. For maximum versatility, the mixer section can be used as a standalone 2-channel mixer for use with external players and turntables.
ADDITIONAL FEATURES
DJ Software MIDI Control
My Settings – The function settings of a player can be saved to an iPhone, iPad or iPod touch or USB storage device. For additional convenience, the settings can also be made on the rekordbox App or software, giving users the ability to switch to their settings when connecting to a CDJ-900NXS or CDJ-2000NXS
Traffic Light – Utilizing a multi-player PRO DJ LINK connection, a green light indicates that music will sound harmonious with the key of the music being played
Active Loop – Automatically starts loops when playback begins from a specified point
Auto Standby – Automatically senses active operation and the presence of input signals, switching to standby mode when inputs are not detected for a long period
Compatibility with Native Instruments TRAKTOR® PRO2 DJ Software
NEW Large full-color screen for at-a-glance information from both players
The 7-inch, full color LCD screen displays information about both players simultaneously for intuitive alignment of beat grids and a visual reference to what features are in play. The screen has two modes:
*4:Commercially available wireless LAN router separately required for Wi-Fi connection.
Play shows track playback position, dual wave display with Wave Zoom*1, BPM and Beat Countdown, FX information, Quantize*2 status and more.
*1: Works with music that has been waveform-analyzed by "rekordbox™".
*2: Works with music that has been beat-analyzed by "rekordbox™"
Browse lets DJs quickly browse and select tracks, with easy access to artwork views and Hot Cue info for each track. Plus the traffic light*3 system shows which rekordbox tracks are in key with the track on the master deck.
*3: Works with music that has been key-analyzed by "rekordbox™"
Integrated unit with familiar layout and pro-DJ features
The XDJ-RX integrates two USB-driven players and a 2-channel mixer, with build quality and performance features inherited from the club-standard Pioneer DJ Nexus set-up.
Quantize*2

Quantize uses the track's beat grid to ensure loops and cues are set and triggered in time with music.

Beat Sync*2

Beat Sync looks at the rekordbox beat grids, on up to four connected players, and snaps them to the beat of the master deck.

Slip Mode

Slip Mode silently continues track playback during a loop, reverse or scratch and brings the music back at the right point when the DJ exits the performance.
*2: Works with music that has been beat-analyzed by "rekordbox™"
NEW Loop Slice added to features triggered by the tactile pads
In addition to the familiar CDJ layout, the XDJ's platters each feature four tactile pads to add a more physical element to sets. DJs hit the pads to instantly trigger Hot Cues they've prepared in rekordbox, or to set Auto Beat Loops.
A new feature for the XDJ-RX is Loop Slice. DJs hit the pads to set a loop length (1, 2, 4 or 8 beat loop), then hit the pads again to slice it up and remix it on-the-fly. Single or continuous playback modes give DJs more control and the option to chose a Loop Slice style to suit any dance music genre.
Performance mixer boasts high quality Sound Color FX and Beat FX
The XDJ-RX's four studio quality Sound Color FX are inherited directly from the DJM-900NXS and feature a Lo/Hi Pass control for both channels: NOISE, GATE/COMP, CRUSH and FILTER. It also features eight of the most popular Beat FX and an improved wet/dry dial for even better control: DELAY, ECHO, SPIRAL, REVERB, FLANGER, PITCH, ROLL and TRANS.
Driven by rekordbox USB or rekordbox app so no need for a laptop or CDs
The all-in-one XDJ-RX is designed to breath life into tracks prepared in rekordbox or on the rekordbox app on an iPhone, iPod touch or Android smartphone. DJs simply plug in their rekordbox USB or connect their iOS/Android device (wired connection only) to load tracks directly to the XDJ-RX. Preparing tracks in rekordbox gives DJs access to a multitude of performance features including:
・ Loops and Cues: pre-set loops and cues can be triggered instantly
・ Beat Countdown: counts DJs down to cues from up to 64 bars away.
・ Key Analysis Indicator: a traffic light system in the browser shows which tracks are in a compatible musical key with the master deck.
・ Active Loop: an automatic loop at the end of tracks ensures DJs are never caught unprepared again.
Can be used as a stand-alone mixer thanks to multiple connections
The XDJ-RX can be connected to additional CDJs or turntables using the switchable Line/Phone input and used as a stand alone mixer. It also features a LAN port, two Mic inputs, and two Master outputs and a booth input – making it a versatile solution for any set up.
USB sound cards enable direct recording
DJs can record directly to USB and play back the recording on the unit too.
Other features
・XDJ-RX can be used as an assignable MIDI controller and supports MIDI-compatible software.
・Automatically recognizes the presence of active operation and input signals, and switches to standby mode if the unit is not used.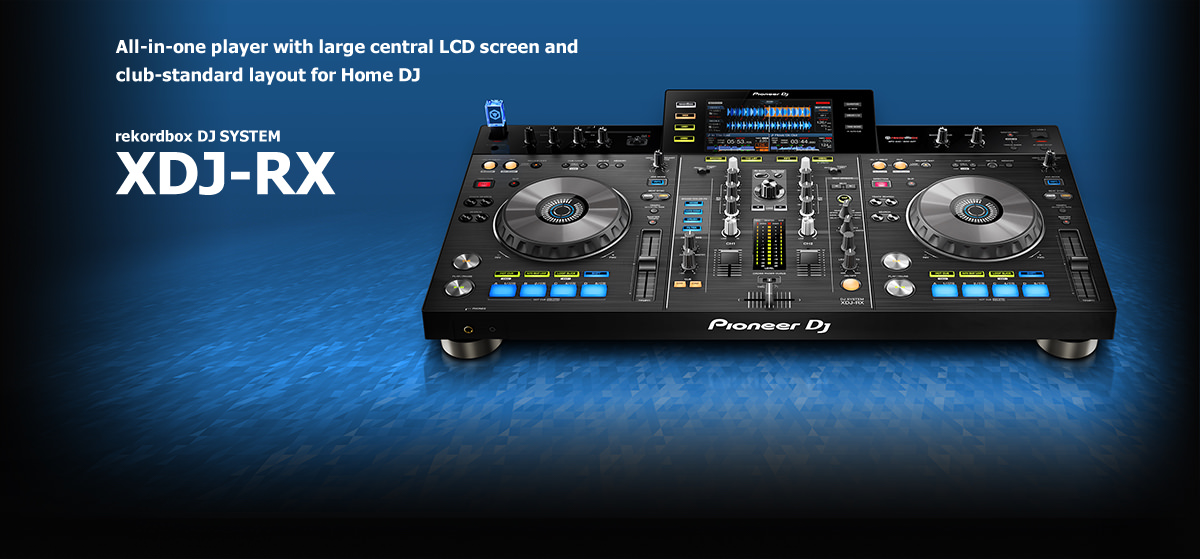 "rekordbox™" SYSTEM requirements
Compatible Operating Systems (PC)
Windows 8 / Windows 8.1 / Windows 8 Pro / Windows 8.1 Pro

Windows® 7 Home Premium / Professional / Ultimate

(CPU) Intel® Pentium® Dual-Core 2.0GHz or larger / (Memory) 2GB

Compatible Operating Systems (Mac)
Mac OS X (v10.10, 10.9, 10.8, 10.7 or 10.6)

(CPU) Intel® Pentium® Dual-Core 2.0GHz or larger / (Memory) 2GB

Free Hard Drive Space
250 MB of free HD space (excluding space necessary for storing music files)
Sound
Audio output to speakers, headphones, etc. (built-in or external audio device)
USB port
A USB port for connection of the USB storage device is required to transfer music files to a USB device (flash memory, hard disk, etc.).
LAN port
An Ethernet LAN adapter (RJ45 port) for communicating with the DJ system is required to transfer music files to a Pioneer DJ system. For details, check the operating instructions of the Pioneer product, etc.
Compatible Files
MP3、AAC、WAV、AIFF
Display
XGA(1,280×720) or greater recommended
Internet Access
For user registration or inquires, use a web browser supporting 128-bit SSL (i.e. Safari 2.0 and above, Internet Explorer® 8.0 and above).
* Visit http://rekordbox.com/ for latest supported OS information
* iPhone, iPod and Mac OS are registered trademarks of Apple Inc. in the U.S. and other countries.
* App Store is a service mark of Apple Inc.
* iOS is a trademark containing Cisco trademark signs in the U.S. and other countries.
* Windows®, Windows 8 and Windows 7 are registered trademarks or trademarks of Microsoft Corporation in the U.S. and other countries.
* Android and Google Play are trademarks of Google Inc.
* rekordbox™ is a registered trademark of Pioneer Corporation.
* Other trademarks and trade names are the property of their respective owners.
* Other stated company names, product names, technology names, etc. are the trademarks or registered trademarks of their respective companies.
MAIN SPECIFICATIONS
Playable Media
iPhone / iPod touch, Android phone (from April 2015), USB storage devices (flash memory / HDD / etc), Computers (Mac / Windows PC)
Playable Files
MP3, AAC, WAV, AIFF (iOS version of rekordbox: MP3 and AAC only)
USB Storage Support File Systems
FAT, FAT32
Number of Channels
2-channels
Sampling Rate
48 kHz
A/D, D/A Converter
24 bit
Frequency Response
20 Hz ~ 20 kHz
S/N Ratio
110 dB or more (USB)
Total Harmonic Distortion Ratio
0.003 % or less (USB)
USB Ports
USB A port x 2, USB B port x 1
Audio Input Ports
Phono/Line x 2 (RCA), MIC x 2 (1 x XLR/¼-inch jack, 1 x ¼-inch jack)
Audio Output Ports
Master Out x 2 (XLR x 1, RCA x 1), Booth Out x 1 (¼-inch jack), Headphone Monitor Out x 2 (Front ¼-inch jack, 3.5mm mini plug)
Other Ports
LAN (100Base-TX) x 1,
Audio Output Voltage
12.3 Vrms (XLR), 7.8 Vrms (RCA)
Head Room
19 dB
Electricity Consumption
21 W
Power
AC 100-240V (50 Hz / 60 Hz)
Maximum External Dimensions
12.0″ (W) x 15.06″ (D) x 4.33″ (H)
Weight
7.28 lbs
rekordbox™ SYSYEM REQUIREMENTS
Supported OS
Mac® OSX v10.10, 10.9, 10.8, 10.7, or 10.6

iPhone® 5S, iPhone® 5C, iPhone® 5, and iPod touch (3rd, 4th, and 5th Gen). Requires iOS 7, iOS 6, or iOS 5.

Android OS 4.1, 4.0, 3.2, 3.1, 2.3, 2.2, or 2.1.

*Pioneer does not guarantee normal operation of all types and models of Android devices.

Windows®8.1 / Windows®8  / Windows®8 Pro / Windows®8.1 Pro

Windows®7 Home Premium / Professional / Ultimate

*Windows® XP Professional x64 Edition is not supported

* Visit http://rekordbox.com/ for latest supported OS information

Playable Files
MP3, AAC, WAV, AIFF