Tag: XLR
by Marius on Oct.18, 2009, under DJ Product Reviews
The E8B DJ monitor from KRK redefines monitoring and performance
KRK has been a main part of my previous DJ product reviews (take the V12SII DJ subwoofer here), but in a while now, I kind of overlooked them a bit, either because I started writing DJ reviews as well or just because there are many other great DJ products on the market that needed viewing. Or maybe I was just waiting for this, for KRK to redefine something, to come out with a breakthrough of some kind (knowing KRK it had to be in the DJ monitors section). And they have, KRK just set the standard for DJ monitors to a whole new high, through their new Expose E8B DJ monitors…a simple name for a terrific DJ piece of equipment, one that surely will turn down starter DJs, but professional studio DJs will understand once they hear the E8B.
I know it may sound like I'm overdoing it a bit when I start talking about pure excellence from KRK (after all their design was what attracted attention), but by the end you'll see things more from my way. First of all, those working DJ who have used the KRK Expose line of DJ monitors before know it was already a trend setter, and this new model takes that legacy and carries it way forward. The E8B aims to provide maximum in terms sonic accuracy and clarity for the studio DJ, where monitoring is essential.
Working DJs will remember with pleasure the KRK design for DJ monitors, and the black and yellow color combination, along with a nicely rounded enclosure for the E8B which supposedly reduces diffraction inside the monitor. The E8B distances itself through no compromise on the quality of components inside. Unfortunately, this also means the E8B distances itself in the price for working DJs, and for that matter, starter DJs are pretty much shut off to this great DJ monitor. It's actually way too much for even a working DJ with a regular gig at a nightclub. You'll just waste your E8B DJ monitors on the crowd. Its supreme quality and sound can only be truly appreciated in the studio, so studio DJs are the main target for the E8B.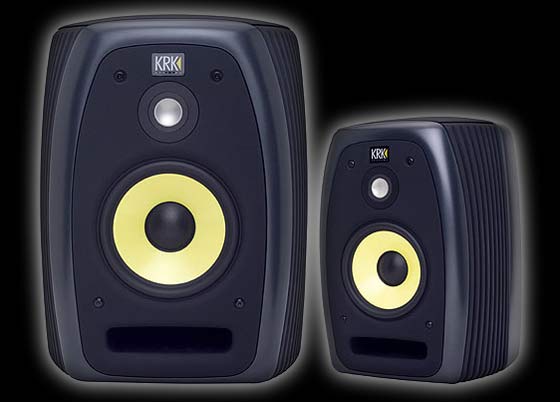 Some features that will make the E8B DJ monitor your all time favorite are on the inside. First, the E8B uses a different and original material for its tweeter. The new AlbeMet formula means that both beryllium and aluminum are used to create smooth and fast response to audio signals. Dual discrete class A/AB amplifiers are built inside the E8B for an incredible amount of sound detail that will most likely leave you wanting more. On the outside, a non slip, sound and vibration absorbing rubberized base and magnetic shielding helps keep the E8B independent, offering the best in terms of sound monitoring.
Here are the some of the features that will make most working DJs and studio DJs drool over the E8B DJ monitors from KRK:
there is no compromise for the dual high grade amplification system, which offers the incredible detail of the E8B
extended HF frequencies ideal for using the E8B with high sample rate computer audio systems
the curves of the E8B are indeed more pronounced than on other KRK models, and this makes for increased cabinet radius edges which improves natural diffraction and provides a larger sweet spot
the woofer is a 8" dual layered kevlar with Rohacell
frequency response is from 40 Hz to 30 kHz +/- 1 dB
the inputs on the E8B are 3 pin XLR 10 kohms balanced
and it has a maximum power consumption of 500 W
The KRK Expose E8B however, has a disastrous score on price for the regular DJs. It also doesn't bore well with mobile DJs,as it weights a whole 68 lbs (or 30.9 kgs) and has dimensions of 49.1cm H x 37.cm W x 35.5cm D. If you can get past the E8B's price, which doesn't go lower than $2500, then you can expect to be treated to one of the best, clearest sounds you ever heard from any DJ monitor.
high grade
,
Expose series
,
monitoring
Related Posts
Comments Off
:AlbeMet tweeter, clarity, DJ monitors, DJ product review, E8B, Expose series, high grade, kevlar woofer, KRK, monitoring, sonic accuracy, sound detail, studio DJ, working DJ, XLR
more...
Powered by
Max Banner Ads