Tag: wireless
by Marius on Aug.05, 2009, under DJ Product Reviews, DJ Reviews
Go wireless with the VHF 1000 DJ microphone
As far as karaoke DJ equipment is concerned, working DJs usually know of Vocopro as being the top brand that provides complete solutions for the karaoke DJ. For exemplification, check out a previous DJ product review of mine on their CLG 600 karaoke DJ controller. However, as in any other field, there are a dozen companies out there worth more than just a few DJ equipment reviews that can provide the same quality for even a lower price. One of those companies is Acesonic which, although more of a wholesaler than a producer, offers some pretty good deals. For instance, take a look at their VHF 1000 DJ microphone, designed with karaoke DJs in mind, but suitable to more than that.
The VHF 1000 DJ microphone is made to bring the power of freedom of movement to the working DJ, be it in a karaoke setup or just by himself. The advantages are obvious as far as karaoke is concerned, as you won't have to keep your "stars" hanging around your DJ setup so they won't stretch or rip the wires. Now they have the whole stage to themselves, and they'll thank you for it at the end of the night.
Like I said, although ideal for karaoke DJ setups, the VHF 1000 DJ microphone has multiple uses and can definitely fill in for any other microphone or generally in recording live sound situations, with the added advantage of offering working DJs the freedom to move around and not worry about anything. And as far as the wireless technology is concerned, even my humble experience as a regular user of a wireless mouse shows that that's the way to go. No mess, no stress, no wires, everything is simpler and easier
The VHF 1000 even brings simplicity a step forward, which DJ product reviews like mine adore, as DJs now don't have to worry about the power either. While in regular instances you'd have to make sure you have phantom power for your mic on your DJ mixer or audio interface, with the VHF 1000 it's as simple as just recharging the batteries and making sure they'll keep you through the night. The VHF 1000 works on a 9V battery that you can easily recharge before your gigs and you're all set. Don't worry, the rechargeable battery and the charger are included in the VHF 1000 package, and it's a great deal, as the whole thing only costs around 40-45$.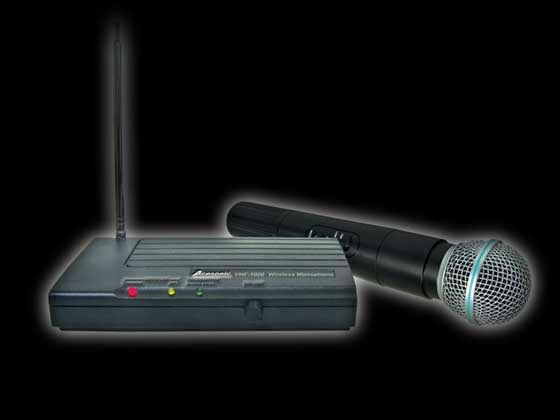 Another major plus for the VHF 1000 and the wireless technology in DJ microphones is that you don't have to settle for low quality because your mic is wire free. The VHF 1000 has a quartz based VHF band lock for drift free operation, and also more professional features such as enhanced muting or noise reducing functions. Let's take a closer look at the full list of characteristics for the VHF 1000 DJ microphone:
a professional VHF wireless mic system
the VHF 1000 comes with individual volume controls for precise vocal balance
the antenna ensures for clear RF reception
a 1/4" unbalanced output for either separate or mixed signal
a signal to noise ratio of 60 dB
and a maximum sound pressure of over 120 dB
The VHF 1000 doesn't only provide mobility on the stage, at your gigs, but it's perfect for the mobile DJ as well. No wires to pack and worry about, just the VHF 1000 microphone with charged batteries, which has dimensions of 6"x4"x1" and a weight of just 3 lbs. This lets mobile DJs easily pack up their karaoke DJ setup and be on the road, professional mic included. The price of the VHF 1000 is sure to not break any bank accounts and yet it offers working DJs and mobile DJs plenty of advantages worth considering.
enhanced muting
,
DJ setup
,
RF reception
Related Posts
Comments Off
:Acesonic, antenna, DJ, DJ equipment, DJ equipment review, DJ equipment reviews, DJ microphone, DJ product review, DJ product reviews, DJ products, DJ review, DJ setup, enhanced muting, karaoke, mobile DJ, noise reducing, rechargeable battery, RF reception, VHF, VHF 1000, wireless, working DJ
more...
Powered by
Max Banner Ads