Tag: Technics
by BlueprintDJ on Mar.09, 2010, under DJ Equipment Reviews, DJ Product Reviews
Preface
I've owned both mixers and have used each over the past two years. I currently own the DJM 800 but keep in mind, that doesn't necessarily mean I think that the 800 is a better mixer – just read further to find out what I mean by that. Also, I am using both mixers as if I got them right out of the box – no upgraded faders nor am I testing their flexibility with effects boxes or MIDI control.
Introduction
This battle is probably one of the most heated equipment battles among dj's looking for the best "mainstream" 4-channel mixer on the market. Choosing between the two is actually alot simpler once you figure out what you plan on doing with the mixer.
Other contenders to consider:
Ecler Evo 4/5, Ecler Nuo 4.0/5, Mackie D.4 Pro, Urei 1604/1605, Korg Zero 4/8 and Xone 42/62.
Price
(In US Dollars for both mixers)
New: $1699 (PSSL, Musicians Friend)
Used: $1000-$1300
Effects and Filters
The Xone doesn't have effects per se but it does have some of the best filters available (LPF, BP, HPF w/ LFO). Not only can you assign two filters to each side of the crossfader but you can tap the LFO out to it – making for some interesting effects. The LFO is somewhat gimmicky but the actual filters are nothing short of the best. The beauty of these filters is that they are so useful with transitioning mixes that I think they can be implemented for nearly every genre.
Note: People claim "clicking" when engaging the filter, to avoid this always engage when the filter is at a frequency that is not so apparent and turn to wetten the signal into the mix.
The DJM 800 on the other hand has a plethora of effects (50+ combinations!), most of which many dj's refuse to use because they simply are too cliche. In comparing the filter of the DJM 800 to the Xone 92, the Xone wins by a solid margin. I'm going to try and get the audio for this up soon but it's safe to say that the DJM's filter is pretty limiting and sounds much sharper(the frequency slope is very sharp, that is) than the Xone.
Winner: Tie (DJM wins on effects, Xone has much better filters)
EQ's
The DJM has 3-band eq's and do not have full cut. The Xone has 4-band eq knobs and full cut on the low and hi eq's. I cannot stress enough how much 4-band eq will clean up your mixes if you are an EDM dj. The DJM's low eq always throws my mixes off, they aren't as accurate and don't translate as well as the Xone. The knobs on both of the mixers are made out of rubber and have center indents rendering both equally good as far as knobs are concerned.
Winner: Xone 92
Crossfader
The DJM 800 crossfader is actually pretty good and loose enough to scratch with. You can really have a sharp curve on it unlike the Xone. You can replace the Xone crossfader with a Pro X Fade (http://www.djdeals.com/eclecticbreaksPROXFADE.htm) or an Innofader and get an awesome crossfader but I would like to find out how much the cut-in time would be affected on it before making the purchase. The good folks over at Audio Innovate are currently working on fitting the DJM with their Innofader (http://www.innofader.com/) so keep an eye out on their website's forum for details when it happens.
Winner (default crossfader): DJM 800
Upfaders
The DJM 800 upfaders have tension on them which may or may not be your style. You have to get used to them. The Xone has longer style faders and are smooth as silk. Neither are great for scratching (Xone upfaders being to long and the DJM's have too much tension). The DJM stands out because you can adjust the curve on them – which seals the deal for me and many other dj's. The default and only setting for the Xone is a linear slope.
Winner: DJM 800
Mic section
The DJM's mics can be routed through the on board effects – which is really cool (I use delay during mixes on my radio show for an echo-like effect) but it only has two band eq which is a slight disappointment. The Xone also has two mics but boasts 4-band eq but since the Xone doesn't have any effects, you cannot achieve the same effects as the DJM.
Winner: Tie
Sound Quality
The DJM 800 is a fully digital mixer while the Xone 92 is an analog mixer. When I compared the sound of these two mixers using the exact same track (vinyl or 320) the Xone sounded better. As subjective as that sounds, there are a few things to consider. If you are using Pioneer CDJ's and using the digital out into the digital in of the DJM 800, you should have a better digital data transfer with the 750 ohm digital cables (http://www.stsi.net/storefrontprofil…id=7584&dfid=1). If you are using vinyl, it'd be a straight analog to analog conversion with the Xone 92.
Winner: Xone 92
Build Quality
The knobs, faders and overall feel of both mixers is solid but the Xone is one full level above the DJM in terms of build quality. I still haven't felt a mixer that feels as good as the Xone 92 – I especially love the metal filter assign knobs – feels like something out of a cockpit. The DJM feels a bit plasiticy (mic knobs, trim knobs, etc..) in certain areas and also gimmicky in other areas. Not to say that the "Mild to Wild" resonance knob isn't gimmicky on the Xone. But if Pioneer focused less of effects and more on building a solid no frills mixer, they would be head and shoulders above the Xone, in my opinion.
Winner: Xone 92
Midi
n/a – never used. But I do know the limitations of the Xone so I never bothered to use it with Ableton. In that, there just aren't enough assignable knobs and faders to use it effectively without a supplemental midi controller. With the DJM 800, you have alot more options but the pitfall of the entire midi concept for dj mixers is that you would be better off using a dedicated midi controller and plugging the output channels into a mixer rather than using a dj mixer for midi and sacrificing audio channels or controls for midi control.
Winner: DJM 800
I/O
The big difference between the two is that the DJM has the digital in's for CDJ's and the DJM also has fader start capabilities. The DJM uses a classic send/return system while the Xone uses an Aux system for routing effects or other devices. The Xone is more complicated to use vs the DJM to route devices. The DJM is almost fool-proof, which is nice in real world scenarios.
Also, not exactly an I/O configuration but there are two turntable grounds screws on the DJM. The Xone only has one and although it's a small oversight it's nice having one for each turntable groundwire like the DJM did.
Winner: DJM 800
Customer Service
Allen and Heath are known for their customer service. When I requested some extra knobs and fader caps Stephanie S. not only shipped them to me for free but e-mailed and called me to make sure I received them – amazing! Now when I called Pioneer it was a very different story – I requested some extra screws for my faceplate and I was charged $56 – and they not only got my order wrong but refused to send the rest (5 screws) without me paying for them. Pioneer crashes and burns in this department.
Winner: Xone 92
Conclusion
Totals
Xone: 6 points
DJM 800: 6 points
I recommend the DJM 800 for: Club Owners, CDJ DJ's (that already own Pioneer cd players), and promotors/event planners.
I recommend the A&H Xone 92 for: Vinyl purists, studio/stay at home mixer, and audiophiles.
But Blueprint, why did you choose the DJM 800 over the Xone?
One word: Needs.
The Xone is rare to find in a club anywhere in the US. I've seen a total of three to this day and I travel to see dj's regularily. Unless you are in a bigger cities like Chicago, New York, or Los Angeles – you'll find a DJM 600 or 800. Let's face it, DJ's like the DJM series because it works and it has one of the easiest layouts to figure out on the fly. Secondly, I started a residency recently and dj's requested DJM's on their rider so I complied.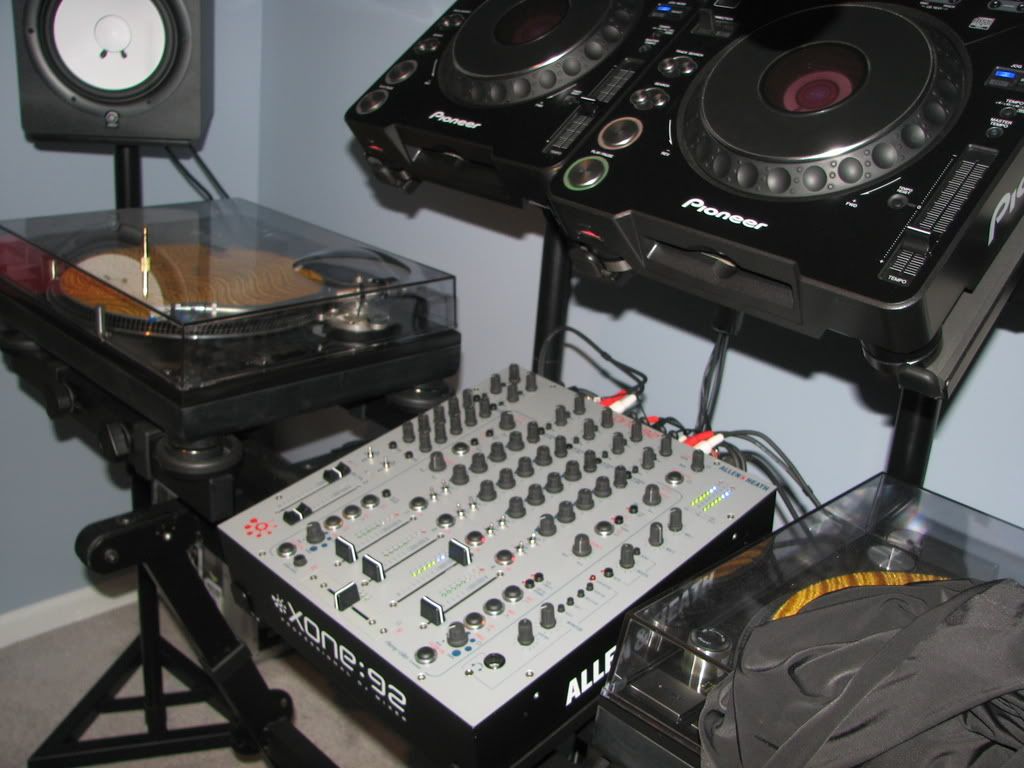 Xone
,
cdjs
,
review
Related Posts
1 Comment
:800, 92, Ableton, analog, cdjs, DJM, EFX, Heath, mixer, pioneer, review, Shootout, Technics, Xone
more...
Powered by
Max Banner Ads