Tag: Subliminal Kid
by Marius on Oct.25, 2009, under News
DJ Spooky, that Subliminal Kid, melts sounds of nature into chamber music
If there's anything I found out about DJ Spooky along the while I've been writing DJ reviews, it's that he's not your regular working DJ. Very few DJs try to take DJ-ing itself to a next level and just understand it as a form of art, as most working DJs are very happy with just doing good for themselves. As long as the parties rock, that's enough for the DJ. But not for this DJ. My last post about DJ Spooky was about the release of his latest album called The Secret Song, which is now out, and you can read about it here.
But away from his bio and previous work, where, as you probably know, DJ Spooky uses his music and mixing to send a message, now he's on a new endeavor, slightly more philosophical. That's because DJ Spooky, the Subliminal Kid, is the only guy trying to make nature's images into music. For his new gig, a combination between chamber music and live DJ turntables skills named Terra Nova: Sinfonia Antarctica, this working DJ took mobility to a different level. DJ Spooky went on in Antarctica himself, stood there for more than 4 weeks back in 2007, mostly recording sounds of melting ice or whatnot, and now he's ready to perform.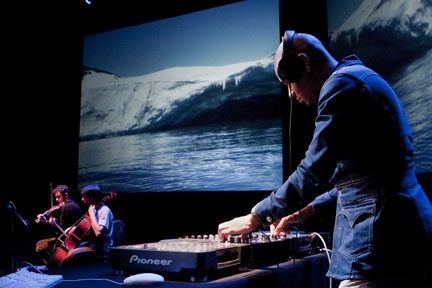 Terra Nova: Sinfonia Antarctica is more than just a music piece, even though it's an original music piece. It's a full experience, consisting of visual images that would take the viewer to those far away lands, supported by accompaniating music, made from DJ Spooky's samples and his skills on the DJ turntable. Terra Nova: Sinfonia Antarctica is a 70 minute long audio visual piece that DJ Spooky only started performing in a few places. Right now he's in New Mexico at the Kimo Theater, where he'll play along with the local quartet.
As far as DJ Spooky's motivation in doing Terra Nova: Sinfonia Antarctica, like with so many other things, it's because that's what he feels is right, and it's certainly taking DJ-ing into an original and new direction: "It's meant to be a kind of total digital media experience, I try to get people to think outside the box about what DJing means — is it about film, is it about music, is it about literature? Basically, most people think DJing is just making a party rock. … That's cool, but I think there's a lot more to it than that."
The Secret Song
,
Subliminal Kid
,
DJ-ing
Related Posts
Comments Off
:audio, chamber music, DJ Spooky, DJ-ing, ice melting sound, live DJ turntable, mixing, samples, skills, Subliminal Kid, Terra Nova: Sinfonia Antarctica, The Secret Song, visual, working DJ
more...
Powered by
Max Banner Ads