Tag: RTA
by Marius on Oct.03, 2009, under DJ Product Reviews
The PAA6 offers excellence in sound analyzing for working DJs
Working DJs have a lot on their minds, and sound analyzing isn't one of their main concerns, I'll admit, so maybe this post is more suited to audio engineers whose jobs have more to do with the pure technical aspects of sounds. However, DJs are mostly self taught about everything audio and most of them are producers and MCs as well as just DJs, and sound is what the canvas is for a painter. Good sound is different from great sounds, and DJ products like the PAA6 audio analyzer from Phonic can help a working DJ tell the difference in a heartbeat.
If you're new to audio analyzers or would simply like a preview on what Phonic is about in this line of DJ equipment, just go to my previous DJ product review on the PAA3 USB audio analyzer, the earlier version from Phonic, before the PAA6, which is for our DJ equipment review today. It will be a useful read, as the PAA6 holds some features from its DJ product predecessors, but improves on them , making it the most powerful audio analyzer on the market today.
The best upgrade in the PAA6 audio analyzer is the convenience and accessibility to your sound data. The PAA6 takes care of this through putting all functions right at your fingertips, in the 480 x 272 color touch screen display available. Other more technical features that the PAA6 improves on are the real time spectrum, tone generator, the RT60, EQ or phase cheching, so it's a significant upgrade overall.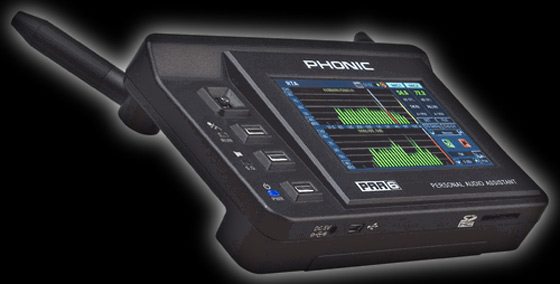 The PAA6 adds an even wider array of sounds analysis tools, and also two built in microphones that can take very accurate sound readings from multiple positions in any room. Not only fun, but also essential for anybody who knows a thing or two about monitoring. Here's what the PAA6 (link to PDF user manual) can do at a glance:
the tone generator includes pink noise, white noise, sine waves, sweep, polarity, triangle and square
great audio analysis tools include RTA, LEQ, RT-60, FFT, THD+N, Polarity, Phase, Scope and Meter (dB SPL, dBu, dBV & Volt), among others
the PAA6 works with a lithium-ion battery which ensures a long lasting life and use
an USB port is included for easy tranfer of files to and from any computer
an SD card slot helps with storing any data you may gather on the PAA6
the SPL meter goes from 30 to 130 dB
All in all, the PAA6 can satisfy any audio engineer's needs in terms of sound analysis, still keeps a handheld design with easy access to functions and pretty much outdoes any competitor on the market today. If you're a working DJ who wants the best for his studio or general sound analysis, the PAA6 is for you.
Phonic
,
EQ
,
PAA6
Related Posts
Comments Off
:audio analyzer, audio engineer, DJ product review, EQ, FFT, microphones, monitoring, PAA6, phase checking, Phonic, polarity, RT60, RTA, sound analysis, tone generator, working DJ
more...
Powered by
Max Banner Ads