Tag: rechargeable battery
by Marius on Aug.22, 2009, under DJ Product Reviews, DJ Reviews
The technical aspects that make the Tonium Pacemaker a revolutionary DJ product
You'll find the main points of my Tonium Pacemaker handheld DJ setup DJ product review in my last post, and what I think makes it a truly revolutionary thing to come out for the music market. It's not only that the Pacemaker is a high quality DJ product with audio performance that makes most sense to a professional mobile DJ on the move, but it's the way this DJ product makes mixing music, adding effects, beatmatching and other skills specific to DJ-ing so mundane that anybody could do them. With the Tonium Pacemaker, anybody can be a DJ, his own DJ.
I find another great use for the Pacemaker in that such a DJ product should help lots of people discover their passion for music. Bringing wide accessibility to the restricted skills of the working DJ, the masses will find that making a great mix is one of those things that is very easy to get into but infinitely harder to master. And that's because the Pacemaker lets the sky be the limit to your mixes. You may not have the same tools that professional working DJ have in their studios, but let's face it, most people wouldn't know how to use those anyway, so the Pacemaker strikes an incredible balance between creativity and accessibility.
The Pacemaker display is similar to those regular to high quality mobile phones, a 262.000 possible colors, 1.7 inches TFT screen that has a 166 pixels per inch (ppi) resolution. Considering the Pacemaker is mainly a musical instrument, such a display should be way more than enough to include all the information a DJ needs in a colorful and pleasant way. Tonium really hit a great note with their Pacemaker, as they made it so flexible in design that it's possible to integrate this DJ product in virtually any DJ setup if you're a pro, but it also works great as a standalone DJ product, featuring 60 GB of memory and enough audio features to keep you entertained forever.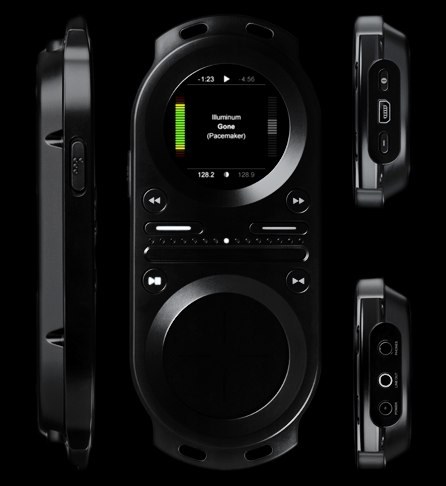 The connectors of the Tonium Pacemaker contribute a lot to its flexibility and no doubt many working DJs will choose a Pacemaker over their previous iPod, just because it's so much more DJ friendly. There's of course the main USB 2.0 connector, and the Pacemaker comes with its own USB cable to use for either data transfer or charging. You can also charge through AC power, with the provided power adapter, which makes the Pacemaker really extremely flexible and a definite friend of any mobile DJ.
And since we're talking mobile benefits, the Pacemaker impresses through its handheld characteristics, considering it performs a lot of DJ-ing tasks very well. Its dimensions are 6.45′ height, 2.71′ width and 0.86′ depth, and the weight is an almost unbelievable 185 grams. Mobile DJs will surely find the Pacemaker most to their tastes. However, the audio technical specs make it a favorite for the working DJs too:
a frequency response from 20 Hz to 20 kHz
respectable signal to noise ratio of 100 dB at 2 VRMS
3.5 mm stereo line output
3.5 mm stereo phones connector
60 GB of hard drive memory, capable of storing music files in USB transferable format through the USB cable
the battery is a rechargeable lithium-ion model with up to 15 hours of music playback and 5 hours of music mixing
and finally, the Pacemaker supports almost any type of audio file, from the regular MP3, MP3 VBR, M4A or WAV to FLAC, OGG, AIFF or SND
All in all, I really think Tonium made a wonderful DJ product out of their Pacemaker, which is not only perfect for mobile DJs and working DJs but also helps to making DJ-ing more widespread, and will definitely bring the next generation of DJs closer to their dreams. Two thumbs up for this little all in one DJ system!
mobile DJ
,
working DJ
,
creativity
Related Posts
Comments Off
:60 GB, accessibility, all in one, audio, creativity, DJ, DJ equipment, DJ equipment review, DJ product, DJ product review, DJ product reviews, DJ products, DJ review, DJ setup, DJ system, handheld, iPod, lithium-ion, memory, mixing, mobile DJ, music, pacemaker, rechargeable battery, technical, TFT display, Tonium, USB 2.0, working DJ
more...
Powered by
Max Banner Ads