Tag: player
by Marius on Oct.30, 2009, under DJ Reviews, News
The new music and rhythm DJ Hero is great fun, if only for a steep price
There's been a lot of people talking about DJ Hero, the first game of its kind, targeted straight on working DJs and their activities. Sure Activision has ripped through the heart of music games genre with its previous Guitar Hero, but DJ Hero tries to identify itself as different and succeeds, not only through using a totally different peripheral to play on, but also through the music selection and the way of mixing tracks together. If there are downsides to the new DJ Hero, which was highly expected, those are the price, which is about twice as large as a regular full priced game, and the fact that DJ Hero doesn't really feel like your creativity makes a difference, as a lot of it is scripted out and premade.
Such is the case with mostly everything in DJ Hero, from the mixes themselves, which are prerecorded by famous artists inside studios and you can only mix through them, but not actually invent or try anything new or outside what's already there. The samples you can insert into your mixes are fine and sound great, but like with the music, they're also prerecorded and worked on in studios, so it all feels like programmed, maybe a bit more than necessary. Of course, the main downside of DJ Hero is that although it tries to emulate the experience of being a working DJ, you can't hope to play it and be ready for a gig. The peripheral only resembles a DJ turntable, but that's pretty much where it stops.
DJ Hero works great and is just about as much fun as its Guitar Hero counterpart, and it's original in the music that it uses. The mixes are great to listen to, let alone play through them, and you'll have an even greater and exciting time when going through each and every mix for the first time at least. The music selection is very wide and varied and should appeal to almost everybody with a taste in music. DJ Hero also appeals to a large audience through its difficulty settings, which are very well made and should satisfy your needs, whether you're a hardcore gamer or just a casual player who likes listening to the mixes more than mixing. From very easy to very hard, DJ Hero strikes a nice balance in letting the game become more and more difficult, as it starts to involve new moves and buttons as the levels increase, such as the crossfader from the medium level.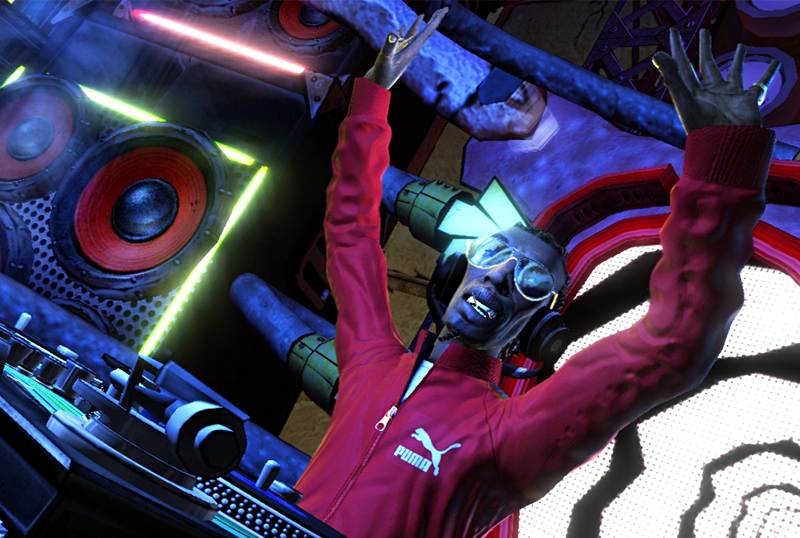 The crossfader is actually the only part of the wireless peripheral that could have used some more work. Not that the whole DJ turntable emulation is without fault, but after a while you'll get the hang of it and start mixing it professionally. The crossfader will take a longer while as it doesn't really catch at the middle while going from the left to right channels, while switching through the tracks' intensities. You can try pushing down on it a little more, but eventually you'll get the hang of this as well, either by keeping your finger in the middle so you know where to stop the crossfader, or whatever other method for both tracks to play at equal volume.
The DJ Hero long story made short would look like this, enumerating both strong points and downsides:
diverse and entertaining tracklist, as detailed in my previous post here
well made peripheral overall, although there are a few twitches
difficulty level ranges widely and appeals to the entire gamut of DJ Hero players
DJ Hero does manage to create a bit of the thrill of creating a hot mix, although it's actually prerecorded
on the downsides, DJ Hero is quite pricey, costing about as much as 2 full games
the crossfader on the peripheral can be tricky and take more time to master
DJ Hero doesn't promote or embrace creativity in music, although it still is a lot of fun to play
mixing
,
emulation
,
player
Related Posts
Comments Off
:Activision, creativity, crossfader, difficulty settings, DJ Hero, DJ turntable, emulation, gamer, Guitar Hero, mixing, music and rhythm game, player, prerecorded, twitches, wireless peripheral, working DJ
more...
Powered by
Max Banner Ads