Tag: obsolete
by Marius on Aug.30, 2009, under News
DJ-ing…can it become a skill for the masses?
This is just another post in which I'm raving about one of the things that I'd like to see more often in the parties and get togethers nowadays. It may not be too popular within the DJ scene, because, well, once the DJ-ing isn't done by one man, in theory at least, that one man isn't necessary anymore, but I don't think such a notion would eliminate the need for DJs, it may even come to accentuate it, but one thing is for sure. It will change the role of the DJ, who won't have as much power and control over the music, but he will have more responsibility, the way I see it.
This isn't a major topic anywhere, as far as I saw, and you're not going to find pages above pages or full forum threads of posts regarding this subject. Call it an idea of mine, and it involves the future of music. Now I'm not a fan of democracy in the way it's understood today : the concept that we get the choose the people who make the decisions for us, but we don't get to make the decisions ourselves, but overall, democracy is a great concept if you apply it well. And at a party, where a limited group of people want to have fun, I think it's reasonably easy to get everybody involved.
That's the main topic of my post, and the idea behind this democratization of DJ-ing, as I called it, involving everyone at the party in the music, letting them choose, vote, whatever, so they can feel like they count and like their opinion is taken into account. It's all nice and fine if one guy makes the decisions for the entire crowd, and granted, that guy is skilled enough to keep most happy (never everyone, guaranteed!), but I'd like to see a little more involvement.
It may just be that I like to feel like I matter, even at a party. If you're the kind of person who goes at a rave or party to just let it loose and don't care about anything, then by all means, having a DJ who chooses what you dance to is best suited for you. If you like to make an impact, even a small one, in every situation of your life, then you might consider this idea. I'm sure the details of this can be worked out by the proper people, with the education and the means to make it happen.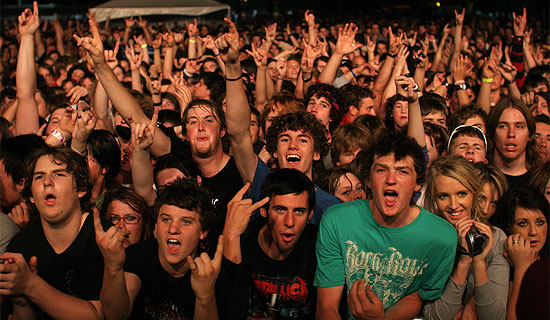 I'm just planting seeds, so to speak, and would definitely like to hear your opinion, whether you're a working DJ, wannabe DJ or just someone who loves parties. What do you think about involving everyone in the track selection process? Get them to vote, get them to even select the next track, one by one, and make it official, so the poor DJ doesn't have to hear everyone's rant about what the next song should be.
I said the DJ won't become obsolete in this way of conceiving a party, but he'll have more responsibility, and maybe even a tougher job all over. If you're a starter DJ than you're probably going to have trouble mixing together or mashing up two tracks from hugely different genres. It takes a pro working DJ to do that, and this will probably be the case if everyone gets to pick and choose. The DJ will still have the central role in the party, as depending on how the system is built, he can decide which tracks plays next, and it's up to him to make it seamless for everybody.
The democratization of DJ-ing doesn't mean that everybody will get to play the DJ for a while. That would be close to chaos, but it's more along the lines of trying to involve everybody at the party in the party. Making them feels like they count, and with a little luck, they'll feel like they had something to do with that great party last night. And they'll be back for more…
DJ review
,
decision
,
mobile DJ
Related Posts
Comments Off
:choose, decision, democratization of DJ-ing, DJ, DJ equipment, DJ equipment review, DJ product review, DJ products, DJ review, DJs, involving everyone, matter, mobile DJ, music, obsolete, opinion, party, vote, working DJ
more...
Powered by
Max Banner Ads