Tag: New York
by Marius on Oct.09, 2009, under DJ Reviews
A New York veteran, DJ Greg Cuoco knows all about house music
In a long line of working DJs who started out locally(like DJ Wizz the WaxxKutta, of whom you can read a DJ review here) only to get more and more exposure and eventually make it big in the whole world follows our DJ review target for today, DJ Greg Cuoco. This working DJ is all about house music, although as we'll see, he was exposed to multiple genres from his early teen years. But living in New York, in a time when the nightlife was lacking in parts, DJ Greg Cuoco didn't miss his chance at greatness and went on to become the house music veteran he is today.
It's true that DJ Greg Cuoco had a head start not many of us have when it comes to getting profesionally involved in music. With his father, Angelo Cuoco playing Vaudeville and many other sing and swing session all over New York, and his brother Sean as the lead singer for his band Southern Exposure, DJ Greg Cuoco had his road already paved towards DJ-ing.
Naturally, he started fairly low, as a college radio DJ, and that experience was what gave him contact with all the music genres out there. DJ Greg Cuoco only became accustomed to the house music that made him famous after moving to downtown New York, where he also got multiple gigs at night clubs in Soho. Soon enough, DJ Greg Cuoco was all about entertaining people by mixing music (especially house music).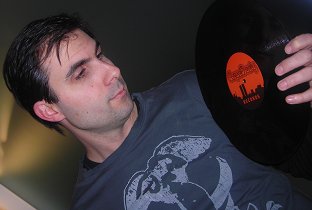 Next in the life of DJ Greg Cuoco are probably the shows you're familiar with if you're in New York. The House Nation afterparty was a logical choice for DJ Greg Cuoco and his friend Johnny Sender to develop their styles and they even started what is known all over the world today as Aqua-booty. Tightly knit together, the House Nation party along with the Aqua-booty show developed together and achieved fame in the nightlife map of New York.
Eventually it was Aqua-booty that got the upperhand and became more popular, expanding to other clubbing loving cities like Miami and London. Working DJs from all around th world came to mix in DJ Greg Cuoco's Aqua-booty party, and some of the names include:
Tony Humphries
Danny Taneglia
Tedd Patterson
or Alan Russell as the host of Aqua-booty in London
Aqua-booty also developed into the main title of albums for DJ Greg Cuoco, and after releasing a few mixes of his own under this title, DJ Greg Cuoco started Aqua-booty Records, the label which handled Neal Conway's "Return to Disco EP" and Prince Quick Mix's "NYC Lies in Dust". And all along the way, DJ Greg Cuoco continued to make appearances at Back to Basics or Ministry of Sound, getting his name even higher in the ratings. Although not at the top, DJ Greg Cuoco is not halfway finished either, so if you love house music, Aqua-booty might be your next favorite show.
radio DJ
,
House music
,
mixing
Related Posts
Comments Off
:Aqua-booty, Aqua-booty Records label, clubs, DJ Greg Cuoco, DJ review, DJ-ing, House music, House Nation, mixing, New York, nightlife, party, radio DJ, show, working DJ
more...
Powered by
Max Banner Ads