Tag: mobile DJ
by Marius on Oct.30, 2009, under DJ Equipment Reviews, DJ Product Reviews
The DN-S700 CD/MP3 player for working DJs is a new entry level fully featured DJ product from Denon DJ
There may be a lot of things to say about the Denon DJ products, and without a doubt there are plenty that DJ equipment reviews out there already do, but as I said in my previous DJ product review of a Denon DJ mixer, the DN-X500 model, what I like most about them is the way they make their gear. Sure, there are tons of well made and great to touch DJ products from different manufacturers, but even Numark or Vestax occasionally puts together something that's a little wobbly in parts. With Denon, and with our DJ product review for today, the DN-S700 CD/MP3 player, it's all in one piece, designed to be used, not just watched. And the DN-S700 even more so, since its features, as you'll see, tend to make it a main workhorse of your gigs.
The DN-S700 CD/MP3 player is a tabletop DJ product, made primarily for entry level working DJs or starter DJs, but there's definitely more than enough in it to keep even professional DJs satisfied. This CD/MP3 player has everything you'd expect for a working DJ to be able to perform in front of a crowd, but it also borrows some features from some top of the line professional DJ products, and it sees. First and foremost, the MP3 functionality and full support works miracles for mobile DJs, that don't want to carry around the bags full of vinyls. Denon knows better than to skip MP3 support on any of its DJ products, even if they are only entry level. Furthermore, the DN-S700 also allows for easy file search and selection straight from inside the CD, either with a manual feature or with an automatic option that scans files and folders, and cuts the time by a lot.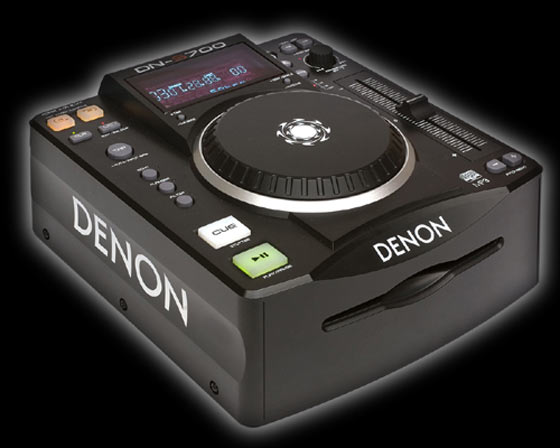 There is of course full CD and MP3 id tags and text display on the DN-S700, easily visible in a nightclub environment, along with a BPM feature, both in manual and automatic modes. The other main characteristics of the DN-S700 CD/MP3 player are listed below:
hot start from within any file
seamless looping with exit and reloop
three onboard digital sound effects
the DN-S700 only has 4 pitch change ranges to choose from, and they only on the + side, at 6, 10, 16 and 100%
also a key adjust to keep the same key even if you change the pitch
100% digital output for main out
and finally, the DN-S700 has quite a great feature in being firmware upgradeable, which means Denon will probably fix most known issues through downloads available on their website
All these things make the DN-S700 a great CD/MP3 player for starter DJ, with tons of things to learn and offer, a suitable option for mobile DJs, as its dimensions are at 215 (W) x 87.7 (H) x 232 (D) mm and weights just 2.6 kgs, and a respectable DJ product even for working DJs. The DN-S700 is much improved though through the addition of a built in DSP processor, offering echo, flanger and filter effects and a large memory capacity making it suitable for more advanced options. You can get the DN-S700 CD/MP3 player at around $400, but the features and quality are worth it.
working DJ
,
id tags
,
CD/MP3 player
Related Posts
Comments Off
:CD/MP3 player, Denon, DJ equipment review, DJ product review, DN-S700, DSP processor, effects, id tags, mobile DJ, pitch, seamless looping, starter DJ, upgrade, working DJ
more...
Powered by
Max Banner Ads