Tag: LED
by Marius on Sep.10, 2009, under DJ Product Reviews, DJ Reviews
The BNC FL2 from Technical Pro lets you be all the DJ you can be
Technical Pro is known for a lot of things in the world of DJ equipment, and their DJ products can be found in many venues, rocking the place under the careful and skillful control of a talented DJ. One of the things Technical Pro excels at, however, and especially starter DJs will be grateful for it, is putting a low price on their DJ equipment. Whatever DJ product review you read about Technical Pro, the price mark is bound to be high, as this brand really likes to put as much quality as they can in a DJ product that will be available to all. The BNC FL2 model of DJ light and fan isn't only a special DJ product in itself, working to maintain a pleasant environment, but also a bargain from Technical Pro.
Working DJs perform in many venues and places, and they're all different as far as temperature and lighting goes. While the resident working DJs may have some freedom in customizing the workplace to their specific needs, mobile DJs, starter DJs and the ones moving from gig to gig don't have this luxury. That's where the BNC FL2 comes in very handy, and even if you're a resident, you can keep your environment just how you like it for a minimum cost.
It's a rule that when the party gets cracking and people start to sweat, the DJ needs to be on top of it all. A sweaty, tired working DJ who's squinting to see the markings on his mixer isn't going to make it very far up the ladder, because all those factors ultimately impact on your performance as a working DJ. Your DJ equipment may be working optimally, but if the DJ himself isn't, no DJ product, no matter how good the DJ product review was, is going to make a difference. that's when the BNC FL2 model comes into play.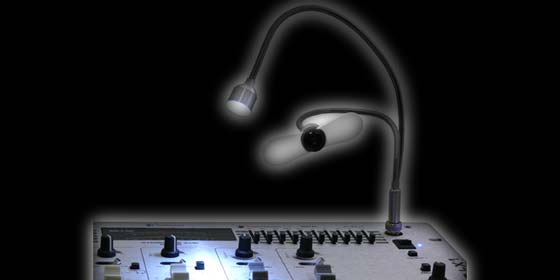 The entire BNC series from Technical Pro is designed for professional working DJs who are keeping tabs on their immediate environment so they can perform 100% at all times. The FL2 model goes one step further and puts both lighting and a cooling fan in one easy package that will solve most of the problems working DJs encounter. Basically, the BNC FL2 puts the DJ back in control of his surroundings, and not at the mercy of the venue.
Here's what working DJs can expect from the BNC FL2 DJ light and cooling fan in terms of technical specifications:
the BNC FL2 has both a cooling fan and a 7 LED light for the DJ to control
both of them are connected to a single BNC socket
as the name suggests, the FL2 plugs and powers directly from any DJ mixer's BNC jack
a flexible gooseneck allows for maximum directional control
and the design is so that the BNC FL2 doesn't occupy any extra space in your DJ setup
It comes without saying that if you're a mobile DJ who's hit a dark and hot place to mix in, a starter DJ who has to suck it up or a working DJ who just wants more control over his surroundings, the BNC FL2 is the perfect choice for you. Both DJ light for easy viewing and cooling fan for keeping fresh work in the BNC FL2, and it's as convenient as plugging the FL2 into the BNC jack in you DJ mixer. The BNC FL2 goes upward, takes no space at all and is flexible to accommodate all your needs. Not much else a working DJ can ask for, huh?
BNC FL2
,
DJ equipment review
,
DJ equipment
Related Posts
Comments Off
:BNC FL2, BNC socket, control, cooling fan, DJ, DJ equipment, DJ equipment review, DJ light, DJ product review, DJ products, DJ review, DJ setup, environment, FL2, LED, mobile DJ, starter DJ, surroundings, Technical Pro, working DJ, workplace
more...
Powered by
Max Banner Ads