Tag: latino
by Marius on Sep.24, 2009, under News, Stories
DJ Disco Wiz is the world's first latino hip hop DJ…groundbreaking
Being the first is hard in any domain of life, no matter what you do. It usually means going against a whole bunch of prejudices and misconceptions people have about things and those of us who actually do it are to be commended, if only because they have the guts to walk against those prejudged thoughts and prove us wrong. DJ Disco Wiz is one of those people, the target of my DJ review today, and although he didn't really invent anything, he did go against preconceptions. In this case, it's how black people and those of African origin are somehow the best representatives of hip hop as a way of life and a culture.
DJ Disco Wiz had something to say to that, and not only he made his way through hip hop better than some black people, but he was also a pioneer of the rap culture in Bronx, where he was born. With all that DJ Disco Wiz did for hip hop out of passion for music, he earned himself the title of being the first hip hop latino DJ, which is no small feat, considering he started out way back when hip hop was barely starting by itself.
DJ Disco Wiz, by his real name Luis Cedeno, was inspired to start mixing, spinning and revolutionizing the way hip hop is perceived when he witnessed DJ Kool Herc at one of his jams, as part of an emerging hip hop movement when he was really young. After that Luis Cedeno teamed up with his best friend, Casanova Fly, or Grandmaster Caz to form what became a legendary hip hop DJ crew in Bronx, the Mighty Force. Some other things for which DJ Disco Wiz is remember even today, beside his Mighty Force crew on the streets of Bronx are:
being the first latino DJ in hip hop culture
through his Might Force DJ crew he helped introduce the first latino rapper in hip hop, Prince Whipper Whip
DJ Disco Wiz is credited for being the first DJ to create a mixed plate in 1977, along with Grandmaster Caz
he created the Hip Hop Meets Spoken Wordz series, a hip hop and poetry performance series
and DJ Disco Wiz is quite a poet in his own right, performing even at the Apollo Theater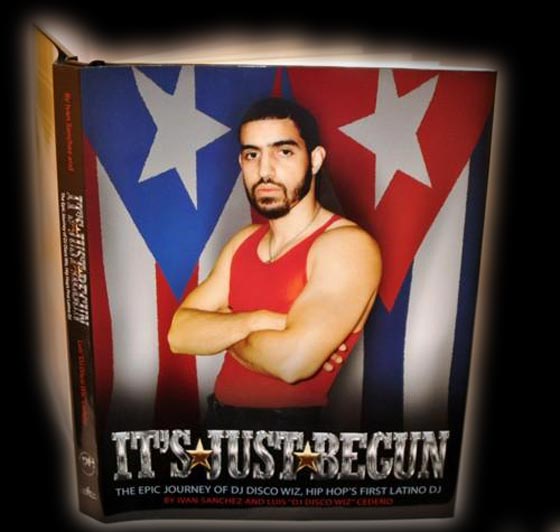 I know that's a lot of baggage to carry for just one man, especially as latino origin DJs weren't really perceived as being part of the hip hop movement, but DJ Disco Wiz had it harder than that. With the passing of time though, many will have heard of Luis Cedeno the writer, as he's been a part or author of many books until now, and his latest is just coming out, an autobiography written with the aid of Ivan Sanchez, named It's Just Begun: The Epic Journey of DJ Disco Wiz, Hip Hop's First Latino DJ.
So if you want to find out more about the live (which is indeed almost epic) of DJ Disco Wiz, a man who had the guts to move against preconceived ideas, the It's Just Begun book is as good a place as any to start. But keep in mind that Luis Cedeno didn't write it to be a hip hop book, but rather a tale of what he's been through to get where he is. As eye opening and generational as it may be, It's Just Begun is no hip hop praising attempt, although DJ Disco Wiz was a big part in educating the hip hop movement of Bronx in those early days.
book
,
mixed plate
,
hip hop DJ crew
Related Posts
1 Comment
:book, Bronx, culture, DJ Disco Wiz, DJ review, Grandmaster Caz, hip hop DJ crew, Hip Hop Meets Spoken Wordz, It's Just Begun, latino, Luis Cedeno, Mighty Force, mixed plate, pioneer, poet
more...
Powered by
Max Banner Ads