Tag: human psych
by Paul on May.14, 2009, under DJ Equipment Reviews, DJ Product Reviews
Diablo Coolflame – turn the heat up
Besides having a slightly paradoxical name, I have to give it up to Antari for their great flame machine. As you might have guessed, I'll go on and talk about another very fun device to have on your own, if you're simply amazed at these things, like I am, or at any party or gathering of people actually. A flame machine will definitely have people turn their heads, and the more realistic the flames, the more "WOW!"s you'll get from the audience. As a working DJ, you want to get everybody up and dancing or jumping around like there's no tomorrow, but you better remember that they'll remember the lights and special effects your party has. And they'll most certainly remember the Diablo Coolflame, which can only be good for you as a DJ.
It's also not surprising that Antari brings something like the Diablo Coolflame into the market, because fire and anything looking like fire seems to have a special place in the human psych. A working DJ doesn't have to be a psychologist in order to be successful, but all the really great DJs know how to "control" their crowds, they instinctively know how to "push the crowd's buttons" so to speak, and without knowing any sociological theory at all, the more experienced they get, the more finetuned they are to a group of people's wants and desires. And adding a flame machine like the Diablo Coolflame to your party is just tapping into that human psych and into people's ongoing fascination with flames.
Now, thankfully enough, a flame machine doesn't produce the true flames its name suggests, or else the temperature of the party might get higher than a working DJ would like, but the Antari Diablo Coolflame comes as close to real flames as you can ever get without the fire hazard. Antari devised a simple system that works based on lamps, a fan and some fabric to give the Diablo Coolflame its resemblance to the real thing. The Diablo Coolflame flame machine isn't going to burn anyone anytime soon, but it might have some people dodging the virtual fire, which is exactly how a working DJ likes his flame machine.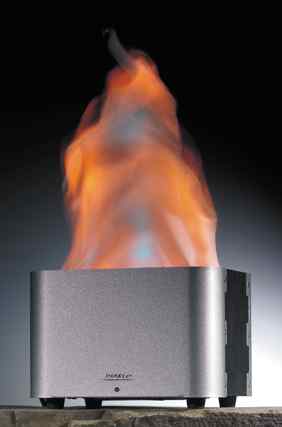 The Diablo Coolflame is also made to be simple, safe and easy to use by anyone, in spite of the great effects it can give and the way it could influence a whole party. With a weight of only 7.49 lbs, the Diablo Coolflame is easily transportable and with the use of available wall mounting brackets, it can just as well serve many more other locations that just a working DJ's night club, such as restaurants, theme parks, retail businesses for an extra spark or simply at your home, because they look great on the wall.
The most important electrical information about the Diablo Coolflame is available in the following list:
it works on AC 120V/60 Hz or AC 230V/50 Hz
the Diablo Coolflame fuse is both F2A for 120V and F1A for 230V power
weight of just under 7.5 lbs, that's a bit over 3 kgs
and with dimensions of 9.31 x 7.44 x 5.9 (all in inches), it's not so hard to carry the Diablo Coolflame to wherever you need it
Maybe it's the huge evolutionary leap that fire gave the human race, maybe it's its many uses, maybe it's mysterious and enchanting shape but flames have always had a grip and humans have held fire in fascination for ages now. And that won't stop now, so Diablo Coolflame offers working DJs a way to tap into that human psychology gateway to make a party great and the Diablo Coolflame's affordable under 40$ price makes it adjustable for those of you, DJs or not, that think a flame machine would look great on a wall in the evening.
PS: Same problem with the Antari website, it's all one URL, so no different links for different products. However, the Diablo Coolflame doesn't seem to be on their site at all, so for more information and/or a great price, I can direct you to HollywoodDJ.
temperature
,
working DJ
,
mobile DJ
Related Posts
Comments Off
:Antari, crowd, Diablo Coolflames, DJ, DJ equipment, DJ equipment review, DJ product review, DJ product reviews, DJ products, DJ review, electric, fan, fascination, fire, fire hazard, flame, flame machine, hot, human psych, lamps, mobile DJ, party, Portable, special effects, temperature, working DJ
more...
Powered by
Max Banner Ads