Tag: gemini
by Marius on Oct.24, 2009, under DJ Product Reviews
The new Gemini CDJ-203 is a really cost effective and really pro DJ CD player
As with all other electronic or products, DJ products are a matter of tastes and preferences. Humans are like that and working DJs are no different. They'll read DJ product reviews and such, but it's ultimately a personal decision. Gemini was always somewhere in the middle, with people being largely undecided on their DJ equipment. Sure, they have their loyal working DJs, but mainly Gemini offered cost effective solutions that would do the job. In 2009, they stick to what they do best, and the DJ product review to prove it is about the CDJ-203 CD player.
There's a little bit to be read on Gemini on the blog, but get straight to my previous DJ equipment review on an older model, the CFX 20 CD player. The CDJ-203 has about the same aim, in that it offers good club worthy qualities and features for working DJs who aren't willing or able to splash the cash on some high end Pioneer CD player. The CDJ-203 even succeeds at this, as it has what most working DJs expect and use, and furthermore, it's a treat for mobile DJs too. Weighting only 2.62 kgs (that's 5.78 lbs), the CDJ-203 (link to PDF manual) CD player can easily fit into a mobile DJ's setup.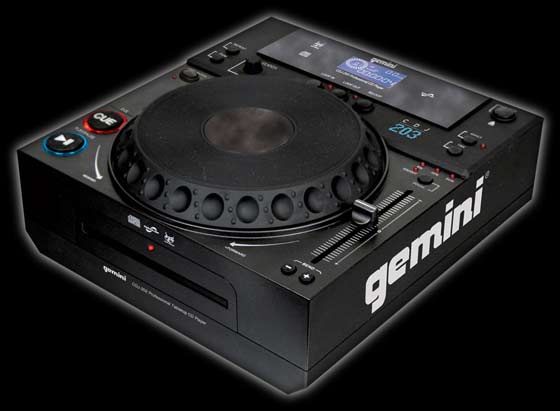 The CDJ-203 doesn't even target the wow factor out of anybody, although the one feature that makes me drool is its jog wheel, which is a rubberized, extra large model that's a pleasure to work with. Other than that, the CDJ-203 keeps the essential features reasonably priced. The design is ok, although a bit of rounding around the edges wouldn't have hurt the CDJ-203 CD player's looks, but in technical terms, it does the trick. Here's a shortlist of the main features for the CDJ-203:
anti shock with RAM buffer memory
the jog wheel allows two different modes: pitch bending and searching
instant start and cue, with previews
the CDJ-203 supports single and continuous play modes
seamless looping
pitch bend going to +/- 24%
pitch control is variable between +/- 8, 16 and 24 %
The large backlit LCD display helps working DJs find the info they need about tracks fast and easy, and of course, the CDJ-203 handles CD or CD-R formats audio. Given it's a 2009 CD player model, I find it surprising that Gemini didn't put an MP3 player in there as well, as this seriously limits its uses, but the CDJ 203 still scores on low price and dependability, which is equally important.
CD
,
gemini
,
working DJ
Related Posts
Comments Off
:CD, cd player, CD-R, CDJ-203, cost effective, Cue, DJ equipment review, DJ product review, essential, gemini, large jog wheel, LCD, mobile DJ, pitch bend, seamless loop, working DJ
more...
Powered by
Max Banner Ads