Tag: Final Scratch Open
by Marius on Jul.01, 2009, under DJ Equipment Reviews, DJ Product Reviews
The Stanton Final Scratch Open is the rock-solid foundation for your audio system
Working DJs familiar with our site will also be familiar with Final Scratch and what it does. Stanton was a trend setter when Final Scratch allowed DJs to control digital files as they would their trusty old vinyls, and no serious DJ magazine or website in the world will have forgotten to review this marvelous breakthrough that opened a whole new world for working DJs. The DJ equipment review on WorkingDJ.com includes both Final Scratch 1.5 and Final Scratch 2.0, and I advise you to read, as that has practically everything you need to know about Final Scratch, including that it's based on the Final Scratch Open audio interface, and that's our topic today.
Stanton not only created a near miracle with Final Scratch, but they also used one of the most potent and capable audio interface for the job, Final Scratch Open, more well known as the ScratchAmp. The ScratchAmp is the audio interface that FInal Scratch 2.0 was based on and revolved around, making lighting fast signal transmission possible to wherever it was needed in the DJ setup. While Stanton DJ product reviews have given its dues to Final Scratch 2.0, ScratchAmp got away with little praise, even tough it was actually the foundation of the whole system.
Because of that, Stanton came up with the concept of Final Scratch Open, based solely on the ScratchAmp, so this DJ equipment review will emphasize that. The way Stanton figured it was that ScratchAmp was already a very respectable audio interface in itself, compatible almost universally and allowing for basically no latency signal transmission due to using FireWire technology, so it was a shame to not offer the ScratchAmp by itself to working DJ around the world. And that works like this: working DJ sees the ScratchAmp, working DJ gets the ScratchAmp, he builds his DJ setup around it and Stanton then labels it Final Scratch Open, although it's certainly up to the working DJ what kind of DJ setup he puts around the ScratchAmp.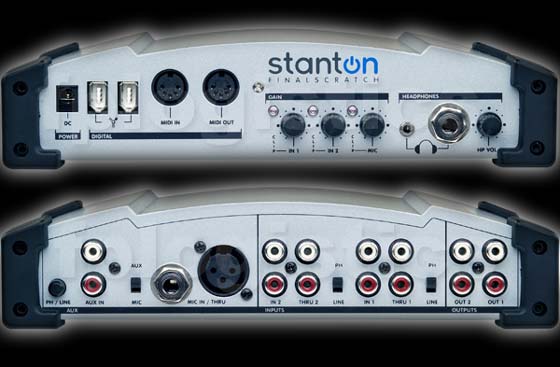 ScratchAmp lets Final Scratch Open be universally compatible because it is both an ASIO / WDM device on Windows and CoreAudio class compliant on Macs, which basically lets even traditional non pro-audio applications use ScratchAmp to it fullest. Of course, Final Scratch Open is more than able to work around professional DAW like Cubase or Ableton Live, and it definitely allows for connecting DJ turntable, CD players, DJ mixers or other 24 bit and 96 kHz converters to work with DJ software like Virtual DJ or PCDJ. The FireWire technology eliminates all noticeable latency and lets your DJ software respond as fast as your hands on your DJ equipment. ScratchAmp even has a FireWire Thru port for connecting iPod or external hard drives to the mix. Now some other features and tech specs of ScratchAmp and Final Scratch Open DJ product review:
frequency response of 20 Hz to 20 kHz
signal to noise ratio of 105 dB A weighted
total harmonic distortion is 0.005% at 1 kHz
ScratchAmp works in professional 24 bit resolution and supports sampling rates of up to 96 kHz
latency is less than 2 ms
and an included external power adapter of 9 VDC, although mobile DJs may choose to power ScratchAmp directly through their FireWire port
MIDI compatibility and MIDI designated ins and outs lets Final Scratch Open include external MIDI controllers for added hands on control, so ScratchAmp is basically compatible with everything audio on the planet. Being small, Stanton took steps to protect it by putting it in a rugged aluminum chassis which works just as great at home or on the road, with the mobile DJ, so whatever your DJ setup and DJ needs are, chances are high that ScratchAmp and Final Scratch Open are suitable professional options.
DJ equipment review
,
professional sound
,
DAW
Related Posts
Comments Off
:Ableton Live, ASIO, CoreAudio, Cubase, DAW, DJ, DJ equipment, DJ equipment review, DJ product review, DJ product reviews, DJ products, DJ review, DJ setup, DJ software, Final Scratch, Final Scratch Open, Firewire, FireWire Thru, low latency, MIDI, mobile DJ, professional sound, ScratchAmp, Stanton, Stanton DJ product review, Virtual DJ, WDM, working DJ
more...
Powered by
Max Banner Ads