Tag: electric
by Marius on Aug.17, 2009, under News
The Humanthesizer is the first human synthesizer, music ready!
How can anybody say that technology isn't fun? True, all the formulas and all that math and physics involved in how something works and why it does what it does might be a bit boring, but who cares when the results come close to something like the humantheziser, the topic of my first post today. This one is for the history books, at least as far as DJs and music are concerned, as I see a really new and cool idea to involve more people in a party. Let me tell you what it's all about.
The humanthesizer is basically the first human synthesizer, where humans are actually being used as circuit closers and signal transmitters, in other words switches and wires. How can you do that, I hear you ask. Well, I'm not too in the know myself, but Calvin Harris, which you may know if you're a music fan or a working DJ (especially in Britain) has a better idea. And even he doesn't get the whole picture, as the masterminds behind those formulas and math of the humanthesizer are the masters students of the Royal College of Art, the Industrial Design Engineering programme.
The humanthesizer isn't one of those sci fi sounding projects either, it's real, it's working and you can hear the results. Not unlike your regular synthesizer at home, the humanthesizer is ready and able to produce a multitude of sounds, from bass to snares and highs, which can be used to create a track, and quite a good track too! For instance, since Calvin Harris is a big part of the humathesizer project, he knows how to use it best, so here's how much fun you can have with 15 or so models, painted with the special non toxic body paint that makes sending electric signals through humans safe and possible: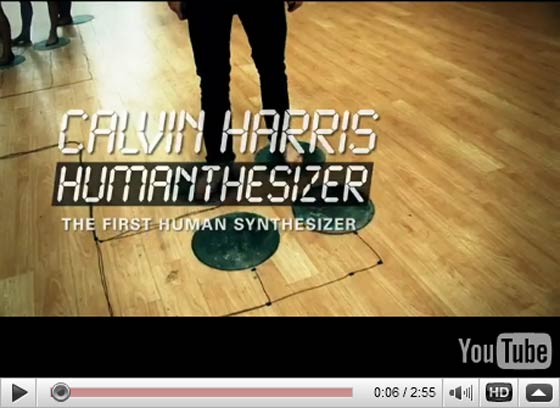 The paint is called Bare Conductive and it's what makes the humanthesizer tick, since without it, the signal wouldn't get transmitted. The circuit you saw is pretty complex, although it hints to much more than can be done with the technology. It consists of:
34 pads on the floor, painted with the Bare Conductive
in this case, 15 models, but any human being would do, as long as he's painted with the same paint
some clever custom electronics that connect this system to two Arduinos
the graphical audio programming tool Max MSP
all of the above combine into a huge MIDI controller which is then connected to Ableton Live on a computer to sequence and quantize the music
The track played was a version of Calvin Harris's new single named Ready For The Weekend, and as you saw, the boring formulas behind the humanthesizer make for a pretty fun and interesting way of combining sounds into a cool song. All in all, both Calvin Harris and the students from the Royal College of Arts deserve praise for seeing this true, and I can only think about huge parties where the mixing is done by the crowd itself. But my mind is taking a trip into the future. For now, listen to the making of the humanthesizer, presented by the guys who helped create it. Awesome!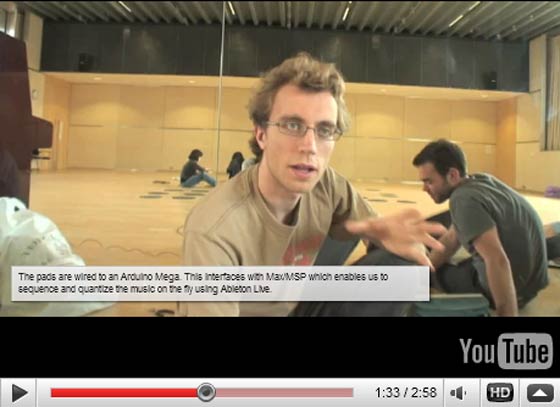 Ready For The Weekend
,
Royal College of Arts
,
DJ products
Related Posts
Comments Off
:Ableton Live, Arduinos, Bare Conductive, body paint, Calvin Harris, creating, DJ, DJ equipment, DJ equipment review, DJ product review, DJ product reviews, DJ products, DJ review, electric, electronics, fun, human synthesizer, humanthesizer, Max MSP, MIDI controller, mobile DJ, music, non toxic, physics, Ready For The Weekend, Royal College of Arts, synth, working DJ
more...
Powered by
Max Banner Ads