Tag: DJM-800
by Marius on Aug.08, 2009, under Stories
DJ Dizz in Utah at Circle Lounge
I've been living near Utah for a while and while I agree it's definitely not the best place to look for the wildest party and hottest DJs in the country, there are some exceptions. If they confirm the rule or just start a trend, that's for the Utah music industry (if there is one…) to decide.One of these exceptions is DJ Dizz, who Utah music lovers can almost regularly find at the Circle Lounge in Salt Lake City of course. Almost the entire end of the week is DJ Dizz's residency at Circle Lounge, starting with the Circle Lounge Hookah Thursdays, going on to the Phat Fridays and finishing off with a rotation on the Club Hollywood Saturdays (talk about a lot of theme parties).
DJ Dizz isn't just a regular resident DJ at the Circle Lounge, but also does gigs for KI Events, for instance his most recent gig being the second annual Black and White Party. I picked DJ Dizz or Jeremy Fleming to talk about today not because of his residency as proof of him being a true working DJ, but because I think his story shows that a passion for music can whip you up into a DJ in a relatively short time. In his case it was 5 years, which granted, isn't long at all compared to DJs who started playing with turntables since 8 or 10, but hey, most starter DJs would give anything for a sure fire residency like DJ Dizz's.
But it's the passion I want to insist on, and just not considering music as being your work, although it does get you paid. While keeping a professional attitude about DJ-ing is more than recommended, if it ceases to be fun, you should start thinking if it's the right thing to do. For DJ Dizz, it started with his fascination for music and with how a good DJ can change the entire mood of a party. While DJ-ing started as a hobby for Jeremy Fleming, and not too early in life either, it quickly made it to the level of addiction. He was already married by the time he started DJ-ing so his wife should know best.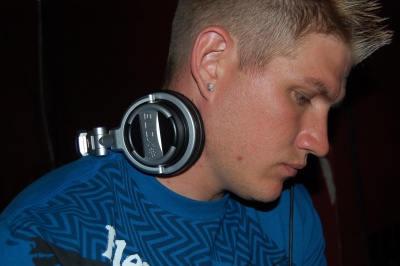 From the initial passion, buying and playing on his first DJ turntables set was the next logical step, and then going to the clubs and listening to other DJs was the thing that always gave DJ Dizz new ideas and inspiration for his set: "It was always amazing to me at how the much power music really has on everybody. Honestly its hard for me not to be inspired. I can always feel when a good dj or song inspires me because I get goosebumps.". The style of DJ Dizz is somewhat flexible and covers mash-ups to electro, hip hop top 40 or house, the secret being that he can switch between styles relatively easy and keeps everyone dancing in the meanwhile.
Another interesting part about any DJ, if you ask me, is their DJ setup, and while I wrote a post about the DJ equipment of Deadmau5, that was pretty top floor, not something most DJs can afford just like that, so let's check out what's DJ Dizz's favorite DJ setup for his gigs:
the Macbook Pro, which gets to be the all around DJ favorite as a system
then it's Traktor Scratch Pro as a DJ software
CDJ 1000's for the players
and a Pioneer DJM 800 DJ mixer
last, but not least, DJ Dizz prefers the SkullCandy SK Pro headphones
You can see that's a lot more affordable, although with as much Pioneer into the scene, it's bound to be great quality, and worthy of DJ-ing in the Circle Lounge. And while his residency at the Circle Lounge was definitely the biggest accomplishment in the career of DJ Dizz, he just want to have good sets every week for the crowd, taking it one party at a time. That's the way to go.
DJ setup
,
Traktor Scratch Pro
,
DJ review
Related Posts
Comments Off
:career, CDJ-1000, Circle Lounge, DeadMau5, DJ, DJ Dizz, DJ equipment, DJ equipment review, DJ product review, DJ product reviews, DJ products, DJ review, DJ setup, DJ software, DJ-ing, DJM-800, inspiration, Jeremy Fleming, Macbook Pro, mobile DJ, music, passion, pioneer, resident DJ, Salt Lake City, Skull Candy, Traktor Scratch Pro, Utah, working DJ
more...
Powered by
Max Banner Ads