Tag: DJ turntables
by Marius on Sep.22, 2009, under DJ Equipment Reviews
Get ready to upgrade with the new Pioneer CDJ 2000 on this Beatport contest
Today's the day of contest on WorkingDJ.com, as my second post will also be about another competition, but this time it's not your skills that are required to enter, so basically you don't even have to be a DJ in order to win, as far as I can tell from the rules. However, who better to win a pair of brand new (and I mean newly released too!) CDJ 2000 digital DJ turntables from Pioneer than a working DJ who can then use them at his heart's desire at his gigs. And I guarantee that once you show up with the CDJs 2000 at the bars, the gigs are well on their way, because nothing says pro working DJ better than professional DJ equipment.
Just to get all of your mouths drooling right from the start, there's only one prize on this contest, which is open to everybody, as long as he/she's living in North America (that's the States, Canada or Mexic) and the estimate retail vale of that prize shoots up at about $4750! Tell me you don't want those CDJs 2000 were yours right now, even if only to resell them for a profit!
It's quite a shame that the organizers of this contest didn't make it a mix or remix contest, so the creativity of all you working DJs out there will break out (and also keep out all the non DJ participants, not that I have anything against you guys, but the CDJs 2000 are almost wasted on somebody who's not a DJ). Those organizers are very well known in the DJ world, and working DJs will definitely recognize Pioneer, who's offering the 2 CDJ 2000 DJ turntables. Then there's Native Instruments, bringing the DJ software to complete the DJ setup. Knowing NI, that's easily the Traktor Scratch Pro DJ software, and for good reason. And finally there's Beatport, which will be known to music fans as well as DJs looking for an inspiration and the latest and greatest tracks.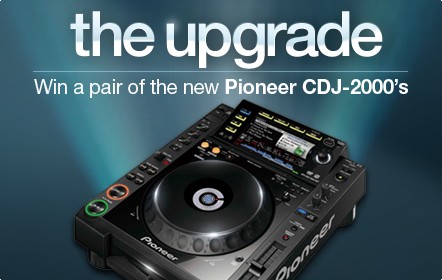 The main role here is Beatport, since they actually decide who's going to be in, out and finally, the winner of the CDJ 2000s. For now, this contest is only for North American residents only, but stay tuned, as Beatport is getting another contest ready, open for the rest of the world, so nobody gets left out. The conditions are as follows:
you have to purchase at least 10 tracks from Beatport to be eligible
the format must be MP3, MP4 or WAV to be recognized
as I said, this contest is open only to North American residents
and the period is from the 17th of September to the 17th of October 2009
That's pretty much it, and while it's open to everyone, the DJs are probably the ones frequenting Beatport more as they need new tracks for their gigs all the time. Not to mention the prize, the new CDJ 2000s are only suited to a pro working DJ. You can check out more about the contest rules here, and to enter, just head on to the Beatport website and start downloading. Simple, easy, and if you are already a Beatport user, there's nothing better for you than this contest, with hefty prizes to come along and support your downloading.
So keep downloading, enjoy the tracks and get ready to mix on your upgraded DJ setup with the new CDJ 2000 DJ turntables.
mobile DJ
,
new
,
DJ review
Related Posts
Comments Off
:Beatport, CDJ 2000, Contest, DJ, DJ equipment, DJ equipment review, DJ product review, DJ products, DJ review, DJ software, DJ turntables, download, mobile DJ, MP3, MP4, Native Instruments, new, North American, organizers, pioneer, Traktor Scratch Pro, WAV, working DJ
more...
Powered by
Max Banner Ads