Tag: DJ subwoofer
by Marius on Jun.29, 2009, under DJ Product Reviews
The MX 15 DJ speakers, easy to handle and convenient
DJs following WorkingDJ.com will know a few things about B52 and some of their kick-ass DJ products, mostly when it comes to sound reproduction. Pretty much everything a DJ needs, from studio monitoring to live performance is covered by one or another B52 DJ product and any DJ equipment review should mention that. So for instance, now I'll try to give a bit of a review on the MX 15 DJ speakers. However, the MX 15 are more for mobile DJs or starter DJ who want just regular DJ speakers, as top quality as they can get them in a certain price range. If you're a pro DJ, trying to get your next DJ setup for your studio, then other B52 DJ products will be for you, and from what I wrote, the ACT 1515 DJ speakers might be a possibility.
But back to our easy to handle, easy to get, but still quality MX 15 DJ speakers. Being designed by B52, DJs can expect the MX 15 to have strong quality and a great sense of sound. In this case, the MX 15 is suited for everything on a smaller scale in a DJs life: live performance, small venue installations or home studio audio, and the scale also makes the MX 15 great for mobile DJs, as they're fairly easy to pick up and go, compared to other DJ speakers out there. The MX 15, despite what other DJ products reviews may say, offers this versatility and mobility at no cost in performance and quality.
To underline the high quality that goes into the MX 15, the entire MX series DJ speakers is built to some pretty impressive standards, which apply to this model DJ speakers. First, there's the high performance loudspeakers built into any MX series DJ speaker model, with the 1" titanium diaphragm compression driver to support a flat low end that's always important for DJs and their mixes. As for the handling, the MX 15′s cabinet is ruggedly built, with metal protective corners and rubber feet for low transmission of vibrations that could affect the sound. All this makes the MX 15 worthy of the high road, at the side of the mobile DJ, while the metal bar handles makes picking up quite possible and easy.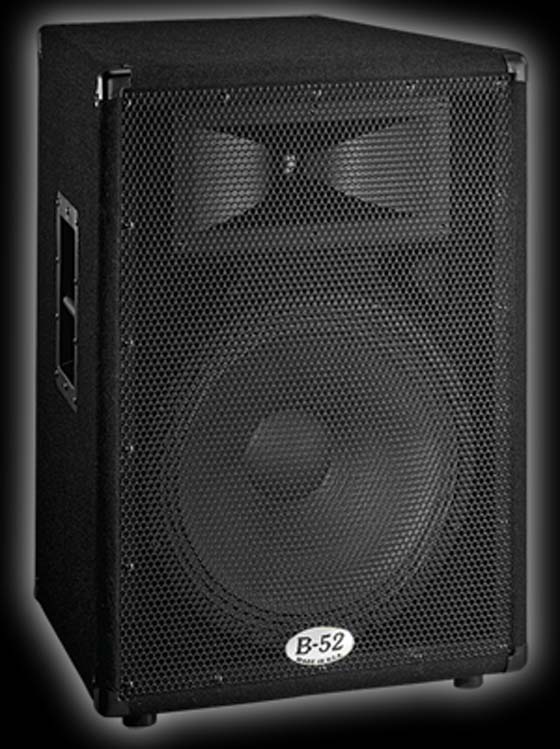 On the inside of the MX 15 is where the performance is tough, and the outside is just for protection. Any DJ equipment review has got to mention that the MX 15 shines through the output, and if you know something about B52, it's that they don't toy around with the dBs. They usually like to let their DJ products loose, in safety limits, of course. As such, the MX 15 features high output great for covering any smaller scale venue like a nightclub or a smaller gig, and the best part is that with the MX 15, it's not just noise. The bandwidth can certainly live up to the high output, covering a wide dynamic range that lets anybody reviewing the MX 15 hear that the detail is all still there, despite the potential volume. This is also important, especially if you're mixing in a club and you want the crowd to actually hear what YOU're doing. Before moving on, here are some tech specs about the MX 15 that the more geeky DJs will dig:
nominal impedance is 8 ohms
and a frequency range from 40 Hz to 19 kHz
the SPL is safe, at 97 dB
but the maximum SPL goes all the way up to 128 dB
power handling for the MX 15 is at 300 watts
and on the bottom, the MX 15 features a pole mount adapter that easily lets DJs put it up and let it dominate the gig
With all these features, any DJ equipment review will have to conclude that the MX 15 is a worthy DJ speaker that's even more impressive by being as mobile as it is, weighting in at 66 lbs, but the true potential of the MX 15 is when you combine this 2 way DJ speaker with another DJ subwoofer from B52, and make that a 3 way system that can really put other noise makers to shame. Flexible, portable and performing at high standards, the MX 15 is well worth a look, at a street price that's less that 200$.
dynamic range
,
DJ product reviews
,
DJ
Related Posts
Comments Off
:2-way, ACT 1515, ACT series, audio, audio system, B52, DJ, DJ equipment, DJ equipment review, DJ equipment reviews, DJ product review, DJ product reviews, DJ products, DJ review, DJ speakers, DJ subwoofer, dynamic range, high output, live sound, loudspeaker, mobile DJ, MX 15, MX series, pole mount adapter, protection, review, sound, SPL, working DJ
more...
Powered by
Max Banner Ads