Tag: DJ setup
by Marius on Oct.01, 2009, under DJ Equipment Reviews, DJ Product Reviews
The IB-PRE preamp from Technical Pro lets working DJs include iPods into the mix
Technical Pro may have not hit the jackpot with working DJs around the world, and no doubt the DJ product reviews will tell the same story. On the bright side, DJs needs sound processing just as much as the audio engineer or even producer, and that's where TP scores big points, mainly through a great ratio of quality and price. That ratio goes up with Technical Pro because the price goes down, and that's the one thing they do better than anybody else in the DJ equipment market: keeping the price down, as the IB-PRE preamp from today's DJ equipment review will show.
Now, keeping the price down as your only advantage over the competition may not bring Technical Pro the greatest benefits on the DJ market, but when you're a bit low on cash, or a starter DJ not willing to invest as much, that's where TP DJ products are a godsend. The IB-PRE is no different, and it offers a great way of making your mixing more convenient for working DJs. Who'd say no to that?
Get a little background on Technical Pro by reading another DJ product review of mine, on the BNC FL2 DJ light and fan here. The IB-PRE preamp from TP is pretty clearly designed to include iPods into the mix for working DJs. iPods are convenient, even more so when you have to take a bunch of records with you at your gigs, so integrating one of them into your DJ setup is easily doen with the IB-PRE preamp.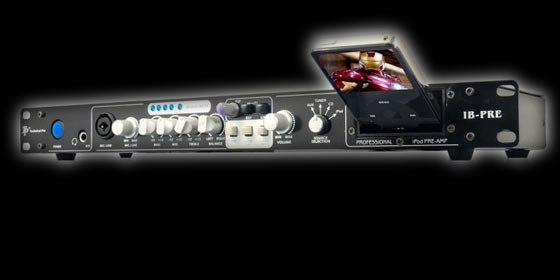 Not only the IB-PRE lets working DJs put iPods as sound sources for their mix, but it's also sort of a mixer and amp in itself, offering a bit of an EQ function and a monitoring function as well. The IB-PRE goes just as well in your studio DJ setup, taking up one unit of rackspace and acting as the perfect pair for an iPod to get into the action. Here are the main features for the IB-PRE:
an easy access iPod loading dock on the front panel, with 30 pins
a bass, mid, treble and balance control acting as a EQ function
stereo headphone output for monitoring, also on the front panel of the IB-PRE
a source selector
the IB-PRE offers a microphone or line echo input with time, repeat and volume controls
pad, low cut and loudness controls
Working DJs can see from this DJ product review that the IB-PRE actually gives you a lot of options for sound procesing directly from your iPod, which can come in quite handy at times. If that's what you're looking for in your DJ setup, don't hesitate to take a look at the IB-PRE, as it just might suit your needs, and at a low cost as well. Also, it has a ground switch and works at both 110V and 220V power, so wherever you are, the IB-PRE can bring your iPod into your DJ setup seamlessly.
TP
,
rackspace
,
studio
Related Posts
Comments Off
:DJ equipment review, DJ product review, DJ setup, EQ, IB-PRE, iPod, monitoring, preamp, rackspace, sound processing, studio, Technical Pro, TP
more...
Powered by
Max Banner Ads