Tag: DJ projects
by Marius on Sep.25, 2009, under DJ Reviews
Kid Koala brings a bit of silliness and humor to turntablism
DJ-ing and turntablism have started out as passions for the right individuals, and people like DJ Qbert are among the best examples of that, taking their areas further and bringing them into the attention of the mainstream media. But with that, the domains themselves became more and more serious and pretty soon you have schools and academies trying to teach people how to scratch, mix, beatmatch and so on. Kid Koala, our DJ review today, is like a fresh look at the DJ style of music, from an almost childish point of view.
Turntablism and DJ-ing pretty soon became all theoretized and by now every DJ knows the main 4 beats in a bar type of track that they play all through the night. While that all fine and dandy, it does tend to get boring after a while. Personally, I feel like I could count through the latest electronic music tracks, and for me, music isn't supposed to be math.
Thanfully, working DJs like Kid Koala still come along, bringing that fresh approach to DJ-ing to show everyone there's still plenty of life in DJ-ing. To be honest, Kid Koala has nothing to prove to turntablism fans, as this domain rarely gets boring, in my experience.
But even so, Kid Koala manages to raise and eyebrow and bring a smile to the face of turntablism veterans with his new mix of samples and original style of mixing together tracks into new and often bizarre ways. For instance, sampling obscure instructional albums with children' records for some funny sound collages or even taking some serious music like Bjork, Radiohead or Henri Mancini, and putting it all together into a hip hop set.Quite a DJ's feat, huh?…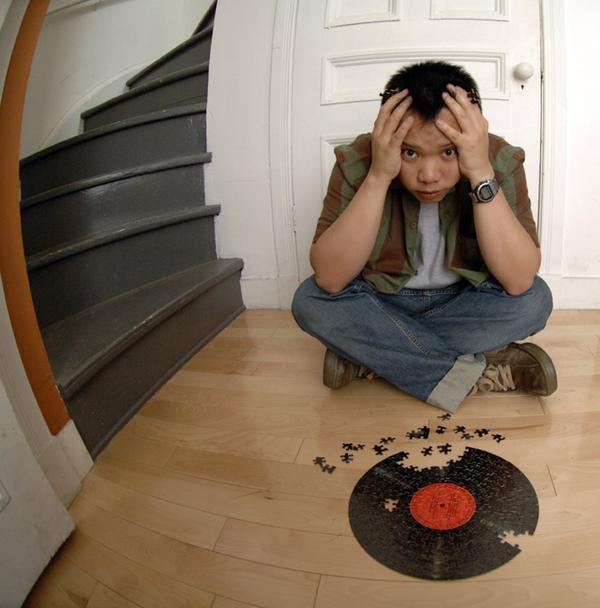 Furthermore, Kid Koala has other projects on the side, beside his turntablist and DJ career, which go hand in hand and shine together. He released a total of 4 albums until now, and Kid Koala worked out the artwork for all of them by himself. A separate comic book and graphic novel accompany his albums, with original and whimsical stories that put a smile on your face from page 1.
All in all, Kid Koala, or Eric San, by his real name, is a presence you should be aware of in the field of DJ-ing and turntablism, if only to take in a fresh approach to a new type of mixing. His associate DJ projects include more well known groups such as, so look out for these as well :
Deltron 3030, an alternative hip hop supergroup
the jam band Bullfrog
or Lovage
turntablist
,
Kid Koala
,
original artwork
Related Posts
Comments Off
:4 albums, DJ projects, DJ review, DJ-ing, Eric San, fresh, funny, Kid Koala, mixing, original artwork, sampling, turntablism, turntablist, working DJ
more...
Powered by
Max Banner Ads