Tag: DJ product
by Marius on Oct.16, 2009, under DJ Product Reviews
The PicoVerb digital multi effects processor makes it cheap to add flavor to your mixes
In the realm of digital sound effects, Alesis has a long history that actually started at the same time with this field in DJ-ing. Alesis introduced to the world the MidiVerb, the world's first professional 16 bit effects processor, at under $1000 in a period where this kind of technology was beyond the regular DJ's financial means. The area of digital sound effects processing started out as being a studio targeted business, mainly because of the price, but Alesis kept working in the field and innovation made possible a real DJ product like the PicoVerb, which although small, deserves a big DJ product review because it allows so much flexibility to the working DJ that he won't believe it.
It's true that most working DJs are used to have their sound effects on board of their DJ mixers or even through turntable handling, but the thing is neither the mixer nor the DJ turntable have been made to give you great professional quality effects. Although sound effects are of great importance to any serious working DJ and a lot of fun in mixing, keeping things fresh and interesting for years, DJs have been content using what the DJ mixers manufacturers included on their products. And even if those effects are great in their own right, the DJ mixer's job is much more important than to act like a sound effect processor.
It only makes sense that professional DJs of all kinds look into the possibility of separate effects processor that could actually offer the quality they need both on and off the stage. And no DJ product makes this easier than the PicoVerb, the last in a long line of effects processors from Alesis. It may have started with the MidiVerb, but then other important evolutionary steps were made through the MicroVerb and NanoVerb processors, only to arrive at the sweetest of them all, the PicoVerb. You just cannot not love this DJ product, as it's so simple, easy and in one word great that any working DJ using it once won't want to give it back.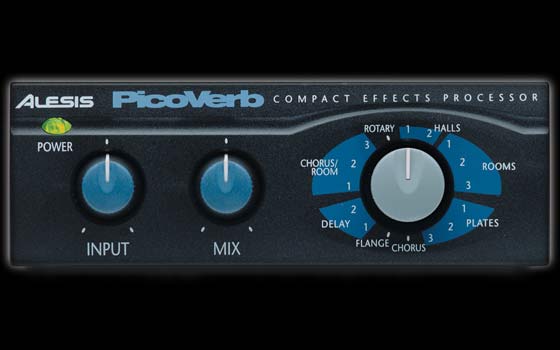 It starts with the looks for PicoVerb. It's a very small DJ product, worthy of any mobile DJ anywhere and it won't bundle up anything, even your pocket in times of need. The PicoVerb dimensions are a tiny 1.5" x 4.25" x 5.3" (39mm x 108mm x 135mm) – H x W x D and only weights 0.46 kgs, which translates into about 1 lbs. That's about the same size as one quarter of a unit in DJ rackspace terms. Secondly, we have the price, where Alesis really outdid themselves, providing great digital effects at only $90 retail price, making the PicoVerb ultra affordable so that any DJ whatsoever can add pro effects to their gigs.
Oh, and about the quality of these effects, here's some tech specs for PicoVerb, which should help working DJs and mobile DJs see it's actually worth the price:
16 sound effects presets including halls, rooms, plates, chorus, flange, delay, and rotary speaker
the PicoVerb has 28 bit internal processing at 48 kHz sampling rate
as you can see from the photo, there are dedicate input, mix and program selection knobs, making control easy and intuitive
a regular frequency response from 20 Hz to 20 kHz
low total harmonic distortion of 0.01%
respectable sound to noise ratio of 101 dB
2 1/4" TS inputs and 2 1/4" TS outputs
Although the PicoVerb is ideal for any studio digital effects or sound reinforcement applications, it also makes it easy for any working DJ to include professional sound effects into the mix wherever he is, even live, provided you don't mind not having it all in the DJ mixer.
MidiVerb
,
1/4 rackspace
,
mixing
Related Posts
Comments Off
:1/4 rackspace, 28 bit, Alesis, digital processor, DJ product, DJ product review, MidiVerb, mixing, mobile DJ, on board, PicoVerb, professional, sound effects, studio, ultra-compact, working DJ
more...
Powered by
Max Banner Ads