Tag: DJ product reviews
by Marius on Oct.13, 2009, under DJ Product Reviews
The Mackey Onyx 820i DJ mixer concentrates on keeping big things in small packages
Even though it wasn't a big topic on WorkingDJ.com, until now at least, Mackey does have the experience and industry knowledge to satisfy pretty much any working DJ with their DJ equipment. Unfortunately, we're pretty low on Mackey DJ product reviews, although I have written some Tapco DJ equipment reviews which ought to help, as Tapco is pretty much another name for Mackey. And anyway, serious sound engineers and anybody who's ever twiddled with DJ sound equipment knows Mackey's a big name. And with the Onyx 820i DJ mixer, they're putting all that big into small, for anybody to use.
After celebrating 20 years of activity in the sound field, Mackey launched earlier this year their new Onyx i line of DJ mixers, which are made for ay type of modern working DJ, in that modern DJs invariably use DAWs for part of their work. So Mackey DJ mixers needed to include this DAW friendliness that working DJs requested, and the Onyx 820i model is Mackey's response.
The Onyx 820i takes being DAW friendly to the next level, as it does with a lot of things. All Onyx i DJ mixers have been tested on multiple DAWs, including the most commonly used, and the Onyx 820i is one of the friendliest interfaces ever. It even takes FireWire integration to the next level, as there is no faster way for a DJ mixer to communicate with a computer. The Onyx 820i lets working DJs experience the live sound as it should be, with latency free overdubs, smooth and simultaneous recordings and just about as close to perfect as studio sound can be.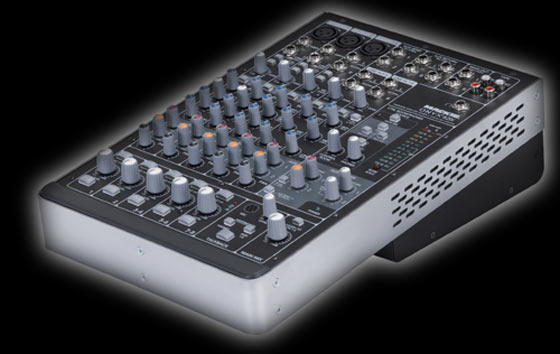 Mackey didn't hold back on the quality of its analog components in the Onyx 820i, and this DJ mixer model can easily stand its ground in any DJ setup, not to mention it's all tucked into a mobile DJ friendly unit(16 x 12 x 7.5 inches and 10.5 lbs) that has quality written all over it. Here are some of the features that make the small Onyx 820i big:
the Onyx 820i is basically an 8 channel high quality analog DJ mixer
with integrated lightining fast 24 bit/96 kHz FireWire I/O
3 Onyx boutique quality mic preamps for flawless live recording
the legendary 3 band Perkins EQ on both mic and stereo, line channels
4 band Perkins EQ on a hybrid mono/stereo channel
48 V Phantom power switches on all mic inputs
talkback section with flexible routing
Planet Earth power supply for use anywhere in the world
FireWire routing aux sends, pre/post EQ assignments for all channels
Working great on all PC and Mac systems with at least 512 MB RAM, the Onyx 820i DJ mixer makes recording and live sound applications piece of cake for any studio DJ, allowing easy DAW connection and high quality DJ mixer functions.
phantom power
,
working DJ
,
DAW friendly
Related Posts
Comments Off
:3 band, 8 channel, DAW friendly, DJ mixer, DJ product reviews, Firewire, live sound, Mackey, mic preamps, mobile DJ, Onyx 820i, Onyx i series, Perkins EQ, phantom power, recording, studio DJ, working DJ
more...
Powered by
Max Banner Ads