Tag: DJ package
by Marius on Sep.25, 2009, under DJ Equipment Reviews, DJ Product Reviews
The LED PAR 38 light system brings working DJs all great varied light
When it comes to DJ lighting and DJ special effects, although I have presented more such brands, the most respected and well established DJ manufacturer is Chauvet, as working DJs and people reading various DJ equipment reviews know. So another Chauvet DJ product, the LED PAR 38 system, for our DJ product review today shouldn't come as a surprise, especially as it comes with a guarantee of a good quality and performance that Chauvet has made famous.
However, if you know me and my DJ equipment reviews, you'll know I'm a fan of DJ packages, and nowhere are they more welcome than in DJ lighting where the needs aren't so complex. This means for a working DJ that a DJ lighting package like the LED PAR 38 can pretty much cover the entire special effects area (well,not if you're mixing for hundreds of thousands…).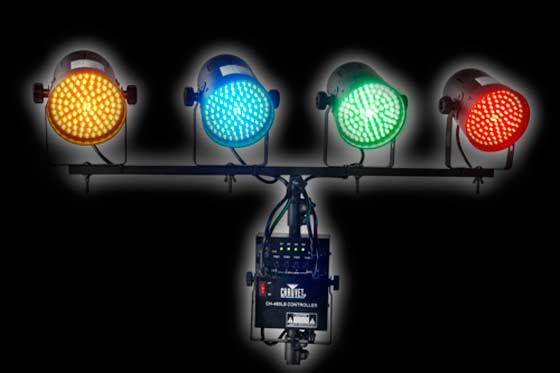 At any rate, for regular DJs mixing and entertaining in a regular club with a regular audience, the LED PAR 38 DJ lighting system should do the trick. The LED PAR 38 contains everything you need to easily set up your own DJ lights, and the crowd will be pleased and thank your for it at the end of the night. Here's what you can expect to find in the LED PAR 38 DJ package:
4 specific LED PAR 38 cans, which are usable also in other DJ lighting systems from Chauvet
each has a different color (red, green, blue and yellow)
a T-shaped bar stand to bring your DJ lights above the crowd
a dimmer pack with a footswitch included for easy and quick control over your system
As you can suspect, the LED PAR 38 uses LEDs as its light source, 384 to be exact, split into 96 for each PAR 38 can. The dimensions of the whole DJ lighting system make LED PAR 38 suitable for mobile DJs as well, at 84′ x 41′ (or in metric, 2134 mm x 1041 mm) and the entire thing weights around 7.8 kgs (that's 17.2 lbs).
For some technical specs, I'm sure I don't have to remind the working DJs using DJ lighting that LEDs are pretty much your best option in terms of reliability and lifespan, even though there are more spectacular options out there, but we're not talking professional worldwide working DJs here. Those guys can probably hire their own DJ lighting and not have to worry about systems like the LED PAR 38.
But like I said, for your regular DJ or mobile DJ, landing a gig in a club or at a rave, the LED PAR 38 will definitely do the trick and add that extra bit of interest to your party. Plus it scores you some points on the professionalism scale too.
system
,
DJ package
,
colors
Related Posts
Comments Off
:bar stand, cans, chauvet, colors, dimmer pack, DJ equipment review, dj lighting, DJ lights, DJ package, DJ product reviews, footswitch, LED PAR 38, LEDs, mobile DJ, reliability, system, working DJ
more...
Powered by
Max Banner Ads