Tag: crowd
by Marius on Aug.30, 2009, under DJ Equipment Reviews, News
iTunes DJ from the Remote application tries to democratize DJ-ing
This post is in line with my previous one about the democratization of DJ-ing and it's a nice little step towards doing just that, although something like this is far from becoming standard in all the parties around. It's just a first step, and since I feel strongly about trying to involve people in the actual party, I thought I'd recommend the iTunes DJ application, part of the Remote app for your iPhone, developed by AI. (a DJ on the side)
The iPhone is a wonderful little thing that seems to be able to incorporate a huge amount of smaller things into it. It's much more than a phone alone, and one of the best examples of that is reading one of my previous posts about how DJ-ing translates to the iPhone: the Tonetable application which turned the iPhone into kind of a DJ turntable which you could then use to even scratch realistically using the touchscreen. Pretty cool, but I didn't think at the time it was going to be something that would catch on, at least not for the working DJs who do the real thing.
This time, the Remote application is much more useful, the way I see it, and the iTunes DJ is just a small part of it which could be applied in line with my idea of trying to democratize DJ-ing in a way. The Remote application kind of turns your iPhone into a remote control that then allows you to control the music on either your Mac or Apple TV. Pretty nifty, huh? Just relax in your armchair and control the music playing without having to get up, push buttons or click the mouse. The Remote app works even when you use the familiar swipes and gestures on the iPhone, although in all honesty, the Apple TV isn't nearly popular enough for this feature to get noticed.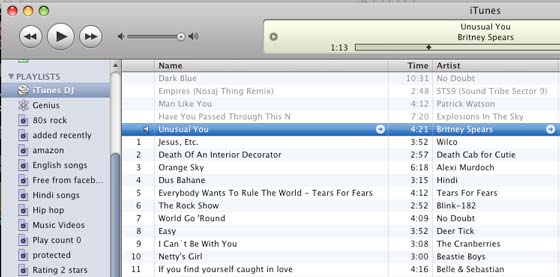 The iTunes DJ is part of the Remote application, and it's the one who deserves most attention, at least for DJs, or anyone who likes hosting parties. The way it goes is pretty simple, and powerful too, as it basically allows everybody at your party or in a group of people who owns an iPhone to connect to your iTunes and see what's going on. When you install the Remote app, you'll also get an iTunes DJ section in your iTunes, which lets iPhone running the Remote app connect live to the playlist.
Here's an overview of how things should work using the iTunes DJ from the Remote application:
just select a song in iTunes and choose "iTunes DJ". This will create a new playlist around that song automatically
anyone at your party with an iPhone can launch Remote, connect to your iTunes, and see what's being played
your friends can click "Request song" to browse your music selection and add songs to the playlist, thus letting the participate live in how the playlist is going
they can also vote on songs in the list. The song with the most vote gets played next, which again, puts you in control of the party, but involves them as well
All in all, the iTunes DJ is a first step in the way of democratizing DJ-ing and involving everyone in the music and the party. Unfortunately, iTunes is as far as possible from a DJ software that working DJs can use to mix, and the most it can do is make great playlists of tracks. The idea is great though, and I'd like to see it appear in serious professional DJ softwares as well, to see how a real crowd reacts to it in a club, for instance.
vote
,
Remote application
,
app
Related Posts
Comments Off
:AI, app, Apple TV, control, crowd, democratize DJ-ing, DJ, DJ equipment, DJ equipment review, DJ product review, DJ products, DJ review, involve, iPhone, iTunes, iTunes DJ, mobile DJ, music, party, playlist, remote, Remote application, tracks, vote, working DJ
more...
Powered by
Max Banner Ads