Tag: celebrity
by Marius on Sep.20, 2009, under News
Is there such a thing as a fake DJ? And how dangerous is it?
This is another one of those posts with no history (although there are quite a lot of historic events I could mention to support the point). So don't expect any links to one working DJ or the other, to a piece of DJ equipment or the next, this is what some would call rambling, but it might hit the spot for some of the people spinning the old way and who have been in the DJ industry for as long as they can remember. I'm talking about those guys mainly because they're the ones who'd get most upset over the recent ascension of what they would call "the fake DJ".
And with both the growing popularity of DJ-ing as a job and the technology that's getting more and more permissive and generally available, mixing together a few beats or putting together a mix from your favorite tunes is just a DJ software and a laptop away. There are no real skills required other than that of being able to push some buttons on your keyboard and to click the mouse repetitively. Isn't that an insult to all those hard working DJs who busted their heads and lost many nights' sleep over getting the beatmatching just right, the old fashion way, with just 2 DJ turntables and a DJ mixer?
Maybe the more old school and conservatory DJs would go as far as calling everybody using a laptop for their mixes a fake DJ, but the truth is all this technology actually is good for something, and to demonstrate, let me just point you to the top working DJs today, who are almost always in the good company of a trusty laptop at their gigs, besides some CDJs or whatever. Technology helps the working DJ a lot, but also makes it easier for the fake DJ to get a booking, a gig, or just even to make him think he's the coolest kid on the block.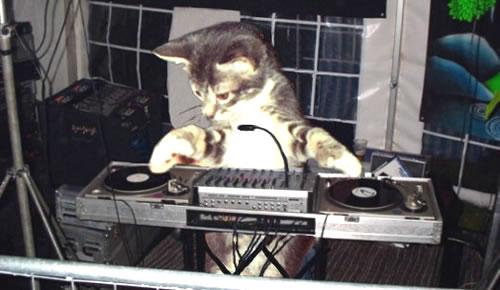 Now I'm sorry if this offends anyone who coincidentally fits that description of the fake DJ, as I have no one specific in mind when saying that. Some might even call me a fake DJ, only I'm not trying to take the bread from those who know what they're doing and who've worked hard to learn to mix, scratch, beatmatch or beat juggle. But the fake DJs come in more than one flavor, and while you'll most likely see them using laptops for their mixes, they come from all sorts of areas of life. Just the ones I can name off the top of my head are:
there's the celebrity fake DJs, and these are the ones I'd personally take a bat to. You know them, but from anything but DJ-ing, the trick being that they just simply want more attention than they have already. Either they want to be hip because DJ-ing is the next fad or just to score some more fans and magazine covers, your celebrity fake DJs will also probably get some big gigs at first, through some neatly place friends, thus robbing the honest working DJ out of his job
your local promoter or club owner can be the next fake DJ, who decided he'd spare a few hundred bucks by not hiring the real guy to do the job. These guys usually already have a low respect for the working DJs and don't think they're worth the money, so he'll either mix himself or find some other fake DJ to do it for him, for less money, and more pathetic moments at the party
no offense to the ladies, as there are some really great DJs among you gals, but as usual, some of you are trying to make a living off your body rather than your mixing skills. The model female DJ is the next fake DJ, usually resorting to photos of her hot act behind some DJ turntables or a DJ setup. It may get you the gig in spite of the real working DJ spinning out of passion, but for all the wrong reasons. And it's not going to last either…
Let me know what you think of this so called invasion of the fake DJs, and feel free to add to the incomplete list above.
fake DJ
,
celebrity
,
cdjs
Related Posts
Comments Off
:beat juggle, beatmatch, cdjs, celebrity, club owner, DJ, DJ equipment, DJ equipment review, DJ product review, DJ products, DJ review, DJ software, DJ-ing, fake DJ, female DJ, laptop, mix, mixing, mobile DJ, model DJ, popularity, skills, technology, working DJ
more...
Powered by
Max Banner Ads