Tag: app
by Marius on Oct.31, 2009, under News
Quixpin DJ iPhone app for DJs allows mixing with only your phone
I've said it before, DJ-ing as an occupation or hobby or business and iPhone popularity have grown exponentially in about the same period, so a marriage of the two was to be expected at some point. Sure enough, a bunch of working DJs started releasing their own iPhone applications for their fans owning iPhones to use and keep updated with the latest about their favorites. Also,another trend is that of turning the iPhone into a part of the DJ setup by giving it a role in the mixing process.
In that respect, iPhone applications like the Tonetable, about which I wrote a post here, came up and could turn your regular iPhone into sort of a DJ turntable, allowing even for scratching if you felt like it. Well, now Quixonic hit the market, about a couple of months back, with another DJ app, Quixpin DJ, which makes the iPhone replace your entire DJ setup, not just a part of it. In other words, Quixpin DJ lets working DJs mix from just their iPhone, using only a pair of DJ headphones or some stereo splitter cable to hook it up to a sound system (see Youtube demo video below).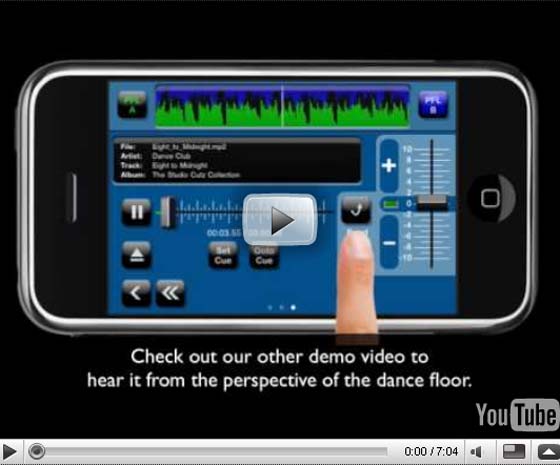 As expected, Quixpin DJ has a few drawback which stop it from becoming a fully featured application solution for the working DJ, but Quixonic found ways to work around those shortcomings, most of which don't come from the app itself, but from the iPhone being unable to act like the working DJ wants to. Nevertheless, mobile DJs will find Quixpin DJ very useful, as it gives them a chance to practice their sounds and mixes basically everywhere. Here's what Quixonic had to watch out for when putting Quixpin DJ together:
the iPhone offers only two channels of audio, and Quixpin DJ treats the left and right channels as independent mono channels in return
there is a lack of iTunes music library access as well, which Quixonic resolved by letting the mobile DJ upload songs directly into Quixpin DJ
furthermore, Quixpin DJ allows separate playing of two different tracks, and then the posibility of miixing the together using the internal DJ mixer
Quixpin DJ also allows for more complex DJ-ing moves, such as cueing up a track, a 3 band EQ on each channel
and control is mostly done through the iPhone's multi-touch graphical view that lets working DJs scrub through, speed up or slow down tracks with just gestures
With such a trend of iPhone DJ related apps, Apple better understand the opportunity and open up even more its iPhone and products towards an increasingly wanting working DJ community. Quixonic made only a first step in that direction with Quixpin DJ.
Quixonic
,
iPhone
,
working DJ
Related Posts
Comments Off
:app, channels, cueing, DJ application, DJ setup, DJ-ing, iPhone, iTunes access, mixing, mobile DJ, Quixonic, Quixpin DJ, working DJ
more...
Powered by
Max Banner Ads