Tag: albums
by Marius on Oct.15, 2009, under Money, News
Houseplanet DJ launches another set of their DJ contests
I'm not going to blab about how great contest like these are, because you probably already know all the advantages if you've read any of my other posts about DJ contests, and some are really intuitive. So I'm going to get straight into business with the next set of contests from Houseplanet DJ, one of which is in collaboration with Spinnin' Records. Both contests could be called DJ contests in that they target mainly DJs, the people who use the prizes for their work, but by all means, the entry is open to everybody.
So here's what it's all about, and I'll start with the first DJ contest, organized by Houseplanet DJ and Spinnin' Records, which are offering a really cool prize for any DJ consisting of a DJ bag full of the latest vinyl releases from Spinnin' Records. Since Spinnin' Records is basically offering the prizes, we should call them the mastminds behind this DJ contest, although you can find the rules on the Houseplanet DJ website as well.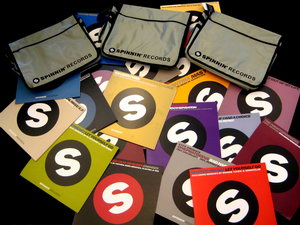 And it's easy to participate, no need to be a working DJ, just to answer a couple of questions:
In what year was Spinnin' Records founded?
and how many playlists does the Spinnin' Records Youtube channel has?
The one little catch with this contest is that you have to be a subscriber to the Spinnin' Records Youtube channel to participate, and to confirm, you'll have to send your name, email and link from your Youtube account, along with the answers to those two questions in an email with the subject Spinnin' Records competition to their address, which is spinnincompetition@gmail.com.
And the second DJ contest comes only from Houseplanet DJ, with the prize being two Defected Clubland Adventures Volume 2 – 10 Years In The House albums, released with the occasion of Defected Clubland's 10 years anniversary. There's bound to be some great music on those albums, and you can enter into the competition just as easily, by answering this question:
Who mixed the wonderful compilation which is the Defected Clubland Adventures Volume 2 – 10 Years In The House?
send your answer, name and postal address to defected@houseplanet.dj before October 29th for a chance to win the albums
prizes
,
albums
,
DJ bag
Related Posts
Comments Off
:albums, answers, competition, Defected Clubland, DJ bag, DJ contests, entry, Houseplanet DJ, prizes, rules, Spinnin' Records, vinyls, working DJ
more...
Powered by
Max Banner Ads