The ultra compact 402-VLZ3 DJ mixer from Mackie packs a performing punch
As I said in an earlier DJ product review of mine, about the Onyx 820i DJ mixer, Mackie is a force to be reckoned with, and so will any respectable working DJ and sound professional say. But recently, there's almost a trend for the Mackie DJ products, which tend to come more into the DJ part of things. Don't get me wrong, Mackie was enjoying great DJ equipment reviews beforehand, except their products were targeted more towards sound engineers and pros. It's like now, Mackie realized that working DJs use mixers and other audio products even more than the early categories, so they adapted. So now the 402-VLZ3 is a full fledged DJ mixer, albeit only a compact one.
The deal with the 402-VLZ3 DJ mixer is fairly simple and it starts from the premise that Mackie set out to offer professional quality and audio perfomance even in the area of small DJ mixers, with few inputs, designed to be mobile rather than superior. And indeed, the 402-VLZ3 reallt makes a lot of DJ mixers its size look flimsy and ashamed, as it breaks record after record.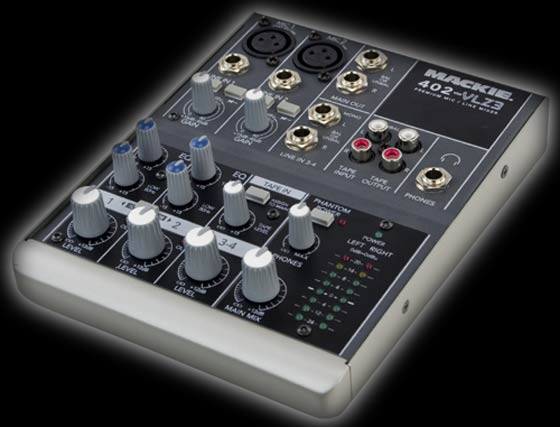 First of all, the 402-VLZ3 is the lowest ever priced DJ mixer in the VLZ3 series, which includes some pretty serious DJ equipment. That's a big thing, because the 402-VLZ3 has the same high quality and great sound of its bigger brethren. The standards are low noise, high headroom, and premium EQ, and the 402-VLZ3 achieves this through XDR2 preamps, the best on the market and modern audio architecture.
Despite it's size, the 402-VLZ3 is powerful and flexiblel enough for any mobile DJ, anywhere, anytime, if your inputs aren't too many. This DJ mixer offers 4 channels to working DJs, which is quite enough for a mobie DJ on the run, from 4 line inputs and a separate 2 selectable intruments inputs, with no DI box needed. But there are other features that make the 402-VLZ3's card look impressive, even though the DJ mixer itself is rather small:
the XDR2 preamps offers extended dynamic range(up to 130 dB) and studio grade sound
2 band active EQ and low cut on mic channels
the 402-VLZ3 has phantom power for condenser mics, thus extending its use into this area as well
high resolution 8 segment stereo graphical meter
the steel chassis not only provides great protection to the 402-VLZ3, but is also sleek and compact
as far as dimensions go, the 402-VLZ3 (link to PDF specs page) is really a mobile DJ's friend, at 7.3"x5.8"x1.6" (HxWxD) and just weighting 3 lbs with the power supply attached
If those specs aren't enough to convince you that there's no better companion on the road than the 402-VLZ3 DJ mixer, then maybe the bundled Tracktion 3 Basic DJ software for Mac or PC will help with the decision, although this little DJ mixer is ideal for applications across the gamut, whatever you need, the 402-VLZ3 can probably do.