by Marius on Oct.08, 2009, under News
Activision released the full list of what fans can expect from DJ Hero
There's been a lot of news going around in the past months, with Activision working hard to built up tension and excitement before the release of their music and rhythm game, DJ Hero. After all, this game, although targeted on a completely different music segment than its predecessor, promises to be able to raise to at least the standards of Guitar Hero. Activision pretty much did everything in its power to make sure the people who could buy their DJ Hero game will buy it, and if I weren't such a PC only gamer, I'd definitely be on the pre ordering list for DJ Hero.
With so much effort gone into building the right atmosphere for DJ Hero's entrance, Activision constantly hit the media with bits and pieces of what gamers, working DJs and everyone interested could expect from their DJ Hero. Even more than that, the publishing giants are so sure DJ Hero is going to be a hit that they're already planning on DJ Hero 2.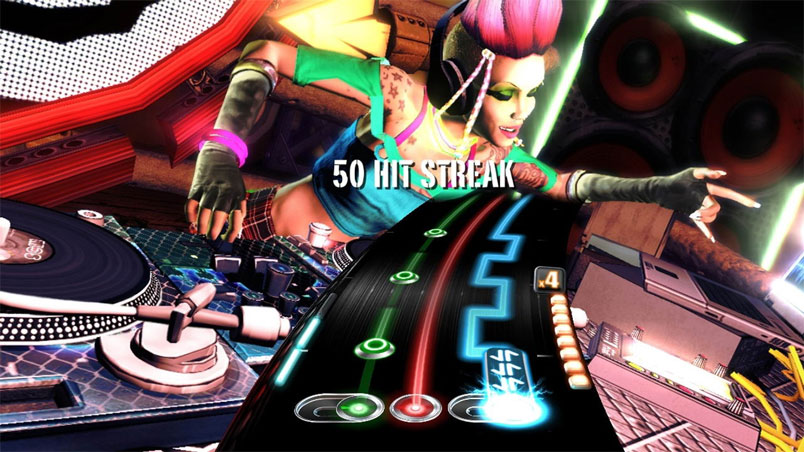 After going through all the loops, from stomping your opposition( Scratch: The Ultimate DJ game from Numark and Genius) to releasing the names of big star DJs that are going to participate, Activision finally released the entire track list, containing 93 titles that will be featured on disc with DJ Hero. I already wrote about it before, but DJ Hero will come as the game with the DJ turntable emulation controller and in the Standard version, retailing for $120 or the Renegade version, retailing for $200.
I know people are anxious to hear what they'll be mixing on their DJ Hero, and I got to tell you, Activision pretty much covered the gamut, with something for everyone. Here's the detailed list…read it and drool:
– 2Pac – "All Eyez On Me" vs. The Aranbee Pop Orchestra – "Bittersweet
Symphony (Instrumental)"
– 50 Cent – "Disco Inferno" vs. David Bowie – "Let's Dance"
– 50 Cent – "Disco Inferno" vs. InDeep – "Last Night A DJ Saved My Life"
– Afrika Bambaataa – "Zulu Nation Throwdown" vs. Freedom Express – "Get
Down"
– Beastie Boys – "Here's A Little Somethin' For Ya" vs. DJ Shadow – "The
Number Song (2009 Version)" (Produced and mixed by DJ Shadow)
– Beastie Boys – "Intergalactic" vs. Blondie – "Rapture"
– Beastie Boys – "Lee Majors Come Again" vs. Daft Punk – "Da Funk"
(Produced and mixed by Cut Chemist)
– Beck – "Where It's At" vs. DJ Shadow – "Six Days (Remix ft. Mos Def)"
– Bell Biv DeVoe – "Poison" Beat Juggle
– Bell Biv DeVoe – "Poison" vs. Beastie Boys – "Intergalactic" (Produced
and mixed by DJ AM)
– Bell Biv DeVoe – "Poison" vs. Cameo – "Word Up!"
– Benny Benassi – "Satisfaction" vs. Tiesto – "Elements Of Life"
– Billy Squier – "The Big Beat" vs. N.E.R.D. – "Lapdance" (DJ-Guitar mix)
– Black Eyed Peas – "Boom Boom Pow" vs. Benny Benassi – "Satisfaction"
– Bobby "Blue" Bland – "Ain't No Love In The Heart Of The City" vs. 2Pac -
"How Do You Want It"
– Bobby "Blue" Bland – "Ain't No Love In The Heart Of The City" vs. Connie
Price & The Keystones – "Fuzz And Them"
– Boogie Down Productions – "Jack Of Spades" vs. David Bowie – "Let's
Dance" (Produced and mixed by DJ Shadow)
– Chuck Brown & The Soul Searchers – "Bustin' Loose" vs. The Zombies -
"Time Of The Season" (Produced and mixed by DJ Shadow)
– Chuck Brown & The Soul Searchers – "Bustin' Loose" vs. Young MC – "Bust
A Move"
– Common – "Universal Mind Control (U.M.C.)" vs. Masta Ace – "Jeep A**
Gutter (Aaron LaCrate & Debonair Samir RMX)" (Produced and mixed by The
Scratch Perverts)
– Cypress Hill – "Insane In The Brain" vs. Classics IV – "Spooky"
– Cypress Hill – "Insane In The Brain" vs. David Axelrod – "The Edge"
– Daft Punk – "Around The World" vs. Young MC – "Bust A Move"
– Daft Punk – "Da Funk" vs. N.A.S.A. – "Strange Enough ft. Karen O, ODB &
Fatlip"
– Daft Punk – "Megamix 1"
– Daft Punk – "Megamix 2"
– Daft Punk – "Robot Rock" vs. Hashim – "Al Naafyish (The Soul)" (Produced
and mixed by The Scratch Perverts)
– Daft Punk – "Robot Rock" vs. Queen – "We Will Rock You"
– Daft Punk – "Short Circuit" vs. Boogie Down Productions – "Jack Of
Spades"
– Daft Punk – "Technologic" vs. Gary Numan – "Cars"
– Daft Punk – "Television Rules the Nation" vs. No Doubt – "Hella Good"
– David Axelrod – "The Edge" vs. Eric B. & Rakim – "Eric B. Is President"
– Dizzee Rascal – "Fix Up, Look Sharp" vs. DJ Shadow – "Organ Donor
(Extended Overhaul)"
– Dizzee Rascal – "Fix Up, Look Sharp" vs. Justice – "Genesis"
– DJ Shadow – "Six Days (Remix ft. Mos Def)" vs. D-Code – "Annie's Horn"
– Eminem – "My Name Is" vs. Beck – "Loser"
– Fedde Le Grand – "Put Your Hands Up For Detroit" vs. Sandy Rivera and
David Penn – "I Can't Stop (David Penn Remix)"
– Foo Fighters – "Monkey Wrench" vs. Beastie Boys – "Sabotage" (DJ-Guitar
mix)
– Foreigner – "Juke Box Hero" vs. DJ Z-Trip ft. Murs – "DJ Hero" (Produced
and mixed by DJ Z-Trip)
– Foreigner – "Juke Box Hero" vs. DJ Z-Trip ft. Murs – "DJ Hero"
(DJ-Guitar mix, produced and mixed by DJ Z-Trip)
– Gang Starr – "Just To Get A Rep" vs. Mobb Deep – "Shook Ones, Pt 2"
(Produced and mixed by J. Period)
– Gorillaz – "Feel Good Inc." vs. Blondie – "Atomic"
– Grandmaster Flash's – "Boom" vs. "Tap" (Produced and mixed by
Grandmaster Flash)
– Grandmaster Flash, DJ Kool, DJ Demo – "Here Comes My DJ" vs. Gary Numan
- "Cars" (Produced and mixed by Grandmaster Flash)
– Gwen Stefani – "Hollaback Girl" vs. Gorillaz – "Feel Good Inc."
– Gwen Stefani – "Hollaback Girl" vs. InDeep "Last Night A DJ Saved My
Life" (Produced and mixed by DJ AM)
– Gwen Stefani – "Hollaback Girl" vs. Rick James – "Give It To Me"
– Herbie Hancock – "Rockit" Beat Juggle
– Herbie Hancock – "Rockit" vs. N.E.R.D. – "Lapdance" (Produced and mixed
by Grandmaster Flash)
– InDeep – "Last Night A DJ Saved My Life" vs. Cameo – "Word Up!"
– Jackson 5 – "I Want You Back" vs. Gang Starr – "Just To Get A Rep"
(Produced and mixed by DJ Yoda)
– Jackson 5 – "I Want You Back" vs. Third Eye Blind – "Semi-Charmed Life"
(DJ-Guitar mix)
– Jackson 5 – "I Want You Back" vs. Third Eye Blind – "Semi-Charmed Life"
– JAY-Z feat. Pharrell – "Change Clothes" vs. 2Pac – "All Eyez on Me"
– JAY-Z – "Izzo (H.O.V.A.)" vs. Eminem – "My Name Is"
– JAY-Z – "Izzo (H.O.V.A.)" vs. Jackson 5 – "I Want You Back"
– JAY-Z – "Excuse Me Miss" vs. Rick James – "Give It To Me"
– Jean Knight – "Mr. Big Stuff" vs. Masta Ace – "Born To Roll"
– Jurassic 5 – "Jayou" vs. Billy Squier – "The Big Beat"
– Jurassic 5 – "Jayou" vs. Herbie Hancock – "Rockit"
– Kid Cudi – "Day 'N' Nite" vs. Black Eyed Peas – "Boom Boom Pow"
– Kool Moe Dee – "How Ya Like Me Now" vs. Reel 2 Real featuring The Mad
Stuntman – "I Like To Move It"
– Little Richard – "Tutti Frutti" vs. Shlomo – "Beats" (Produced and mixed
by DJ Yoda)
– M.I.A. – "Paper Planes" vs. Eric B. & Rakim – "Eric B. Is President"
(Produced and mixed by The Scratch Perverts)
– M.I.A. – "Paper Planes" vs. Wale – "Lookin' At Me"
– Marvin Gaye – "I Heard It Through The Grapevine" vs. David Bowie -
"Let's Dance"
– Marvin Gaye – "I Heard It Through The Grapevine" vs. Gorillaz – "Feel
Good Inc."
– Motorhead – "Ace Of Spades" vs. Noisia – "Groundhog" (DJ-Guitar mix)
– N.A.S.A. – "Strange Enough ft. Karen O, ODB & Fatlip" vs. Isaac Hayes -
"Theme From Shaft"
– Noisia – "Groundhog" Beat Juggle (Produced and mixed by The Scratch
Perverts)
– Paul van Dyk – "Nothing But You" vs. Sandy Rivera and David Penn – "I
Can't Stop (David Penn Remix)"
– Public Enemy – "Shut 'Em Down" vs. Beck – "Where It's At"
– Public Enemy ft. Zakk Wylde – "Bring The Noise 20XX" vs. Justice -
"Genesis" (Produced and mixed by DJ Z-Trip)
– Public Enemy featuring Zakk Wylde – "Bring The Noise 20XX" (DJ-Guitar
mix)
– Q-Tip – "Good Thang" vs. Billy Squier – "The Big Beat" (Produced and
mixed by J. Period)
– Queen – "Another One Bites The Dust" vs. Beastie Boys – "Brass Monkey"
(Produced and mixed by DJ Z-Trip)
– Queen – "Another One Bites The Dust" vs. Daft Punk – "Da Funk"
– Rihanna – "Disturbia" vs. Kid Sister – "Control"
– Rihanna – "Disturbia" vs. The Killers – "Somebody Told Me" (DJ-Guitar
mix)
– Rihanna – "Disturbia" vs. The Trammps – "Disco Inferno"
– Shlomo – "Beats" vs. Billy Squier – "The Big Beat"
– Street Sweeper Social Club – "Fight! Smash! Win!" vs. Beastie Boys -
"Intergalactic" (DJ-Guitar mix)
– Tears For Fears – "Shout" vs. DJ Shadow – "Six Days (Remix ft. Mos Def)"
– Tears For Fears – "Shout" vs. Eric B. & Rakim – "Eric B. Is President"
(Produced and mixed by DJ Jazzy Jeff)
– Tears For Fears – "Shout" vs. Eric Prydz – "Pjanoo"
– The Aranbee Pop Orchestra – "Bittersweet Symphony (Instrumental)" vs. LL
Cool J – "Rock The Bells" (Produced and mixed by DJ Jazzy Jeff)
– The Scratch Perverts Beats and Pieces (Produced and mixed by The Scratch
Perverts)
– The Killers – "Somebody Told Me" vs. Eric Prydz – "Pjanoo"
– Vanilla Ice – "Ice Ice Baby" vs. MC Hammer – "U Can't Touch This"
– Vanilla Ice – "Ice Ice Baby" vs. Paula Abdul – "Straight Up"
– Wale – "Lookin' At Me" vs. Black Eyed Peas ft. Tippa Irie – "Hey Mama"
– Weezer – "Beverly Hills" vs. Evidence, The Alchemist, Aceyalone, Rakaa &
88 Keys – "Fresh Rhymes And Videotape" (DJ-Guitar mix)
and finally, the last in the alphabetical order:
– Wild Cherry – "Play That Funky Music" vs. Gang Starr – "Just To Get A
Rep" (DJ-Guitar mix)
track list
,
Activision
,
music and rhythm game
Related Posts
:Activision, DJ controller, DJ Hero, gamers, mixes, mixing, music and rhythm game, Renegade version, track list, working DJ
Powered by
Max Banner Ads