by Marius on Sep.30, 2009, under Money, News
Beatport brings you yet another remix contest, now from world renowned DJ Tiesto
A DJ contest again today, for all you starter DJs, bedroom DJs or working DJs who need a little test for your skills and potentially a little bit of recognition. Nothing better than a DJ contest, whatever its kind, to get some exposure as a DJ and let people know who you are. And the bigger the celebrity or company behind the DJ contest, the bigger the fame you'll get, although probably the harder you'll have to work for it because everybody will want a piece of the pie.And with this DJ competition here, it couldn't get any bigger, as it's coming directly from the famed number 1 DJ in the world (or so says the crowd), Tiesto himself.
This time I'm bringing you a remix contest, in which you'll get Tiesto's own track to work on. If you're aware of his new album called Kaleidoscope, released earlier this year, than you'll also know there was a track in there which featured Emily Haines and that was called Knock You Out. If you're a DJ and a fan of Tiesto, his house music or just like to keep up to date with the latest and greatest in the DJ world, you won't have any problems pinpointing that track. Well, Knock You Out is what Tiesto and Beatport are putting up as the remix target.
Actually, there's something special about this DJ contest, in that although Tiesto has been involved in other DJ contests throughout his DJ career and his tracks definitely made the highlight more than once, this is the first time that DJ Tiesto actually releases the parts to one of his original productions (which Knock You Out is) and makes them available to the public, so this is another chance to get to see the ins and outs of what's going one behind producing a Tiesto track, all the more so since it's for one of the tracks from his newest album.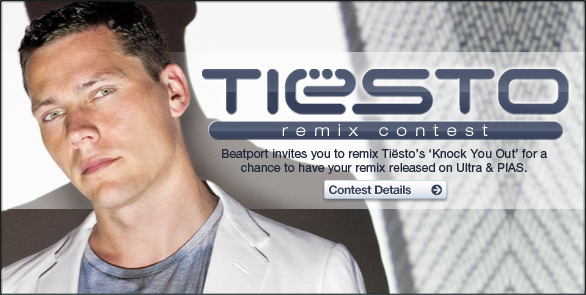 There isn't much I could tell you about Beatport that you don't already know, especially if you're a working DJ using it a lot to get the latest tracks really fast and make them ready for including them into your own sets. Crowds love when what's just been released on the shelves makes its way to the dancefloors into your mix really fast, and DJs do what crowds love. It even got to be more of a requirement by today's standards for DJs, and unless you're mixing and spinning oldies but goldies, Beatport is definitely one of your best friends.
But back to the DJ contest from Tiesto, brought to you by Beatport. The actual contest itself is divided into three main periods of time, each with its own specific:
between 29th of September and 5th of October you can download the remix parts for Knock You Out, from the Beatport website
between 6th of October and 19th of the same month, time to upload your remix to the remix section of the Beatportal website for review
and between October 20th and November 3rd you can even cast your vote by spinning the remix you like most on Beatportal
the winner will be announced on or around November 24th, after deliberation
The top three remixes will get a chance for great promotion, and will be released on Ultra and PIAS Records labels to the world. The best Knock You Out remix will get Tiesto merchandise to use, a music record package from Ultra, as you are no doubt a great DJ, and DJs love records, and furthermore, even a gift card on Beatport worth $250, which you can use to download even more tracks, in case you're the digital type DJ. So Beatport and Tiesto have something for everybody in this DJ remix contest, so check it out and give it your best.
track
,
competition
,
remix parts
Related Posts
:Beaportal, Beatport, competition, DJ career, DJ contest, download, Kaleidoscope, Knock You Out, labels, prizes, remix, remix parts, skills, Tiesto, track, working DJ
Powered by
Max Banner Ads