British working DJ Mark Knight works around 3 international festivals in 12 hours
A truly professional working DJ is only as respected as the gigs he attends are. It's become more of an axiom these days that working DJs who are known worldwide are some of the biggest clients of flying companies. Indeed they cover miles faster than a really powerful wind sometimes, and every DJ nowadays takes pride in the nickname of jet set DJ. Mark Knight is among the best of these jet set DJs, working around the clock like there's no tomorrow…literally. This summer, at least in one lucky day, DJ Mark Knight mixed and spin like the whole universe was going to crash and burn the next day.
It's true that all working DJs who got to be known around the world are busy out of their brains, but for me, what DJ Mark Knight managed is not only a feat in crazy activity but also kind of the limit of what's common sense. I mean nobody's keeping score of how many festivals and gigs you mixed at in any given day or week, and with the fame you have as a worldwide renowned DJ, money is definitely not your biggest problem. And mark my words, this isn't going into any music halls of fame except yours.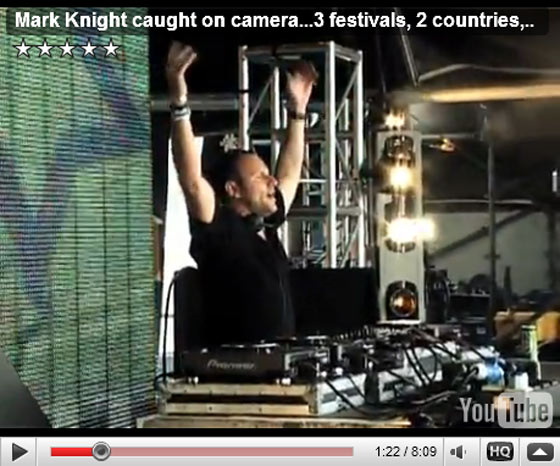 But anyway, DJ Mark Knight is to be commended not only by his breathtaking performance (in the sense that he barely could catch a breath while doing it) but also his work for the music field overall. There's a lot to talk about in this area, but the main thing is how Mark Knight, unlike so many DJs today, tries to revolutionize the way a DJ is perceived by the public. The role of the DJ is well known and it's pretty much that of playing tracks at parties, but DJ Mark Knight is more of a trend setter than one that follows, so he set about to change what he perceives as the "dinosaur DJ" mentality.
And with no second thoughts, one of the first moves of his career was to set up the area in which to work on his DJ project, which came out to be the famed Toolroom Records label. Although DJ Mark Knight himself is only at number 42 in the DJ Mag working DJ poll in 2008, his Toolroom project redefines the work a DJ does. Slowly but steadily, working DJs who don't produce music themselves are becoming extinct, so in the near future, when a DJ takes the decks, he better have something to show for it besides other people's tracks.
Toolroom Records is well on its way to ripping through the whole previous rulebook of working DJs while also promoting the new clubbing concept Mark Knight envisions. Popularity is pretty much ensured. But back to DJ Mark Knight's 12 hour DJ performance, which clocked an unbelievable amount of miles, time spent flying or traveling, fans listening and dancing (and probably finances as well):
it started with the SW 4 festival in London, England
carried on at Mysterylands in Holland right afterwards
only to finish it in Britain again, at Creamfields in Liverpool
The video link above tells you more about it, but you'll notice DJ Mark Knight didn't just headline some random music festivals that happened to be scheduled like that. He went on and mixed for thousands of fans in 3 locations where some of the summer's biggest festivals took place. That makes his feat all the more worth it.