by Marius on Aug.28, 2009, under DJ Equipment Reviews, News
Really heavy message filled album, DJ Spooky's The Secret Song
You remember DJ Spooky, that Subliminal Kid, as I gave his support for democracy in Iran a short holler a while back. I also said that unlike many of today's important music figures, including working DJs, who are just happy to have their bank accounts burst from concert tickets and clubs residencies and getting adored by countless teenage girls, DJ Spooky actually stands for something. Not only that, but he's actively trying to work on his status, bringing his messages to the world with his music (which is what any musician should be aiming for in the first place).
And while you can get a residency or a concert way easier than democracy in Iran, DJ Spooky decided it's been a long time sine the last time he released a real album for his fans. Although I have to warn you, if you're looking for tracks that will just make your head move and get you off the chair, with no other hidden message or idea in them, better start looking in those more commercial parts of music, because this is not your bowl of soup.
The Secret Song, the new album from DJ Spooky (aka Paul Miller), is more of a manifesto than an album, and you should be aware of that before you start listening to it. Picking up The Secret Song means you're ready for an avalanche of intellectual references and ideas that are going to get you to think about the basic principles of economy, rather than just "whoa! that beat is really rocking!". I'm not saying that the beat isn't rocking, but with a history like DJ Spooky's, everything is not all about the beat.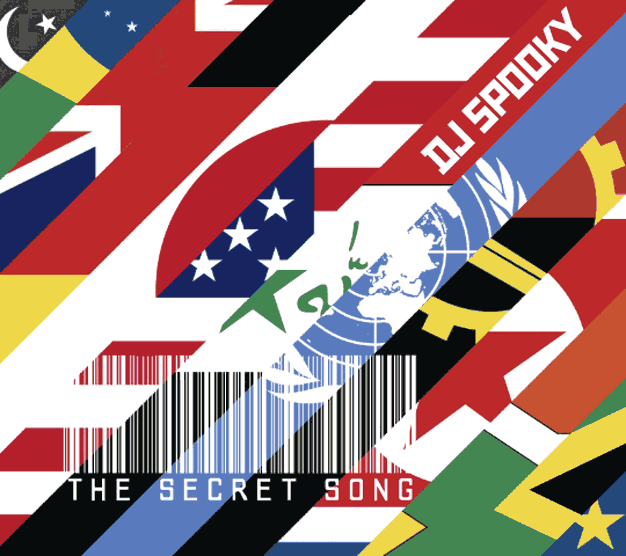 For those music fans who think music delivers a message and DJs should do the same, you'll be happy to know that Paul Miller's The Secret Song follows other targeted concept albums, and his inspiration comes from bands like Nine Inch Nails or Radiohead (which I don't have to tell you about, do I?). Also, the peer group of like minded artists to DJ Spooky has long contemplated and played with the idea of concept albums, and you'll have heard about DJ Shadow, DJ Logic, Amon Tobin, Coldcut.
What's interesting about The Secret Song is that DJ Spooky managed to get an impressive array of artists to work with him on his new album, and supposedly interested in the idea that the message of music is just as important as how it sounds like. Some of the more important names are:
Thruston Moore from Sonic Youth
The Jungle Brothers
The Coup
Rob Swift from The Xecutioners
Spoken Word MC Mike Ladd
a special collaboration with Iran's Sussan Deyhim, who sings on the track Azadi, meaning freedom in Farsi language
and many more
Here, as a proof of good faith and because getting a freebie always appeals to any human being, DJ Spooky and Sussan Deyhim are offering the Azadi track as a free download, apart from The Secret Song album. You can get it here. For the final, straight from the DJ Spooky website : "DJ Spooky's new album is a groundbreaking meditation on hip hop and electronic musics relationship to philosophy, economics, and the science of sound in a world where the steady drumbeat of the financial meltdown has made music the last refuge of young people with less and less time and money". Check it out!
artist
,
concept
,
message
Related Posts
:album, artist, Azadi, collaboration, concept, democracy in Iran, DJ, DJ equipment, DJ equipment review, DJ product review, DJ product reviews, DJ products, DJ review, DJ Spooky, free download, intellectual, manifesto, message, Mike Ladd, mobile DJ, music, Paul Miller, references, Sussan Deyhim, The Secret Song, working DJ
Powered by
Max Banner Ads