Is RTO DJ Equipment A Smart Choice For The Working DJ ON A Budget?
Getting started as a mobile DJ takes a lot of work, time… and money. That's why considering DJ equipment rental is a viable option. Let's consider the pros and cons.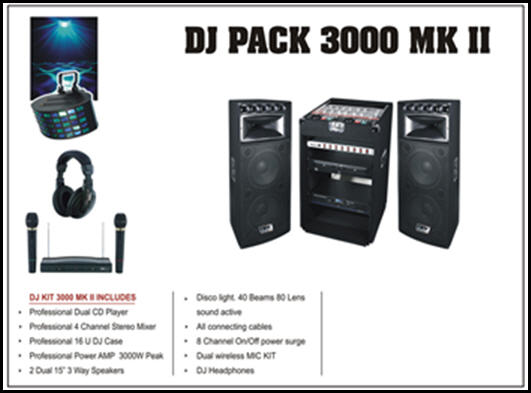 First off, it's cheaper… in the beginning. When you rent to own from a big chain outlet, chances are you will be getting powerful, road worthy DJ equipment that's tried and tested for dependability and performance. Be careful of letting your local audio retailer slap together a package for you… sometimes they like to push the junk that nobody else wants.
Second, you get a chance to use the equipment extensively before you commit to buying. I have an entire room full of stuff I used a few times and said screw it… and I paid full price for the privilege!
Third – and here's the kicker – if you rent the right stuff you can offset the cost of the rental by gigging! It's a beautiful idea… you can't do that with a refrigerator or a microwave oven… unless you plan on opening a roadside tofu stand. Seriously, if you hustle, you can pay off the rental fee and own the equipment outright. At maybe a higher cost than retail, but if you are working at the same time you'll actually come out ahead in the long run.
Renting to own DJ equipment is a good move for club owners or really any retail outlet. The systems usually come with a mini light show and a PA system so you can have it in the front of the store to draw in customers, and enterprising sales people may even put on a little show. Throw in some Karaoke and you'll be selling all kinds of crap that normally stays on the shelf way past the expiration date.
Give the RTO option some serious thought. It may give you access to a level of equipment you may not be able to afford at first and in the long run, it may just be the ticket to that mobile DJ career you've been dreaming of!
Just don't forget to pay the weeklys… there's nothing more embarrasing than having your MP3s repossessed!