DJ Kay Slay is bringing in the big guns for his next LP
DJ Kay Slay is one of the most prominent figures in the development of hip hop, especially when you're talking New York style. Alongside legendary figures like Afrika Bambaataa, which you can of course read about on WorkingDJ.com, DJ Kay Slay had a very interesting story to getting where he is now, and while his doesn't necessarily include a history as a working DJ per se, it's well worth reminding, especially for those of you who are familiar with the development of the hip hop and what eventually became the DJ scene of New York.
DJ Kay Slay was one of the initial figures in bringing hip hop to New York, and as lots of people are arguing, hip hop is everywhere except New York nowadays in the United States. For people like DJ Kay Slay, this is a serious hit, considering they worked hard to making Harlem the birthplace of a culture. On all accounts, DJ Kay Slay went through all the steps and all the different phases of hip hop, so he's one of the guys who understands the phenomenon best. He started DJ-ing all the way back in 1978, when he was 12 years old. That's quite a bit before I was born, so I'm giving the man his due respect, since he was probably scratching records when I was an infant.
To prove his one of a kind record, DJ Kay Slay has a lot of names for himself, which you can only get through going through the motions. You may have heard of DJ Kay Slay as anything from DEZ, The Drama King, Dezzy Dez, or even Slap Your Favorite DJ (not a personal favorite of mine but…). If even the New York Times ended up calling the man "hip hop's one man ministry of insults", you know we're talking serious underground and DJ business.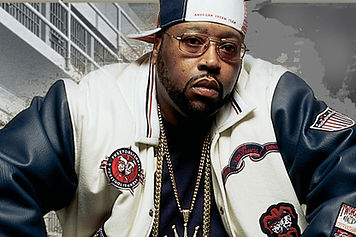 What I like most about the story of DJ Kay Slay is that he's been through it all, starting out as a graffiti artist. With the decline of the movement, he went on to dealing in narcotics, ending up in jail in the 90s, so he's got that part of hip hop covered too. Along the way he made lots of mixtapes, as this was not at all uncommon at the time for DJs, and he has two albums under his belt.
Now the Harlem native DJ Kay Slay is preparing a third LP which aims to bringing hip hop back to New York. With such a big task ahead, the newest album from Kay Slay is set to be released under E1 Music on the 13th of October and will feature an array of the big guns of hip hop today, which can only be a good thing for the fans. Some of the most important names on the album will be:
50 Cent
Busta Rhymes
Bun B
OJ Da Juiceman
Drake
or Joell Ortiz
You may have already heard the first single off the new More Than Just A DJ LP, titled Blockstars, and Thug Luv is soon to follow, before the whole thing hits the market. Finally, a bit of statement from the Drama King himself should ease your mind about what to expect from this third release :"There is a lot of talk about bringing New York hip hop back,I was a part of the birth of our culture, and my new album does not disappoint. More Than Just a DJ is bringing real hip hop back!!".