by Marius on Aug.21, 2009, under DJ Product Reviews, DJ Reviews
The Tonium Pacemaker truly brings DJ-ing to the masses
DJ-ing is growing in popularity like nothing else nowadays, and everywhere you go, you're bound to see everything from DJ products and DJ equipment reviews to hints at how everybody wants to be the DJ in some commercial on TV. Trouble is nobody really knows how to do it or what it requires of you, and usually, by the time they find out, they're too busy calculating the price and space that getting your DJ equipment would require to even really consider beginning to DJ. Tonium is one music company that looks to change all that with their revolutionary (and I don't say that word too often!) DJ product that's suited to basically everyone too: the Pacemaker!
The Pacemaker from Tonium is quite literally both a working DJ's, a starter DJ's and a wannabe DJ's dream come true. The Pacemaker from Tonium should remove any of your worries about where to place your DJ equipment once you decide to buy it or where to practice if you're a mobile DJ on the road at all times. Tonium just took care of all these issues in one simple and very efficient step that makes their Pacemaker very much worth a DJ product review. This step consists of putting the entire DJ setup into one pocket size package that everyone (and I mean EVERYONE!) can take, play, practice on and work with, anywhere, and anytime. I bet you could even find a working DJ somewhere who actually mixes at his gigs on his Pacemaker pretty soon too.
What the Tonium Pacemaker should achieve a great success in doing is finally bringing an authentic DJ experience to each and everyone of you out there, working DJ or not, no matter your level of skills or your musical ear. Nothing is required from you to actually mix with your Pacemaker anywhere and at anytime, other than owning one, of course, because Tonium leaves nothing to chance.
The Pacemaker combines the best of both having hands on control over your own DJ system (which is conveniently sized so that you can actually put it in your pocket) and the power and versatility of using a DJ software to do all the dirty work of DJ-ing for you, starting of course with the most important task of all, beatmatching.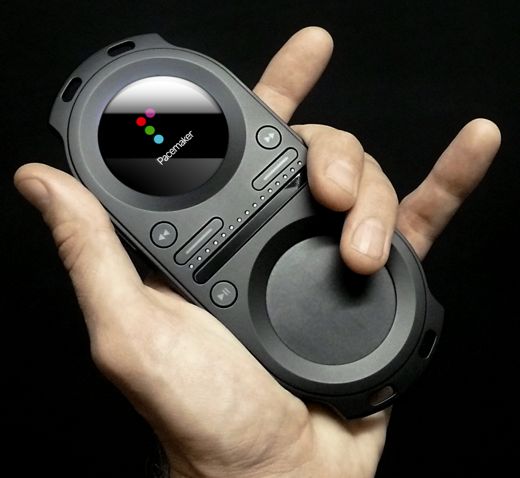 What the Pacemaker actually is is a 2 channel handheld music player capable of mixing the sounds together (in the way of a professional DJ mixer), with a beatmatching function that works just like on your DJ software to make your mulch sound audible and a ton of audio effects that let you customize your mixes. Of course no DJ setup is quite finished without the presence of the much adored crossfader, so the Pacemaker includes one in its design to offers users complete freedom to unleash their creative influence over their music.
I'm getting a bit carried away by my description of the Tonium Pacemaker, so my next post will include some much needed technical details and specifications, just so professional working DJs and mobile DJs don't think this is just another toy that's trying to get a bit of DJ-ing to the masses, because the Pacemaker actually makes for a great training tool and creative time waster for all you music junkies and bedroom DJs too, no matter your skill level.
The Pacemaker comes from Tonium with the Pacemaker Editor, which is a free DJ software of sorts, that automatically transfers your mixes from the Pacemaker's huge 60 GB memory to your computer, where it allows for further adjustments and tweaks to be made, so that your mixes sound just like you want them too. Oh yeah, and whatever you mix on your Pacemaker, you can save in that great big 60 GB worth of memory so you don't let any inspiration or creative spark be in vain. Wait for my next post on the Tonium Pacemaker for the continuation of my DJ equipment review…
DJ-ing
,
creative
,
pocket size
Related Posts
:60 GB, audio effects, Beatmatching, creative, DJ, DJ equipment, DJ equipment review, DJ equipment reviews, DJ product review, DJ product reviews, DJ products, DJ review, DJ setup, DJ software, DJ system, DJ-ing, handheld, masses, memory, mixes, mixing, mobile DJ, pacemaker, Pacemaker Editor, player, pocket size, revolutionary, small, starter DJ, Tonium, working DJ
Powered by
Max Banner Ads