by Marius on Aug.13, 2009, under News
Eric Prydz got hit by a ribbon cannon at Cream Ibiza
Don't let anybody tell you being a working DJ is without its share of risks. And the higher you get in the ladder of glory, the bigger the chances something like this happens to you. While the event was hardly as tragic as the title implies, Eric Prydz, who was the unfortunate victim, still fainted and thought that he had been shot, not to mention one of those ribbon cannons pack quite a punch so don't look the other way the next time you're spinning around one of them.
The whole thing happened on the 1st of August, while Eric Prydz was one of the DJs mixing on Radio 1 at the Cream Ibiza show. That's of no surprise, given the recent success this working DJ enjoys and the fact that some of his tracks are known high and wide, topping some charts for as long as five or six weeks. Let's start with why Eric Prydz is as famous as he is and what was he doing in Ibiza in the first place (although that's pretty obvious by now).
Born in 1976 in Sweden, Eric Prydz has a career that began truly in 2001, his main instruments being the regular DJ turntable, the keyboard and the guitar. He released 7 albums so far, mostly built on one or another really hot track he had released before and he has another one scheduled for 2009 as well, so he's definitely keeping busy. The firestarter for Eric Prydz was his famous track from 2004, Call On Me, which sampled Steve Winwood's single Valerie. That one was a rocket that ended up topping both the British singles chart for a total of 5 consecutive weeks and the German top 100 for 6 weeks.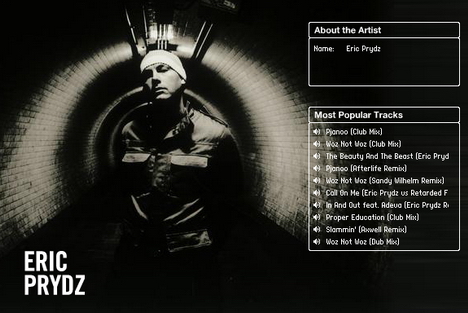 Other famous hits of Eric Prydz are his cover remix of Pink Floyd's well known Another Brick In The Wall, which he named Proper Education and that was nominated for the Grammy Best Remix Recording, and in 2008, the summer single Pjanoo was a huge hit in the UK, getting to number 2 in the charts only from the online download sales. Tracks like Rematch and Europa are also worth mentioning.
Most of the Eric Prydz music is released through his 3 labels, Pryda (where he releases as Pryda), Pryda Friends and Mouseville (where he is known as Cirez D). If you're wondering why you don't see as much of Eric Prydz as you'd like in the U.S. or on other continents, it's because this is one DJ who's afraid of flying, so he mostly keeps his gigs in or around Europe. Too bad, because there is definitely no shortage of options for a successful DJ like Eric Prydz.
At any rate, with a bio like this, it's no wonder why Eric Prydz got invited to perform for Cream Ibiza this summer. The unfortunate event happened on the 2st of August and it was at the end of the DJ's set, unsurprisingly finished by his latest hit, Pjanoo. Eric Prydz left the DJ booth to thank the crowd while letting the music play, and he apparently got in the way of a massive ribbon cannon that was placed behind him. The ribbon cannon went off exactly when Eric Prydz went out to the crowd, hitting the DJ on the back of his legs.
What ensued was a faint from the DJ star for a whole of 15 minutes (I imagine that must've been scary), which was under the impression that he was shot. Thankfully, that wasn't the case, and after a few days in bed, he's doing alright. He's still keeping his appointment with the doctor just to make sure everything is in good shape and that the explosion won't have any serious consequences.
This is a good opportunity to remember that even working DJs in the heat of the moment have to be wary of any special effects or pyrotechnician's materials lying around (and if you're fairly famous like Eric Prydz, there are tons of them around to be sure). Keep an eye out for your safety because as it seems, sometimes even the pyrotechnicians themselves get overwhelmed. Take care.
mobile DJ
,
gig
,
DJ review
Related Posts
:Call on Me, charts, Cream Ibiza, DJ, DJ booth, DJ equipment, DJ equipment review, DJ product review, DJ product reviews, DJ products, DJ review, DJ set, doctor, Eric Prydz, Europe, explosion, faint, famous, gig, Grammy Best Remix Recording, hit, hits, mobile DJ, Pjanoo, Proper Education, pyrotechnician, ribbon cannon, working DJ
Powered by
Max Banner Ads