by Marius on Aug.02, 2009, under News
Activision released two other tracks mixed into the game
If you've followed our posts on WorkingDJ.com, you know Ive been keeping a tab on the release of the first two major DJ emulating games that are going to make their way to the forefront of the scene later this year. DJ Hero and Scratch: the Ultimate DJ are both scheduled around fall 2009 and they're quite in hot contest right now as to who's going to pick the biggest part of the pie. I even wrote about how the producers of the two games shove each other out of the way and try to work around what's otherwise known as good practice in business. You can read that post here.
But now let's get a little taste of what's actually going to be in those two games, and we'll start with DJ Hero, mainly because it's produced by Activision, and with sch a big company behind, you're bound to get the publicity. I'll get to Scratch:The Ultimate DJ as soon as they release some new content of their game, and if you still remember, I said I was rooting for Scratch to win this virtual competition, just because Numark has a big role in creating it.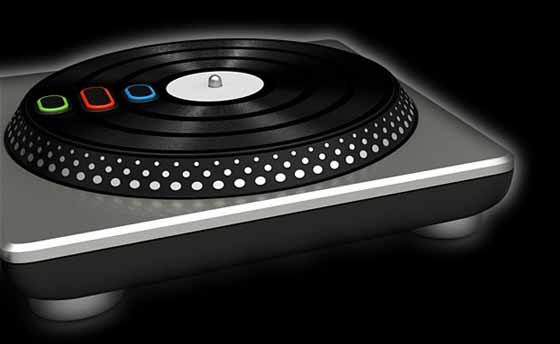 But for now, let's stay with DJ Hero, from Activision, and with the launch date getting really close really fast, there's the need to get some hype going on to get people interested not only into the world of DJs but into DJ Hero. For now, Activision released the names of two other tracks that you'll be able to mix in the game, so this is actually a part of the original content of DJ Hero.The tracks are:
Day'n'Nite from Kid Cudi
Boom Boom Pow from Black Eyed Peas
and promises that DJ Hero will deliver the most internationally diverse music collection to ever come with a game, even with anthems from the legendary figures of music
As usual, it all sounds good fun, and with the turntable emulating controller from DJ Hero, that allows players to scratch, blend, crossfade or sample just like the real DJs, DJ Hero sounds like a big success, based on the previously released hit Guitar Hero, which proved to be very easy to get into but very hard to master. Also, the players won't be bottled down to just predefined mixes like this one. I mean there are over 80 original mixes of over 100 tracks, but sure enough, you're going to go through all of them at some point, so that's where your creativity kicks in. DJ Hero lets gamers include a variety of effects into the mix, as well as player chosen samples and scratches, so there's definitely a whole world of sound to explore.
And now for the good stuff, you can find the two videos that include two mixes of the two above mentioned songs over here and here. Those are all played on the expert difficulty, probably by somebody who knows the game inside out already, but I bet it's going to be a while until somebody makes DJ Hero sound like that on their own system. Get ready for a bit of frustration, and a world of fun, as it appears, with DJ Hero.
DJ equipment review
,
working DJ
,
players
Related Posts
:Activision, Black Eyed Peas, blend, DJ, DJ equipment, DJ equipment review, DJ game, DJ Hero, DJ product review, DJ product reviews, DJ products, DJ review, effects, emulating, gamers, Guitar Hero, Kid Cudi, mix, mixes, mobile DJ, music, players, sample, scratch, Scratch:The Ultimate DJ, tracks, turntable controller, Virtual DJ, working DJ
Powered by
Max Banner Ads