by Tom on Jul.23, 2009, under News
Vestax Sponsors DJ Sara and DJ Ryusei – World's Youngest DJs
These days if you want a shot at breaking through the noise, the sooner you start, the better. It worked for Mozart and Lindsay Lohan right? Well, in the DJ world there are 2 more prodigies to consider from Japan – DJ Sara (10 years old) and DJ Ryusei (8 years old) who have already signed an endorsement deal with Vestax DJ equipment.
Very impressive… and cute too!
Check these kids out: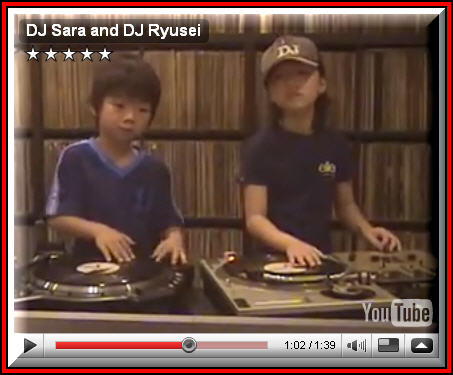 The wunderkids from Osaka, Japan entered an online contest 2 years ago and after winning they met for the first time and the magic started that day. Since then they've been thrilling crowds and impressing veterans with their natural skill, perfect pitch and irresistable charisma.
At first many people thought it was a gimmick or a gag, but after they performed at the 2008 Warner Music Group Grammy Party, everybody agreed they are the real deal. So the future looks bright for these youngsters who are learning a very valuable lesson about musical collaboration early on.
Interested in the DJ gear they use? Here ya go:
Vestax PMC-05ProIII DX
Vestax PMC-08Pro
Vestax PDX-3000
Vestax QFO
Vestax QFO LE
Very interesting. The QFO in particular is a nice choice for introducing the musical instrument element into the mix. The more talented the scratcher, the more enjoyable the jam. Let's face it, you can only hear so much synchro.
It does make you wonder though. How long before Disney calls and these kids go down the road of Michael Jackson or any child star? Is it possible to have a normal childhood when you get this kind of worldwide exposure at such a young age? Let's hope so. If there's anything the passing of MJ has taught us, it is that we should let kids be kids and enjoy the rough and tumble of childhood before the responsibilities of a show biz career consume the adult life.
As the immortal Freddie Mercury once said:
Teo toriatte konomama iko
Aisuruhito yo
Shizukana yoi ni
Hikario tomoshi
Itoshiki oshieo idaki
Good luck kids!
mobile DJ
,
Vestax PMC-05ProIII DX
,
DJ Ryusei
Related Posts
:DJ, DJ equipment, DJ equipment review, DJ gear, DJ product review, DJ product reviews, DJ products, DJ review, DJ Ryusei, DJ Sara, Freddie Mercury, mobile DJ, Vestax PDX-3000, Vestax PMC-05ProIII DX, Vestax PMC-08Pro, Vestax QFO, Vestax QFO LE, working DJ, workingDJ
Powered by
Max Banner Ads