by Marius on Jul.19, 2009, under Stories
Afrika Bambaataa, the godfather of hip hop
Although Grandmaster Flash is probably best known among working DJs as the grandfather of all things hip hop, he was not alone in the development, and later, promotion of hip hop, helping it become quite the industry that it is today, DJ-ing being one of its many sides. The on referred to as the godfather or grandfather of hip hop is actually another DJ, Afrika Bambaataa, which you should definitely know about, especially if you're a hip hop spinning DJ.
Born in New York, South Bronx, Afrika Bambaataa was an instrumental piece in the early development of hip hop in the 1980s, and is one of three legendary DJs to be originating break-beat DJ-ing, one of the most important building blocks in the of hip hop music. The break-beat consists of separating an intense percussion break in a song and then playing it over again to increase the intensity on the dance floor, while also creating kind of a backdrop for the DJ or rapper.
Even if he was born in the U.S., Kevin Donovan (the real name of Afrika Bambaataa) stays close to the African ways, as his stage name suggests, even though most of his inspiration came from an early trip to Africa and seeing movies such as Shaka Zulu, where the solidarity of a group of people impressed him. As being member of a street gang was more a measure of protection at the time he grew up in New York, he made the best he could and eventually became leader or warlord of the biggest gang in New York of those times, the Black Spades, which he helped start in the first place.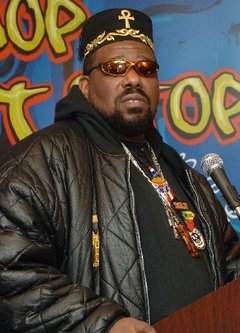 But through his leadership and decisiveness to use his powers for the good, he made it as a leading figure of hip hop, working actively to promote it to what it's become today. Inspired by DJ Kool Herc and Kool DJ Dee of his times, Afrika Bambaataa started hosting hip hop parties, and is actually credited with namimg the entire current hip hop, which was until then just a phrase used by MCs for a specific style of rhyming. This way, he sought to use hip hop to draw angry kids away from the street gangs and from that lifestyle and into a world of peace, unity, love and having fun altogether.
It was this decision that eventually led Afrika Bambaataa to start the Universal Zulu Nation, later reforming it to the Zulu Nation. This is a loosely knit association of politically conscious representatives from the four elements that constitute hip hop as a culture:
DJ-ing
rappers
graffiti artists
break dancers
Afrika Bambaataa also promotes understanding hip hop as the center of its existence and as the ideas that brought it to life in the early years, rather than just a music album or a song, which is what most people think today. Whatever you may think of hip hop, the fact remains that Afrika Bambaataa remains the godfather and a figure that started it all in the early days, and if anyone knows best what hip hop and DJ-ing are supposed to mean, it's this guy.
Universal Zulu Nation
,
culture
,
mobile DJ
Related Posts
:Afrika Bambaataa, Black Spades, break-beat, Bronx, culture, DJ, DJ equipment, DJ equipment review, DJ Kool Dee, DJ Kool Herc, DJ product review, DJ product reviews, DJ products, DJ review, godfather of hip hop, graffiti, hip hop, Kevin Donovan, leadership, mobile DJ, New York, rapper, Shaka Zulu, street gang, Universal Zulu Nation, working DJ, Zulu Nation
Powered by
Max Banner Ads