So, how long can you keep yours (DJ set, I mean) up?
I know we keep it serious at WorkingDJ.com, but once in a while, everybody needs a good laugh, right? Even hardcore, 'round the clock full time working DJs. And this one's more than just a laugh for you all, because it's definitely related to the area. When I first saw this piece of news and actually heard about the existence of such a record, I was mildly amused, but I bet DJs spinning it up all nights in whatever clubs they happen to be in know what this is abot more than I do, so here goes…the little DJ world curiosity is that the world record for the longest running DJ set has been broken just recently, somewhere in Lanarkshire, in Scotland. Yeah, don't ask me why there, but it's the first time I ever heard of this place, maybe it's their trick for getting tourism going, who knows…?
Anyway, it seems the record was previously held by a DJ in Cyprus, Gee Papa, which kept it going for a full 116 hours of continuous music playing and track queuing (and at 116 hours, there's A LOT of track queuing to do!), his record standing up since 2006. An uninitiated like myself would ask where did he even get the music for all that time of continuous playing? I may have 116 hours of music to run, but they're certainly not all sited to clubbing or mixing and I would most definitely run out of ideas after a while.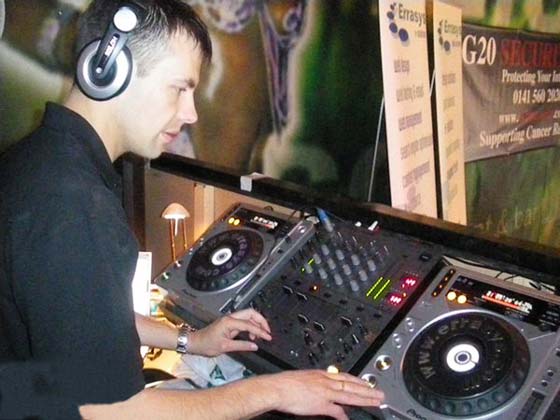 Well, the time has come to smash that previous record to pieces, and end DJ Gee Papa's "15 minutes" of fame, and it was DJ Alan D from the Zicos Bar in the above mentioned Lanarkshire. He went over the 116 hours time limit by 8 hours, thus bringing the longest DJ set ever to the respectable time frame of 124 hours. Now, for me personally, a rocking half an hour DJ set is worth way more than 124 hours of music, simply because 2 or 3 hours in, I'd be out of there, but it's interesting to see to what extent a human is capable of going.
I don't know if DJ Alan D's set was started with the intention of becoming the longest running DJ set in history, but it somehow got to that. Also, from the record holder now, if you're a working DJ who wants to have a go, it seems a wet t-shirt contest always helps keep the spirits up, not only for the crowd but the DJ as well, having people calling you on the phone doesn't hurt either, and why not, slipping in a quick nap now and then.
Record breaking rules stipulate that for the record to be valid, the DJ can take five minute break every hour, so what DJ Alan D did was save up those five minutes and then take half hour naps when it got to that. Again, I'm not sure if this goes against the rules, but the fact remains, DJ Alan D now holds the record for the longest running DJ set in history, with 124 hours of continuous music playing and mixing.
Can you top that? How long can you keep your DJ set going? And of course, what was your longest running DJ set, the one that's burned into your memory as "I'm not doing that again!"? …