by Marius on Jul.13, 2009, under DJ Product Reviews, DJ Reviews
Superior Sound Technology makes the M303 a superior DJ mixer
Stanton has been on the DJ equipment market for a while, and all the time they've been trying to come up with new things, invent, reinvent andthen do it all over again until the resulting DJ product is of the highest standards and the working DJ would enjoy using it. Stanton DJ product reviews attest to the ultimate quality of these DJ products, and I don't know of any DJ being all bummed after getting something, anything from Stanton. Except with today's M303 DJ mixer, it's really something, and it's such a big something that working DJs should line up to read the DJ equipment reviews and then to try it out wherever they can.
The big "something" that makes the M303 a superior DJ mixer for all spinning DJs out there is the new Stanton Superior Sound Technology (SST), which they've introduced into their latest DJ products, and it's right at home in their DJ mixers. The M303 wouldn't be what it is without the SST in it. But I'll leave a detailed description of the SST for another post, as this one is about the M303. And admittedly, the M303 isn't what it could be without the Superior Sound Technology, but I'll try to write a regular DJ product review, just so I can keep the suspense building. And as always, curious working DJs can check back to some of our previous Stanton DJ equipment reviews to get a clearer image of the whole line of products and what they have to offer. For instance, take Ria's M304 post.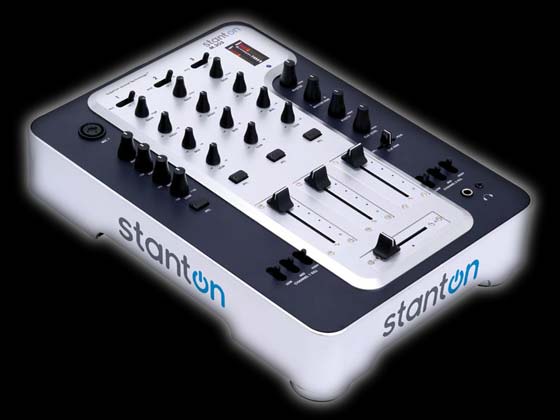 So the M303 DJ mixer builds on a 3 channel design, enclosed in a Stanton style, clean looking and well designed 10 inch chassis to help protect the beauty inside. As far as use goes, the M303 can certainly be used in any DJ application, from your home to your studio, but this DJ mixer longs for the clubs, for the crowds and for spinning their heads with a working DJ's entire collection of house, techno or drum 'n' bass. That's where the M303 shines and that's where working DJs get the maximum out of this DJ mixer.
Also, the M303 is a bit on the big and heavy side, but that doesn't make it unsuitable for the mobile DJ. Dimensions of 15.3 in. x 10.2 in. x 4.3 in. (translating into 38.9 cm. x 25.9 cm. x 10.9 cm.) and a weight of 12.1 lbs (or 5.5 kgs) make the owner of this DJ mixer work a bit for his money. Of course, mobile DJs have been seen carrying much heavier DJ equipment, so I suppose that with everything the M303 does, it would definitely warrant a spot in the gig bag. Normally, the M303 offers all the mixing features DJs have come to expect, starting from the 3 band equalizers for each channel, kill switches that actually kill the sound at separate gain controls. Some other characteristics of the M303 DJ mixer include:
a frequency response of 20 Hz to 20 kHz +/- 1.3 dB
total harmonic distortion less than 0.015% at 1 kHz
a signal to noise ratio of 110 dB
a noise floor on any input lower than -92 dBV
the 3 band EQ is Baxandall type, with predetermined settings which you can go on the Stanton website for
3 phono inputs and 6 line inputs allowing for huge possible diversity of the DJ setup
a microphone input with dedicated EQ to top things off
a cue section, including cue pan and PFL
balanced master output and booth output for monitoring
separate recording output is provided as well
It's true that some of these features are influenced by the SST that I refrained from talking about now, but the M303 is in itself a great and fully featured DJ mixer that's only enriched by the addition of Stanton's latest technology. With the clean and clear design that Stanton uses to so much effect on other DJ equipment, the balanced rich list of features that offer working DJs freedom to mix their way and the ability to seamlessly integrate in any DJ setup, this DJ product review recommends the M303 for any DJ, especially if the final target are your gigs in clubs or live mixing somewhere.
cue pan
,
Baxandall
,
mic input
Related Posts
:3 channel, Baxandall, club, cue pan, DJ, DJ equipment, DJ equipment review, DJ equipment reviews, DJ mixer, DJ product review, DJ product reviews, DJ products, DJ review, DJ setup, EQ, M.304, M303, mic input, mixing, mobile DJ, monitoring, PFL, recording, SST, Stanton, Stanton DJ product review, Superior Sound Technology, working DJ
Powered by
Max Banner Ads