The DJM 400 is the DJ mixer to start mixing on
If you're a starter DJ, then you're going to thank me for this DJ equipment review. There's no better time to start DJ-ing and mixing than now, because Pioneer still designs entry-level DJ mixers, thought out for a starter DJ, but built like for a full fledged working DJ.If you're in the DJ business for a while, then you definitely heard of the DJM series DJ mixers from Pioneer, and probably read a couple of DJ product reviews about each of them. That's because Pioneer DJ products enjoy a certain attention from working DJs of all kinds, because the name is synonymous with quality by now. And their new addition to the entry level DJ mixers is the DJM 400, a fully digital studio performance mixer.
Before talking about the DJM 400, you may want to go on and read about other DJ mixers from the DJM series, and none is closer to the DJM 400 than the DJM 600, which although has been on the DJ product market for a while, DJs can't seem to get enough of it. The DJM 400 differs in that it's basically made to be entry level, and therefore, perfect for the starter DJ (admittedly, who has around 600$ to splash on the DJ mixer alone). But besides not being an easy financial option, the DJM 400 is a no brainer at every other type of option.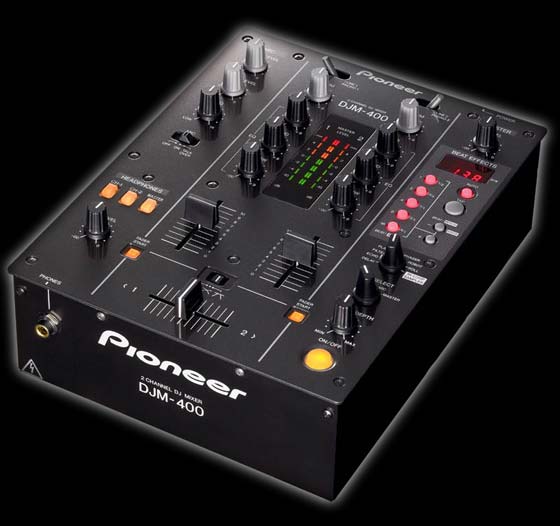 The quality of the sound the DJM 400 works with is 24 bit resolution at up to 96 kHz sampling rate, so pretty much like what happens in a DJ studio, with no public. Except the DJM 400 is made for the clubs and for the parties. Being a 2 channel DJ mixer, the DJM 400's DJ equipment reviews aren't going to mention anything out of the ordinary with this model. It does everything a clubbing DJ's mixer is supposed to do, and at the highest standards of quality, like only a Pioneer DJ product review can attest to. And the DJM 400 is going to keep a starter DJ for ages, as it's not only tough built and ruggedly housed in a metallic black chassis, but the features can keep a DJ busy for weeks just discovering and playing with them, not to mention mixing in front of a crowd.
A big part of the discovery with the DJM 400 happens with the sound effects section, which includes a pretty regular number of 7 fully digital of the most popular effects known to man: Delay, Echo, Filter, Flanger, Phaser, Robot and Roll. Being adjustable by the starter DJ, the effects can hold your interest for a while, but it's the quality that will keep you coming back for more. Designed at 24 bit resolution, these babies sound like they're coming from a perfectly balanced environment, not the noisy club where you happen to be mixing. Great sound quality, which is doubled in the DJM 400 by automatic detection of a track's BPM and self synchronization with the mix, so the effects never ever sound off beat. If you're feeling a little more aggressive though, by all means just push the beat select buttons and you can definitely mix everything your way, overriding any automatic features.
So here are the main features a working DJ should look out for in the DJM 400:
3 band EQ on each of the two channels…
with a full cut capability, and I mean full as in completely quiet, not a beep, not nothing
4 line inputs out of which 2 are DJ turntable dedicated and 2 are phono switchable
2 fader start connections which allow the working DJ to start playback straight from the DJM 400 (link to PDF manual) , by moving the crossfader or the channel fader in the direction, and the track will start playing from your DJ setup (turntables or whatever you may use)
2 RCA master output
and a headphone reinforced jack for monitoring
separately, 2 1/4" microphone inputs, each with own EQ and voice over feature that automatically lowers the track volume for voice
the crossfader curve is adjustable in any of 3 positions
I've saved the best for last with the DJM 400 DJ equipment review: the built in intelligent in-loop sampler, working at professional sound quality of 24 bit and 96 kHz, just like the entire DJM 400. The in loop sampler practically detects the tempo of the track playing and takes in a 4 beats length, and then loops this sample over and over, giving working DJs a chance to experiment on site and in front of the crowd with live remixing, because the sample will always be in sync with the beat of the track. Furthermore, the DJM 400 in loop sampler also automatically adjusts the sample to match the current beat, storing 5 maximum samples for a maximum 12 seconds of sampled time. This should give working DJs a lot more room for creativity in their mixes, and starter DJs more courage to try out new things.