PMH518M, a really tight DJ mixer in a tight package
About Behringer I could start writing a whole DJ brand review right now, as this is one of those companies that, in my opinion, doesn't get as much attention as they deserve. Their DJ products look really good to me (although kind of skimpy on the pure club DJ mixing part) and best of all, none of their price tags is going to bust any working DJ's bank. So my Behringer DJ equipment reviews all insist on the low price that you get, usually coupled with a high quality, that won't make any working DJ ever regret a purchase. For instance, check out a previous DJ product review of mine on Behringer DJX 400, which is one of the few truly club style DJ mixers, although it's more for the starter DJ than for pro working DJs. That's the past, however, and the present consist of Behringer's tendency to put the quality and price they've garnered throughout their DJ equipment manufacturing history into smaller package, making them accesible to mobile DJs as well. And no DJ product more so than the PMH518M powered DJ mixer, which mobile DJs can use anywhere to really bring out the best in their parties.
Basically, the PMH518M is a 5 channel DJ mixer, 180 watts powered from the Europower series, that offers everything a working DJ would expect in his DJ rack mixer plus some neat little additions which I'll cover soon. Working DJs use powered DJ mixers as combination between amplification and mixing for their gigs, thus taking part of the load from other DJ products in the setup. Now with the PMH518M mobile DJs can have the same opportunities, as the PMH518M comes in dimensions of 4 3/5" (117 mm) x 18 1/2" (470 mm) x 8 9/8" (225 mm) and weights just 7.2 kgs (15.8 lbs), which is nothing compared to the packages regular powered DJ mixers come in. But just like other powered DJ mixers, the PMH518M is also rack mountable, so you basically get the same performance in a smaller package.
All DJ product reviews on the PMH518M must mention 2 things about this DJ mixer, that working DJs should know before anything else. The first is that the PMH518M is suited with a professional 24-bit digital effect processor capable of multi-layering sound effects. While some working DJs go through hundreds of DJ equipment reviews just to get a decent effctor for their gigs, the PMH518M has it all built insides this multi-functional DJ mixer. You can expect all the famous presets such as reverb, chorus, flanger, delay or pitch shifter to be included in the 100 pre defined programs the PMH518M comes with. Also, at 24-bit quality, working DJs can rest assured that the effects will sound as if they come straight from the studio rather than your powered PMH518M DJ mixer.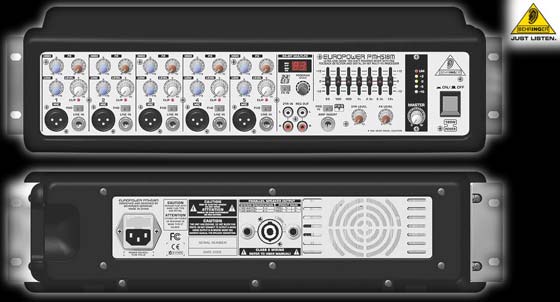 The second thing any Behringer DJ product review must mention about the PMH518 is the FBQ feedback detection system, proprietary to Behringer and that also makes this DJ mixer act as a feedback eliminator. Feedback is always a problem, especially with live performance where control over the environment is limited, but the PMH518M is well equipped, through the FBQ to instantly reveal critical frequencies and help the working DJ eliminate all unwanted feedback from his mix. Ok, so this is the new things about the PMH518M DJ mixer (link to PDF user manual), but what of the regular stuff working DJs know and love in their mixers:
well, the PMH518M has 5 switchable mic/line inputs for the 5 channels, and an extra 2 track in and outputs
when a microphone is connected, the PMH518M provides great mic preamp function with clipping LEDs
a musical 2 band EQ an all channels
and another 7 band graphical EQ for precise adjustments to your mix
as for the outputs, the PMH518M has 1/4" jack for speaker connection, compatible to Neutrik Speakon
and as with other bigger powered DJ mixers, the PMH518M is rack mountable through the included brackets
Even more impressive for a DJ equipment review of such a small DJ product, the PMH518M is designed with ULN (ultra low noise) in mind, so again, it offers the audio transparency and clarity of other much heavier and more impressive DJ mixers. The PMH518M eventually comes to impress mostly through the size, making performance powered DJ mixers viable for mobile DJs as well, while still keeping the quality and low price of all Behringer DJ products.