by Marius on Jul.04, 2009, under DJ Product Reviews, DJ Reviews
The iDJ2 is not only an upgrade, but a one-stop iPod mixing solution
You just have to read my previous post, a DJ product review about the iDJ 2 channel iPod deck mixer from Numark to get the full intro on this one. As well, I'll mostly be insisting in this review on what iDJ2 has over or upgraded over the original iDJ, as you can read about that in my previous post, and I'm pretty sure I've covered it nicely there, so go on ahead and get informed or stick around and find out about how Numark decided to really pump up their all-in-one iPod mixing solution into the iDJ2, which contains professional features that working DJs are used with from powerful DJ mixers today.
Depending on what kind of working DJ you are, you're going to be interested in one part or the other of this DJ equipment review and of the iDJ2, but if you've got yourself an iPod and you have the least digital experience whatsoever, the iDJ2 really has something to offer. The first major improvement over the original iDJ is, if you ask yours trully, eliminating on iPod dock. How can eliminating somthing can count as an upgrade? Well, when what's left does the exact same thing and more, so now the iDJ2 can pick tracks for its 2 channels (yes, it's still a 2 channel DJ mixer basically) from the same iPod. No need to get a friend's or to buy your second. Just one iPod, the iDJ2 and you have your DJ setup. Further connection advances have been made to the iDJ2, as it can take tracks from external hard drives, thumb drives or directly through USB as well, besides from line inputs from CD players and DJ turntables. Whatever mass storage or audio player you have, you can plug that into the iDJ2 and start mixing.
Another major upgrade is that iDJ2 looks more like a DJ product, complete with jog wheels this time, which enable working DJs to start scratching like on real DJ turntables, and also make searching through your library a whole lot easier. And since we're here, iDJ2 has an added advantage over iDJ and most working DJ will absolutely love this. The built in large backlit LCD display shows a new GUI that will help working DJs get their tracks easier and faster. Of course, the diplay also shows channel information and each track playing, and even a track profile features which detects energy switches in your tracks. This can be extremely uuseful for locating cue points without even using your headphones.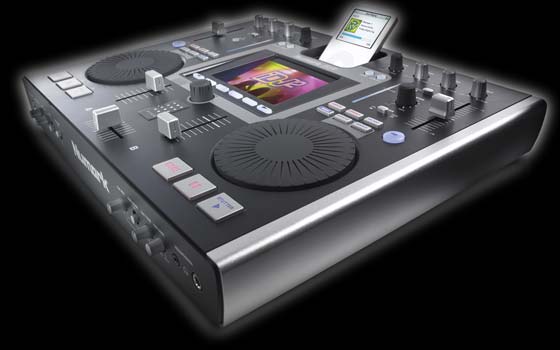 The Numark Crate system could also go under ease of use and GUI, but it's actually more than that. Proprietary Numark function, Crate on iDJ2 lets you manage setlists and yor entire library asn you would in the good old vinyl days, except now instead of searching through a box of records, you can simply search by artists, track name or album. What's more, iDJ2 let working DJ connect a second USB keyboard to it, and then searching is as easy as on your computer. Just get your track and load it onto the crate you want and from there, straight into the mix. But I said professional working DJ features earlier, right? All this is great about the iDJ2 (link to PDF overview request page) and any Numark DJ product review has to mention them , but here's what really catches a DJ's eye:
pitch change ranging from -100% to +25% and a keylock option to maintain your pitch while juggling with the mix
seamless looping abilities with automatic playback once you move the crossfader
the exclusive Numark Beatkeeper technology, just like on real DJ mixers, offering visual aid to beat matching
then you have pretty much everything that was on the original iDJ, from 3 band EQ to a microphone input with tone and level controls, but on iDJ2 you can even tap your tempo
phono or line inputs on both channels for additional audio sources, and the iDJ2 has an extra balanced XLR port for master output and now 2 USB ports instead of one
power supply included
This almost concludes the Made for iPod DJ equipment series from Numark, as there only one DJ product left, and we'll get to that soon enough. Until then, this DJ equipment review should've tipped you off that mixing with just your iPod as a complete source of tracks and music library becomes more and more doable, and with DJ products like the iDJ2 out there, the results will sound pretty close to the real thing, so the iDJ2 deserves at least a try, and who knows… maybe you'll be hooked by the prospect of getting to your gigs with as much as your iPod and this little DJ product that can working DJs of a lot of headaches.
Numark DJ product reviews
,
Crate
,
mixing
Related Posts
:2 channels, 3 Band EQ, Apple, Beatkeeper, Beatmatching, Crate, decks, DJ, DJ equipment, DJ equipment review, DJ equipment reviews, DJ mixer, DJ product review, DJ product reviews, DJ products, DJ review, DJ setup, GUI, iDec, iDJ, iDJ2, iPod, iPod mixing solution, jog wheel, Keylock, made for iPod, mixing, mobile DJ, monitoring, Numark, Numark DJ product reviews, pitch change, RCA, review, scratching, USB, working DJ, XLR
Powered by
Max Banner Ads