by Marius on Jun.17, 2009, under DJ Product Reviews
The IO26 is the master of recordings, in the studio or on the road
If you're reading this blog more often than not, then you know what Alesis can provide as far as DJ products are concerned. If you're a newbie, then let me direct you a bit to a previous post of mine on the Alesis IO2 interface, which will make for a nice transition to this post, which will cover the IO26 recording interface from Alesis, kind of a bigger brother of the IO2. The great thing is that the IO26 delivers the same quality and perfect recording that Alesis is capable of (in IO2 as well), only in a larger package that's still as portable as they come.
Now, for working DJs with a long history of staying current on DJ products, they'll surely remember when Alesis came in with the ADAT breakthrough in the 90s, which allowed for multi track recording technology. That; was jst one of the innovations of Alesis, which the IO26 builds upon to become the great DJ product that it is. Like IO2, IO26 works on lighting fast FireWire technology to make for instant recording of professional level audio, wherever and whenever, but the IO26 is mch more revolutionary than that. Other high end technologies that will leave working DJs drooling are the high definition microphone preamps, the Cirrus audiophile converters and jitter elimination technology, all built into the IO26 to allows for top notch 24 bit, 192 kHz sound recording.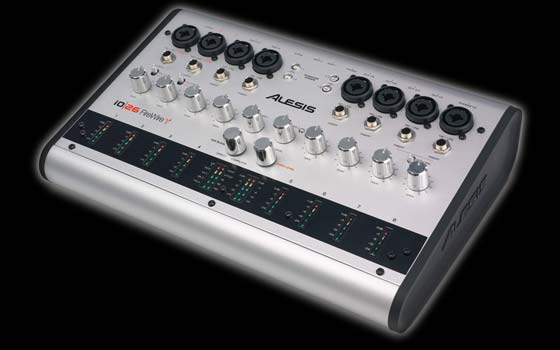 Being the masters of ADAT, Alesis couldn't have left it out of the IO26, which has ADAT lightpipe inputs to increase its connectivity, making the IO26 the recording interface of choice for working DJs, no matter their applications. IO26 doesn't leave out convenience, and covers a working DJ's bases all by itself, as the FireWire technology allows the IO26 to power through the connection port, but if yours doesn't support that, Alesis, provides an included AC adapter, just in case. Talk about thoughtfulness…Now, as far as operation goes, the IO26 works on both Mac and PC and on any 32 bit operating system, and as most audio interfaces today, IO26 comes with an added DJ software to enhance its usefulness. In this case, Alesis chose Cubase LE, which is one of the most powerful music production and recording DAWs on the DJ market today, if you needed a reminder.
The IO26 even lets working DJs control other hardware through its interface, as the hardware direct monitoring system can send customized no latency mix to any output pair. The dynamic range is as wide as it gets with IO26, mainly because of those Cirrus converters, which work on both inputs and outputs for greatly detailed sound. Now let's take a look at some tech specs for the IO26 interface, as I'm sure some working DJs want to get the overview on this new type of DJ equipment:
DICE II Jet technology for jitter elimination
8 hi-def mic preamps built in(with 2 switchable to high impedance for instruments), all 48 V phantom powered
16 channels of ADAT inputs and 16 channels of MIDI I/O
stereo SPDIF input and DJ turntable input, with inserts on every analog channel
8 line outputs, 2 discrete headphone outs and a stereo SPDIF digital output
and as far as supported plugin formats, everything a working DJ expect, RTAS, MAS, VST, etc.
With an easy portable tabletop design, inspired from the smaller IO2, the IO26 is also great for mobile DJs on the run, but who need a little more power on their recording application. The sounds don't get any better than with this audio recording interface, as the specs show, which makes the IO26 perfect for almost any recording need of any working DJ, and the included Cubase LE DAW only enhances its usability.
IO26
,
recording
,
phantom power
Related Posts
:48v, ADAT, Alesis, audio, audio interface, Cirrus, Cubase LE, DAW, DJ, DJ equipment, DJ equipment review, DJ product review, DJ product reviews, DJ products, DJ review, dynamic range, Firewire, hardware, high definition mic preamps, IO2, IO26, jitter elimination, MIDI, mobile DJ, phantom power, Portable, recording, sound, SPDIF, working DJ
Powered by
Max Banner Ads