The S-5 DJ monitors pave the way to serious monitoring
If you're a working DJ who's never heard of Tapco before, let me rephrase that for you: it's more like "Mackey remade". Tapco is sort of a division for some of Mackie's DJ products, and by the looks of their website, some serious work has gone into making it accessible and just plain cool. Now even though we probably haven't covered any Mackie DJ equipment until now, I don't need to tell experienced working DJ what kind of sonic quality they have (oh yeah, and the prices are also up there…). Well, with Tapco, working DJs can get the same Mackie high quality DJ products, only at an entry level price and in a DJ monitor model like the S-5, which is also easy to use, but sets a superior standard for entry level DJ products.
Just like the iKEY M-505 DJ monitors (which are covered here), Tapco aims to make the S-5 an entry level affordable model, but having the experience and expertise of Mackey behind, you can tell the result is going to differ. The S-5 are made to offer the same rich sound of the professional DJ monitors but with an accracy that makes them worthy of any studio or monitoring application when precise sound reproduction is critical. Not only that, but the S-5 respect their "entry level" status by offering working DJ a way to get into serious monitoring with under 400$ investment.
That price tag may seem a bit high for starter DJs, but for the quality and features, it's well sorth it. For instance, the sonic performance on the S-5 is on par with professional DJ monitoring solutions from Mackey, giving uncolored, unbiased sound, with an amazing flat frequency response due to the two way bass reflex design. Integration is also a thing of the past for the S-5 and especially important for starter DJs or working DJs just getting into monitoring, as the active crossovers and precision drivers inside make it easy to just plug in your S-5 and get ready to accurately hear your sound.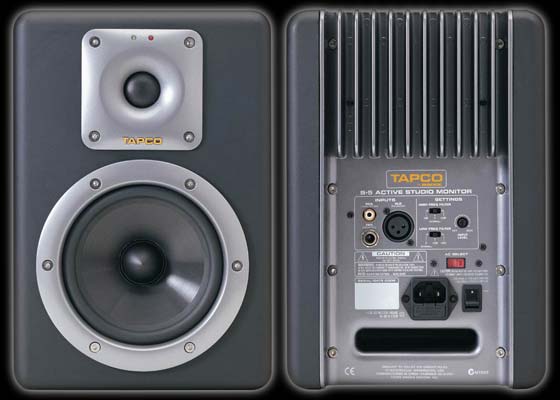 Coming from a pro like Mackey, working DJs can't expect Tapco's S-5 to not presume that every location is different, and so be ready for that. As professional musicians and producers working in studio and high level monitoring know, the location is just as important as your DJ monitors, and the same track can sound hugely different in different locations, so the S-5 has some finely tuned calibration controls that can help working DJs to overcome the impact the room has over your monitoring. The S-5 accomplishes that through fine adjustments made to the lows of a track (+2 or +4 dB for under 100 Hz) and to the highs (+/- 2 dB for above 5 kHz). This of course, means that working DJs can make sure their S-5′s are flexible to adjust to any setting or venue where critical monitoring is required.
A little about the S-5 technical features and main characteristics, for the geeky kind of working DJ:
the S-5 DJ monitors are Mackie designed, under the Tapco brand
they features dual, high precision 60 watts powered internal amplifiers
5.25" woofer capable of stunning bass and detailed precise mid range
1 " waveguide loaded silk dome tweeter keeps long mixing sessions smooth and relaxing
sound adjustment and fina calibration for S-5 monitoring in different room with low frequency boost and high frequency cut/boost
balanced TRS and XLR connectors and unbalanced RCA inputs
physical dimensions of 11.3Hx7.6Wx9.1D (in inches) and a weight of 17 lbs, or 7.7 kgs
Being as complex as it is, the S-5 DJ monitors have a lot more tech specs that you can find on the Tapco website, although the operation is simple and suitable to even starter DJ, as another great feature testifies. Tapco knows that real world working DJ monitoring is different from lab experiement, so the S-5 have some extra protection circuitry added to make a working DJ's life as worry free as possible. Separate thermal switches and an over-excursion filters keep the S-5 nice and safe for long years of mixing filled monitoring and an added magnetic shielding limits the interaction between the S-5 and other magnetic or electronic devices. All in all, simple enough for a starter DJ but complex enough for a professional monitoring working DJ…