What DJ equipment do the world class working DJs (i.e. DeadMau5) use?
Ok, so we here at Working DJ like to give a lot of DJ products reviews, previews, presentations, and whatnot, just to give the good old DJ out there a point to start his journey in the perilous world of DJ equipment today. Between prices, quality, performance and suitability to your particular DJ style or working DJ gigs, there are a lot of variables to factor in when buying a DJ product, but we don't go there, because that's for you, the working DJ himself, to decide. However, I got a look at a great blog of a working DJ kicking it with the big guys, Jesse Brede and apparently he's had the chance to "leak" out the approximate DJ setup that Deadmau5, aka Joel Zimmerman uses at his gigs, so let's start the first edition of "The DJ equipment of the world class working DJs".
First, a pointer to the Jesse Brede blog, so go on over there, I'm sure you'll find plenty of other useful intel, but I'm only talking about his post about DeadMau5′s DJ setup. About that now, I wouldn't really expect to be familiar with all those DJ products, as DeadMau5 definitely has the cash and gear to put up one of the best shows on the planet, not to mention the skill to produce some very high quality tracks. Either in cash, DJ products or skill, most working DJs will come out short when compared to this guy, and it's only normal, that's why DeadMau5 is one of the hottest bookings around.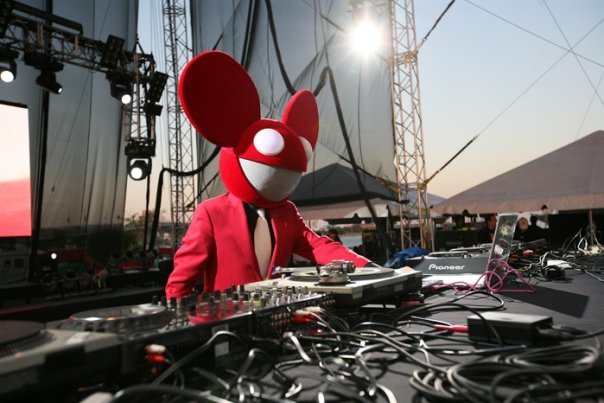 And his DJ setup, as far as I can tell, looks special, as in really unique, probably highly tuned to his playing/creating personal style, so I wouldn't go out and buy all the DJ products DeadMau5 uses tomorrow, because it definitely won't amount to anything much for me, not to mention I'd have to sell some body part just to afford that kind of DJ equipment. So, before time runs out, an approximate view of DeadMau5′s DJ setup looks like this:
You can follow the links above to get to most of those DJ products if you want to have something to drool over, and other snapshots and pics are available on Jesse Brede's blog. Of course, you can always go to DeadMau5′s myspace page or his website for a little getting up to date with his schedule., and apparently he's getting ready for the summer, so you might just be able to check out his work live somewhere near you.
As for some final explanations, this DJ setup was only "recorded" as Jesse Brede helped DeadMau5 set up his DJ equipment at the Austin Electronic Music Festival, where he also opened the night. As such, DeadMau5 may change his DJ setup or upgrade it, who knows, but it should make a nice preview of what world class working DJ have to look towards. At any rate, the DJ equipment itself isn't as important as the skill and how you use it, so relax and keep on mixing, and you'll have your own DJ setup sneaked at and shown on WorkingDJ.com. One can only hope, huh?…