by Marius on Jun.09, 2009, under News, Stories
Following the footsteps of Guitar Hero, DJ Hero is a new experience for gamers, molded after the clubbing world
Since yesterday I got a bit carried away with the Numark Scratch Deck for the Scratch: The Ultimate DJ game that will appear later this year for Xbox 360 and PS3, I thought I could at least continue along the same lines and bring to working DJs wanting a bit of time off from serious mixing and to gamers looking for a clubbing experience some details about another DJ inspired game that's scheduled in the last quarter of 2009, DJ Hero.
First of all, DJ Hero is, by my standards, the more "mainstream" game out of the two, mainly because it's got some big Activision type budget behind it. Gamers will be familiar with Activision and some other of their releases, while for working DJs, that's pretty much one of the biggest game publishing companies around, so at least DJ Hero has some solid background. From what I can see, this "let's make a video game about DJ-ing" is starting to be a trend in the game world, so I'm sure there will be plenty more where DJ Hero and Scratch will come from, and it can only be good for the working DJ world, as what they do will get even more attention and more people are going to be aware of this part of the music world.
Now about the game, Freestyle Games, which is actually the company that works on DJ Hero (and is owned by Activision) brought their future DJ game into E3 this year, the video game conference that just ended today, and they' ve got a pretty dope demo. You can check out some details and some really cool mixing action from one of the guys at Freestyle Games (who's become qite specialized in using the controller) here, and believe me, it's worth it. Now for the controller, DJ Hero is actually following the footsteps of Guitar Hero, and the idea is pretty much the same. Match some beats and keep the rhythm and your track will get points galore. The controller is DJ turntable inspired, rathet than a guitar with some buttons on it. Featuring a fully rotatable platter with 3 push buttons right on it and a detachable section for crossfading and some effects section, the DJ Hero controller will feel fairly familiar to working DJs.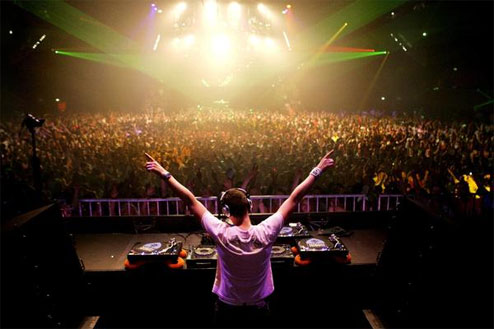 DJ Hero, which will be available on pretty much every platform except PC, will come with over 100 songs initially, to get the party started, and about 80 different and original mixes, which sound really great, not to mention some cool mash ups and other stuff working DJs will appreciate as being from their area of expertise. With a company as big as Activision behind, DJ Hero will undoubtly provide downloadable content and tracks, mixes, even sample packs from day 1 after release for gamers and DJs to check out, but the initial content should keep even working DJs busy for a while, as it's got a really nice collection, including oldies like Tears for Fears and Nirvana all the way up to Black Eyed Peas and Gwen Stefani, which will appeal to the modern type gamers and working DJs. You can find a list of DJ Hero's beats on the DJ Hero website, which also deserves a visit just for the cool graphics and flash movies. Check it out.
While DJ Hero will probably feature some of the activities working DJs are highly used to, such as scratching and sampling, the idea is to keep it accessible and fun for everybody, and with 5 different difficulty levels, everybody is bound to be happy with DJ Hero. From just using the 3 push buttons for sampling and mixing in easy mode to the entire use of the controller, including crossfader, scratching and channel switching in expert mode, DJ Hero has something for all, while keeping a nice learning curve and challenging game ahead of you.
And finally, a lot of the fun part in DJ Hero comes with multiplayer, as with Guitar Hero. You can pretty much do everything from DJ battle to adding a third party to the mix to even adding a guitar controller from Guitar Hero and kicking it up like that. It all looks pretty good to me right now, and if Freestyle Games doesn't somehow screw it up until fall, DJ Hero should be enjoyable and a must have if you like the Guitar Hero type of games.
Gwen Stefani
,
PS3
,
DJ equipment
Related Posts
:Activision, Black Eyed Peas, controller, crossfader, demo, DJ, DJ battle, DJ equipment, DJ equipment review, DJ Hero, DJ product review, DJ product reviews, DJ products, DJ review, Freestyle Games, gamer, Guitar Hero, Gwen Stefani, mashup, mixing, mobile DJ, multiplayer, music, Nirvana, PS2, PS3, rhythm, scratch, Scratch Deck, Scratch: The Ultimate DJ, turntable, video games, Wii, working DJ, Xbox 360
Powered by
Max Banner Ads